Wolverines set single-season sack record in win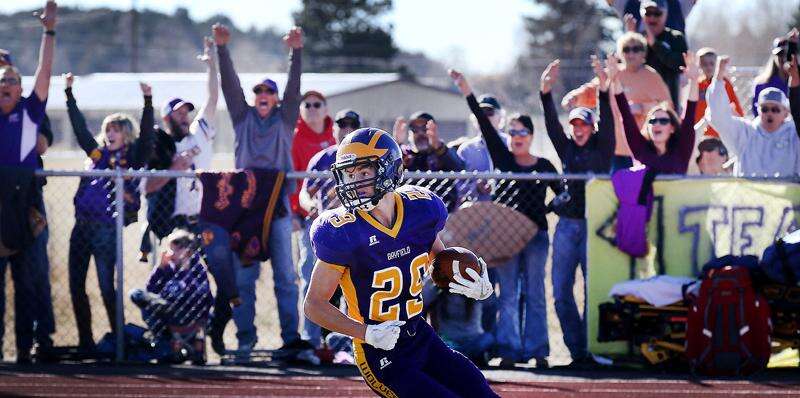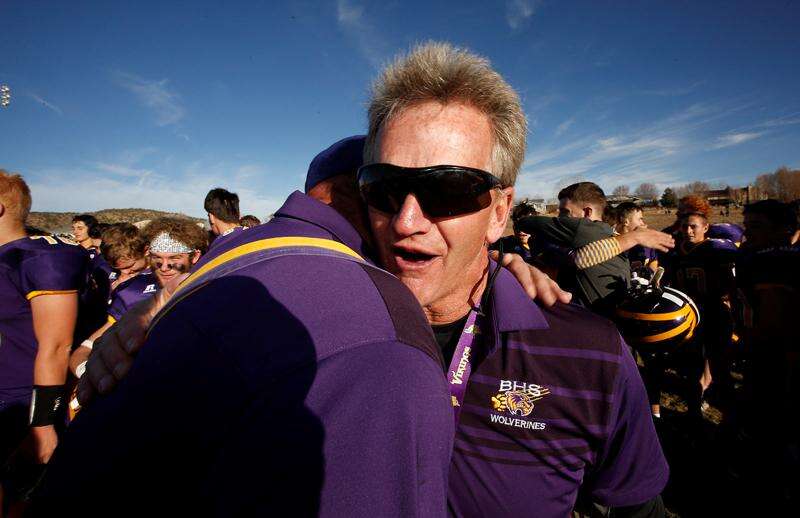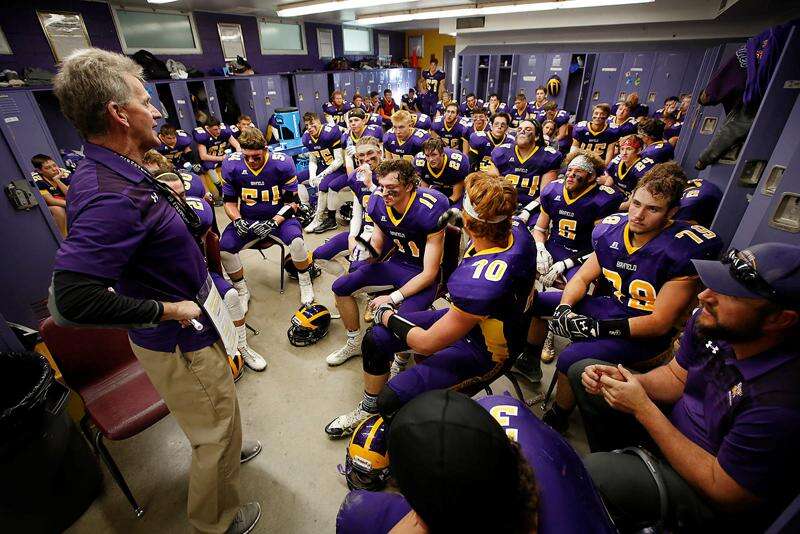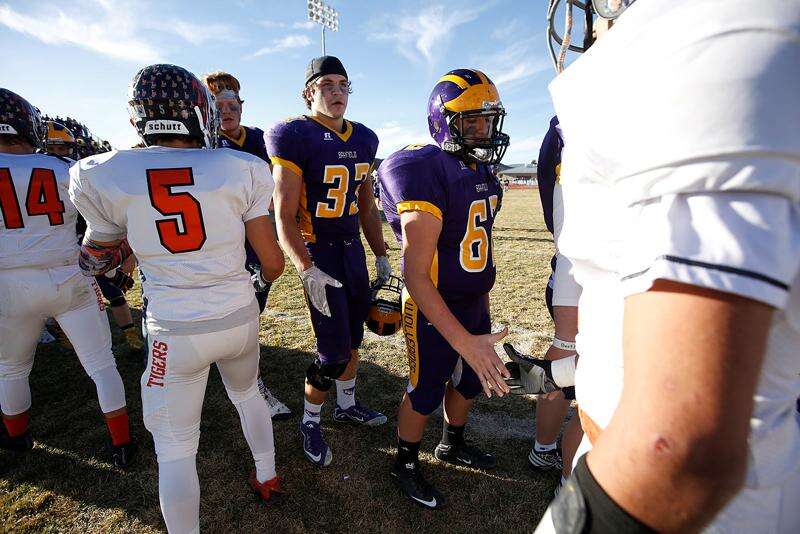 BAYFIELD – State records were meaningless to the Bayfield High School football team Saturday. All that mattered was winning the state championship.
Powered by a historic defense, Bayfield delivered in front of 5,000-plus fans at Wolverine Country Stadium in Bayfield in the first state title game played in La Plata County since 1968. Behind three touchdown passes for junior quarterback Hayden Farmer, and nine sacks and two interceptions from the defense, Bayfield (13-0) blasted defending champion La Junta 34-7 to claim the Colorado High School Activities Association Class 2A football state championship.
"It's all about that ring," said Bayfield senior defensive end Ryan Phelps, who had four sacks in the win to reach 24 sacks for the season, the new state record. "That's all we cared about. I didn't care if I made a tackle as long as we won it as a team. It doesn't matter who gets the glory as an individual, just win the state title."
Saturday's win gave Bayfield its third state championship in school history, adding to the trophies earned in 1996 and 2015. For head coach Gary Heide, it was his second state championship in his sixth season coaching the Wolverines.
"I'm going to think about this team being great and the greatness they displayed for 13 games," coach Heide said. "To play this stellar La Junta Tigers program took us being great the previous 12 games, and to be great we had to win the last one."
Farmer finished 7-of-12 passing for 109 yards, three touchdowns and one interception. The Wolverines rushed for 105 yards as a team on 32 carries. La Junta was held to negative rushing yards and only a handful of first downs. Junior quarterback Jon Nuschy finished 7-of-14 passing for 57 yards, one touchdown and two interceptions.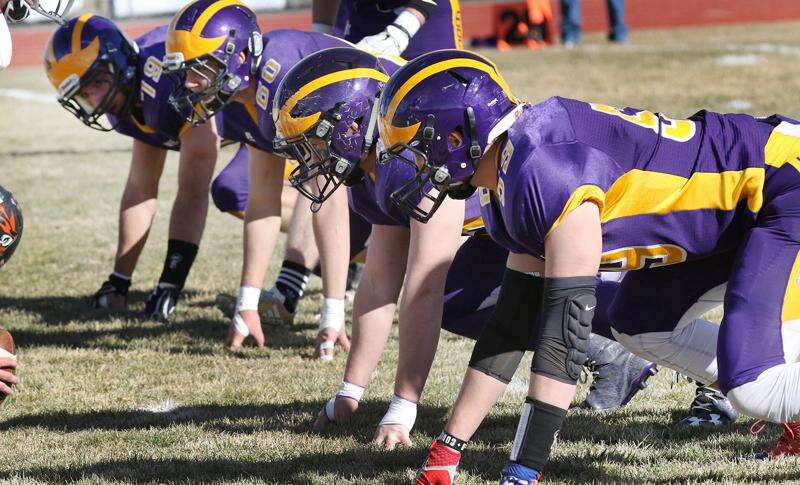 "That's the best team in the state, and they were better than us today," La Junta head coach Clint Buderus said. "Their front seven was really tough. We couldn't run the ball against them and fell behind, and trying to throw against them was tough, too. We kind of fell behind the eight-ball, and against a defense as good as they have, you can't play from behind."
Bayfield jumped out to an early 20-0 lead behind two touchdown passes from Farmer. The two teams exchanged punts after their first possessions, and another La Junta three-and-out gave Bayfield the ball on the La Junta 44-yard line. Six plays later, Farmer hit Carl Heide on a 12-yard touchdown pass on play action. Farmer faked a handoff to Heide, who wheeled around the left sideline and hauled in the pass with no defenders around him. Chris Mooney made the extra point, and Bayfield led 7-0 with 3 minutes, 29 seconds to play in the first quarter.
"That's a play we worked on since the beginning of the playoffs," Carl Heide said. "We fake the rollout and throw it back to the backside. I knew I had to catch it. It was probably the hardest catch I've ever made looking upward and not being able to see it. Once I got in the end zone, it was the greatest feeling to start the game off right."
The Wolverines added one more score at the first-quarter buzzer, as Farmer hit Dax Snooks with a 15-yard TD pass in the back right corner of the end zone. It was Farmer's 15th touchdown pass of the season to Snooks, and it gave the Wolverines a 14-0 lead after one quarter.
"Being able to have that touchdown in the state title game, I'll remember that forever," Snooks said. "To go up over someone and grab it, it was huge."
Keyon Prior made a brilliant interception on La Junta's fourth possession of the game. Nuschy rolled to his right to evade pressure and tried to throw the ball out of bounds near midfield. Prior alertly tapped his toes in bounds, dove for the ball and secured the interception at the La Junta 47-yard line. Behind powerful runs from David Hawkins, the Wolverines got inside the La Junta 5-yard line before Carl Heide dove in for a touchdown from 3 yards out. Mooney missed the extra point, but Bayfield led 20-0 with 5:45 to play in the first half.
"I wanted to make a big play for my team," Prior said of his interception. "It helped momentum. We went down and scored and got up 20-zip. In high school football, it's a game of momentum and momentum shifts. Once it shifted our way, it was a great feeling."
La Junta didn't pick up a first down until the final minute of the first half. Nuschy scrambled and hit Zach Archuleta for an 11-yard gain, and Nuschy came up big again with a 12-yard pass to Wyatt Buhr.
Bayfield's sack master, Phelps, was held on the play, but no flag was thrown. Three plays later, and after Prior was flagged for pass interference, Nuschy hit Kain Direzza on a 10-yard TD pass to cut Bayfield's lead to 20-7 with 22 seconds to go in the half.
Bayfield took a knee and took the advantage into halftime.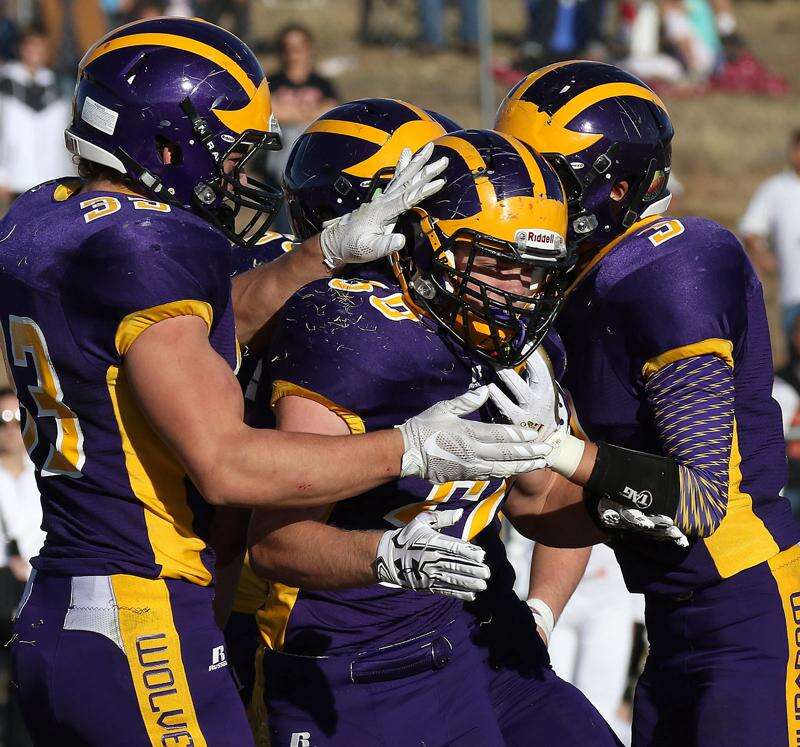 "It was really important to get on the board, especially against a team like that," Nuschy said. "They just came out today and pounded us inside, and we couldn't move the ball very well. They're just a really good team."
Despite the promising drive to end the first half, the Tigers (11-2) never had much of a chance against the Bayfield pass rush in the second half.
Both teams were sluggish to start the second half, as the first four drives all ended with punts after three plays. But Bayfield's defense went to work and piled up sacks against Nuschy and the Tigers late in the third quarter and into the fourth. Cole Wood had a sack with 9:15 to play in the third quarter to tie the previous Colorado record of 60 in one season, set by Discovery Canyon in 2014. A few plays later, Hawkins sacked Nuschy to break the sack record. Bayfield finished with nine sacks to push the record to 65. Wood added an interception in the second half, and he finished with three sacks and an interception, as he dove for a pass that was disrupted by a big hit from Phelps on Nuschy.
Phelps had four sacks in the game. That gave him 24 for the season, and that broke the previous state record of 23½ set by Pine Creek's Jack Wibbels in 2015.
"We've been working on the sacks all year," Wood said. "Me and (Phelps) had a competition, and the whole team was in on it trying to get that state record."
The game was iced when Farmer hit Carl Heide for a 60-yard TD pass to extend the Bayfield lead to 27-7 with 8:25 to play. Hunter Killough added an 11-yard TD run to make it 34-7 late in the fourth quarter, and La Junta conceded to run out the clock from there.
"This feels amazing, I can't even believe it," Farmer said. "I'm still in shock. Our offensive line kicked butt all day in the trenches, and big plays won this game."
With his twin sons, Carl and Dawson, set to graduate from Bayfield in the spring, coach Heide didn't hesitate when asked if he would return to the sidelines with the Wolverines in 2018.
"I'll always defend something I've earned, we've earned," he said.
jlivingston@durangoherald.com