Spending typically is a sign that a race is competitive. So far, the race between Michael Bennet and Joe O'Dea hasn't heated up
The U.S. Senate race in Colorado has become a darling of the national media.
The New York Times, Washington Post and CNN are among the outlets that have parachuted into the state in recent weeks to cover the contest between Democratic U.S. Sen. Michael Bennet and his Republican challenger, Joe O'Dea, under the notion that the state represents a potential surprise pickup opportunity for the GOP in November.
But heading into Labor Day, the unofficial start of the home stretch of the campaign season, most polling and the money – especially the money – haven't borne that out.
Just under $9 million worth of TV ads have aired or been booked in the Senate contest this year, according to a Colorado Sun analysis of contracts filed with the Federal Communications Commission through Aug. 31.
That compares with the nearly $46 million worth of TV ads that had aired or were booked before Sept. 1 in Colorado's 2020 Senate contest between Republican U.S. Sen. Cory Gardner and Democratic former Gov. John Hickenlooper.
"As someone who ran in a competitive congressional (race), when I got the call that the national money wasn't coming in on my side, that meant that I was cut off and the race was over," said Sal Pace, a Democrat who ran unsuccessfully to represent Colorado's 3rd Congressional District in 2012. "Both the national parties have decided it's a waste of money to invest in Colorado, apparently, which means there will be other races that determine the makeup of the U.S. Senate."
Pace, a former state lawmaker and Pueblo County commissioner, lost by 12 percentage points to then-U.S. Rep. Scott Tipton, a Republican.
Much of the money spent by this point in the election cycle in 2020 came from dark-money groups, nonprofits that don't have to disclose their donors. On the Republican side, the dark-money spending was by Unite for Colorado and One Nation. The Democratic dark-money groups that ran TV ads included Majority Forward and Rocky Mountain Values.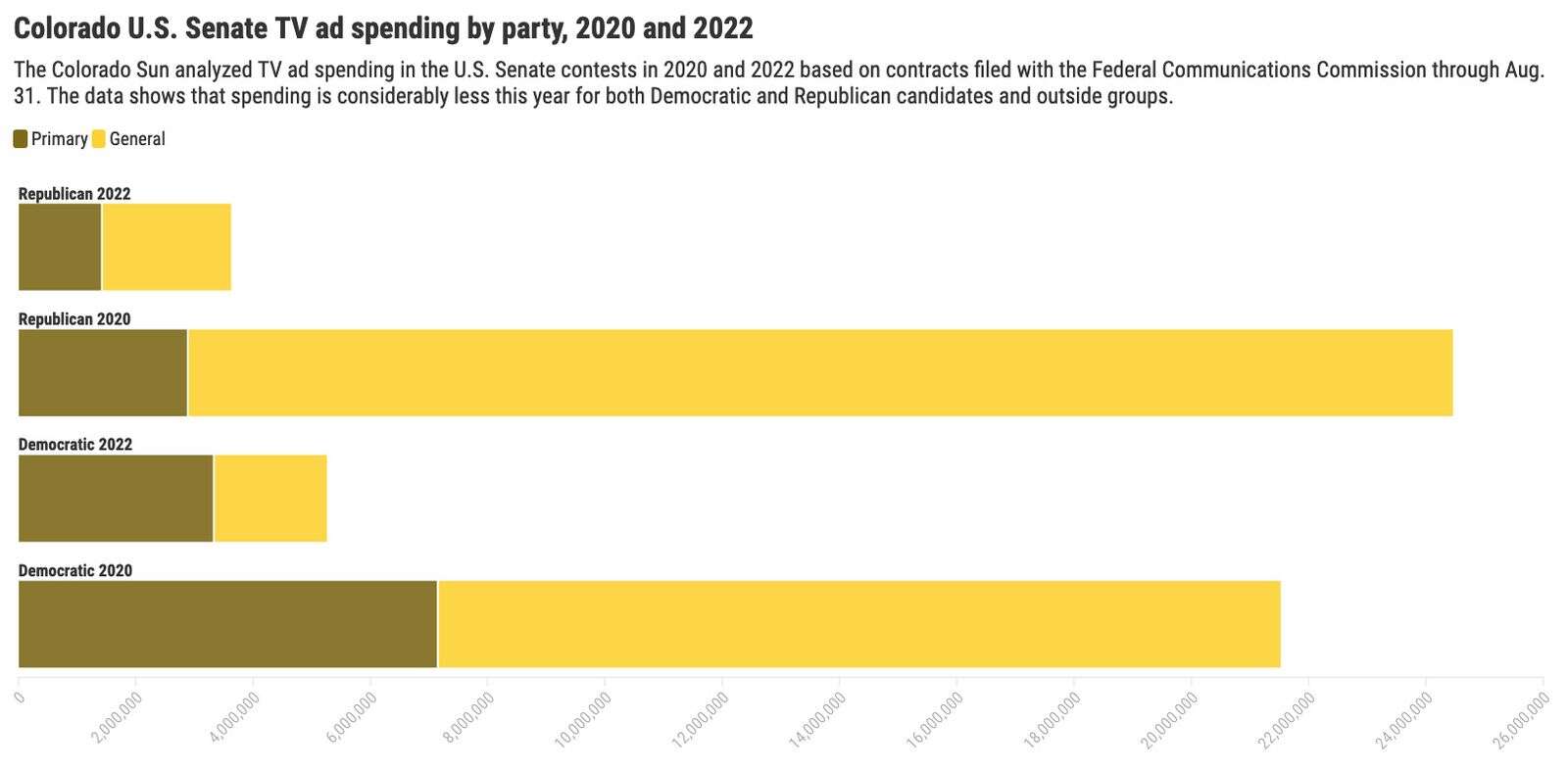 The National Republican Senatorial Committee and Senate Majority PAC, two federal political action committees, ran ads supporting Gardner and Hickenlooper, respectively. Gardner and Hickenlooper's campaigns were also airing ads.
Ultimately $64 million was spent on TV ads in the 2020 contest. The Senate Leadership Fund, a GOP super PAC tied to Senate Minority Leader Mitch McConnell, R-Kentucky, aired ads through September and October, as did the Democratic Senatorial Campaign Committee and other Democratic groups.
The biggest spender on TV ads in the Senate race so far this year has been Democratic Colorado, a super PAC funded by Senate Majority PAC, which is affiliated with Senate Majority Leader Chuck Schumer, D-New York. The group spent $3.4 million on TV ads in the Republican primary in an unsuccessful effort to propel state Rep. Ron Hanks, a 2020 election denier, over O'Dea.
Bennet began airing TV ads in late July, booking $1.9 million through the end of August. O'Dea began airing ads in early August, booking about $770,000 during the month. Both candidates are airing Spanish-language TV ads on Telemundo and Univision.
The NRSC spent $241,000 on cable TV in August with an ad linking Bennet to Democratic President Joe Biden. But NRSC and Senate Leadership Fund have yet to schedule TV time for the fall, which is a major indication the race isn't a priority, as is the fact that national Democratic groups haven't started spending in Colorado to shore up Bennet.
"It's a race we're keeping an eye on," said Jack Pandol, a spokesman for the Senate Leadership Fund. "We continue to be impressed by the race Joe O'Dea is running in Colorado."
Chris Hartline, communications director for the NRSC, said his organization is "obviously keeping an eye on the race." The group is looking at races across the country to determine where its money could be best spent.
"Colorado could be one of those places," he said.
American Policy Fund, a GOP super PAC funded by Colorado construction companies and their owners, aired ads for O'Dea in the primary and early August, and has some ad buys scheduled for October.
If the national GOP spending does arrive, it will need to come soon and it will also likely need to come in large amounts. County clerks can begin mailing ballots to voters for the November election Oct. 17.
TV ad rates go up as the election nears, and outside groups pay more than candidates or political parties.
There are some notable differences between the 2020 Senate race and this year's contest. Namely, Gardner was an incumbent and the former chairman of the NRSC, meaning he had a national base of support and a proven record of winning in Colorado.
But Gardner was also widely expected to lose to Hickenlooper given the national backlash against President Donald Trump. Despite all of that spending in Colorado, Gardner lost by 10 percentage points.
In 2022, Republicans feel like momentum is on their side. Biden's approval numbers nationally and in Colorado are poor, and the party in charge of the White House traditionally loses seats in Congress during midterm elections.
Additionally, the GOP sees O'Dea as their ideal candidate in Colorado: moderate, compared with the rest of his party, on issues like abortion and his support of Trump.
Still, O'Dea appears to have a steep hill to climb toward Washington.
Public Policy Polling, a Democratic firm, on Aug. 31 released the results of a survey conducted among 782 Colorado voters Aug. 30-31 that shows Bennet leading O'Dea by a wide, 46%-35% margin. The poll had a 3.5 percentage point margin of error.
Forty-three percent of those polled said they have a favorable opinion of Bennet, while 37% said they have an unfavorable opinion of him and 20% said they weren't sure. For O'Dea, 27% said they have a favorable opinion of him, 29% said they have an unfavorable opinion of him and 44% said they weren't sure how they felt about O'Dea, indicating that the first-time candidate still has work to do in ensuring Coloradans know who he is.
Biden's approval numbers remain weak, according to the poll. Forty-three percent of those surveyed said they approve of the job he is doing, while 51% said they disapprove and 6% said they weren't sure.
Republicans are celebrating an internal poll among 600 likely Colorado voters between Aug. 22 and 25 showing O'Dea trailing Bennet by just 1 percentage point – 48% for Bennet and 47% for O'Dea with 5% undecided.
The survey, whose results are the only one released publicly showing the race so tight, was conducted by the Tarrance Group, a Republican firm based in Virginia, on behalf of the Republican Attorney General's Association. It had a 4.1 percentage point margin of error.
The RAGA poll was released to The Washington Examiner by the Colorado GOP. The Sun asked the state party for a copy but did not receive one.
The NRSC said the poll is an indication "that Joe O'Dea is a great candidate who meets the moment." Zack Roday, O'Dea's campaign manager, touted the results on Twitter as proof of his candidate's momentum.
Both the Tarrance Group and Public Policy Polling are well regarded by FiveThirtyEight, the election prognostication and political and sports statistics website, though it's impossible to evaluate the efficacy of the Tarrance Group poll without seeing the details of its method.
Colorado Republicans hope that national help will come for O'Dea as GOP Senate candidates in other states falter, driving the party's spending plans to change.
On Aug. 31, Sabato's Crystal Ball, a nonpartisan election prognosticator at the University of Virginia's Center for Politics, changed its ratings for the Senate races in Pennsylvania and Arizona, where Republicans were hoping to pick up seats, from toss-ups to lean Democratic.
The Senate Leadership Fund canceled $8 million worth of scheduled TV advertising in Arizona earlier in the week.
The GOP also has concerns about Republican Herschel Walker's chances in Georgia, where he is trying to unseat Democratic U.S. Sen. Raphael Warnock.
But the situation in other states is a double-edged sword for O'Dea: Republicans could decide to double down in those places and spend gobs of money to try to help their candidates running there. Or the GOP could shift its focus and resources to Colorado, where no Republican running for statewide office has won since 2016.
Read more at The Colorado Sun
The Colorado Sun is a reader-supported, nonpartisan news organization dedicated to covering Colorado issues. To learn more, go to coloradosun.com.