Outside, inside forces prompt district to seek mill-levy increase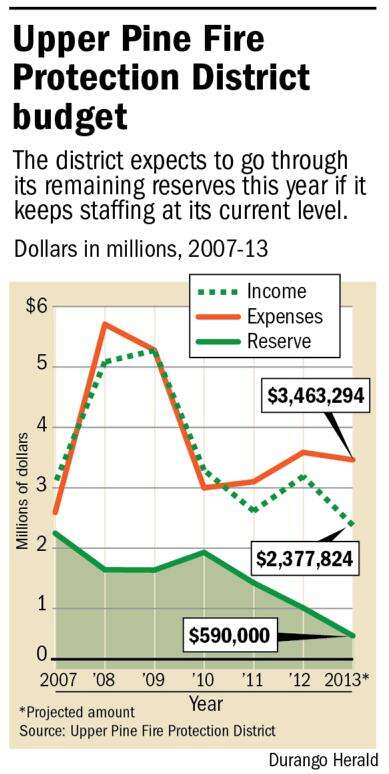 Upper Pine Fire Protection District plans to ask voters to help it make up for the collapse of outside revenue sources and years of poor financial management by passing a new tax that fire officials say is necessary to keep Bayfield-area residents from experiencing a disintegration in service.
The district intends to propose a mill levy, or property tax, increase in November to help make up for falling property-tax revenues that have followed declining natural-gas production in La Plata County.
About half of the fire district's budget is based on revenue from property taxes, which includes natural gas and oil production.
La Plata County was expected to lose $920,000 in property-tax revenue this year because of a 25 percent drop in natural-gas prices in 2012. The county assessor's office sent a letter to each fire district in the county in December 2012 warning them they could face an additional 50 percent drop in prices in 2013.
Upper Pine lost about $859,000 in property-tax revenue in 2011, bringing in about $1.7 million compared with the $2.5 million it received in 2010.
Fire officials are still soliciting feedback from the Bayfield community and won't know exactly what they intend to propose until September, but they likely will ask voters to double the district's current mill levy, said Jeff Dyar, president of the fire district.
Homeowners with a $250,000 home currently pay about $98 a year in property taxes to the fire district. Under the proposed mill levy, that would increase to $197.
But some local officials say the district's budgetary woes could have been reduced had better planning and more prudent fiscal management been in place.
Poor financial management
For years, the Upper Pine budget was a time bomb, and declining gas and oil revenue and property taxes cut the fuse shorter.
"A lot of it, too, is some funds were not properly accounted for," said Upper Pine Fire Chief Bruce Evans. "Eventually, things were going to be in trouble."
The district embarked on a massive fire-mitigation effort in 2010 under the tenure of former Fire Chief Rich Graeber with the expectation that grants and fees from homeowners receiving the mitigation would cover the entire cost of the work. But the district didn't charge homeowners enough, leaving it on the hook for the remaining amount.
The program was a success, and Upper Pine didn't have proper accounting practices in place to track the program's cost, Dyar said.
"The previous fire chief was extremely invested in making that program go, and we just overpromised what we could get done," he said. "The other thing is, we didn't have any experience doing it, so we made mistakes."
The district underestimated the time it would take to mitigate – reduce the fire hazard around a home – 1 acre of property, he said.
For the first two years of the program, the district charged homeowners $125 to $200 an acre. Now, it charges homeowners about $470 an acre and receives some grant funding.
Bookkeepers that Evans said "weren't qualified" and didn't have accounting backgrounds made the situation worse.
The district had three bookkeepers during the time it was doing the majority of the mitigation work. One resigned because of the stress of the position, another left for a new job and the third was fired, Evans said.
Evans and Dyar refused to provide the names of the bookkeepers, citing personnel issues.
Graeber said in an email to The Durango Herald he has retained an attorney to dispute claims that he mismanaged the district's finances.
The district in 2011 contracted a certified public accountant, who now comes in once a week to process payroll and manage its books.
Russian roulette
In addition to property-tax revenues, fire districts can deploy crews to wildfires in other areas of the country and receive additional money from the state or federal governments.
Upper Pine received about $876,000 in revenue from sending crews to last summer's wildfires, which "kept us from being in deep trouble this year," Evans said.
This year, the district has sent crews to several fires, including the West Fork Complex near Creede and South Fork. So far, the district has generated $168,000 in income, but it expects that number to double after the West Fork fires.
But Los Pinos Fire Chief Larry Behrens said sending crews to wildfires outside the district this time of year is like playing Russian roulette because it could leave the district short-staffed if a fire broke out close to home.
Upper Pine has had to take that risk because it relies on that revenue to stay above water. A late fire season this summer already forced it to lay off four full-time employees to reduce how much the district was dipping into its reserves.
Dwindling reserves
Since Upper Pine went from a volunteer force to a full-time district in 2007, the district has drained its reserve fund from $2.2 million to $1 million. Evans expects to use up nearly all of the reserves by the end of this year if he maintains current staff numbers and service levels.
Other fire districts also have had to dip into their reserves, but they say they saw the writing on the wall during the gas-drilling boom of the mid-2000s and prepared accordingly for the subsequent bust.
Los Pinos, which stands to lose $1.2 million in 2014, put off buying a new office building in 2008 to build up its reserve fund.
Los Pinos has one year's worth of operating expenses in its reserve balance, or about $2.5 to $3 million.
"It's just good business practice to have at least one year's operating expenses in reserves because you just never know when you're going to need it," Behrens said.
Durango Fire & Rescue Authority has lost about $1.8 million in revenue since 2010 and has about $3.1 million in reserves, Chief Dan Noonan said.
Upper Pine's future
Evans said if the mill-levy increase isn't passed, the district will have to lay off 12 full-time employees, which will result in a decrease in service to the region.
"I'm not going to tell people we won't respond. We'll always respond. I just don't know how efficient we'll be in doing it," he said.
If voters pass the increased tax, Evans plans to put better budgeting practices into place and to save money to cover expenses later down the road instead of asking voters for another mill-levy increase.
jdahl@durangoherald.com