A gracious woman views changes over 91 years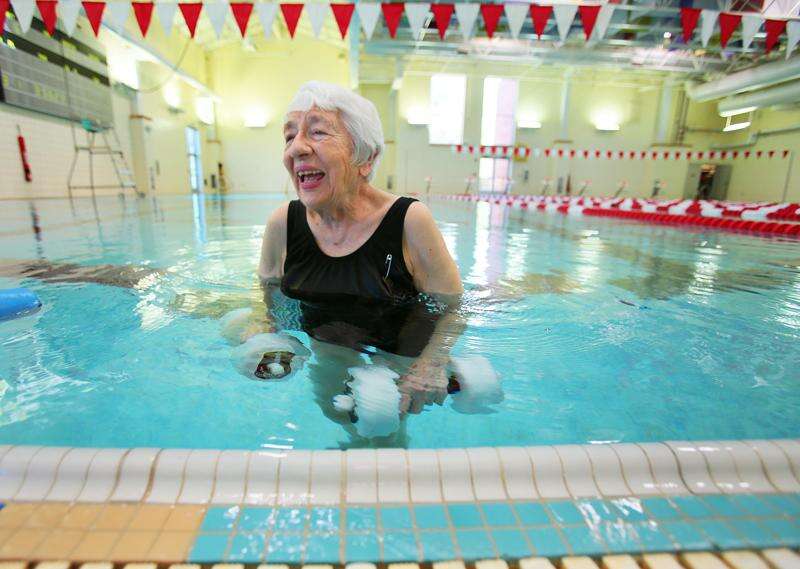 Eileen Albrecht's friends think the world of her. But they have trouble coming up with the right word to describe her.
They try "solid" or "involved." But what does that mean?
"Well-grounded" and "unpretentious" are a little better, but they're hardly terms of endearment. It's apparent that "flashy" and "flamboyant" are not going to be on the list of descriptors – she's no attention-seeker.
"Kind" and "gracious." Now we're getting somewhere.
The word they don't use, but seems to fit more than any, is "respect."
She's also consistent. Eileen Albrecht, who will turn 91 on May 28, grew up just north of Hermosa and has lived here nearly all her life. Every Monday and Friday, she takes the bus to the Durango Community Recreation Center for an aquafit class with instructor Maureen Keilty. She's been doing that since the rec center opened 12 years ago and, apparently, hasn't slowed down.
"I haven't seen it," Keilty says. "She knows how to make it work for her."
On a recent Friday morning, Albrecht shares a small niche of the pool with friend Jeri Rundquist, a mere child at age 76. With their hand-held styrofoam buoys, they work their arms and legs in the pool.
"She's just an interesting person to talk to," Rundquist says.
Albrecht is within easy earshot, and fidgets a bit. (Despite some obvious discomfort from the attention, Albrecht was both too polite to turn down my interview request and able to overcome a fear of being photographed in her swimsuit.) She tries to brush off Rundquist's comment, but her friend is adamant.
"You're a smart lady," Rundquist says sternly. "You've got to know that."
Then Rundquist looks at me, hovering at pool's edge.
"I'm not making that up. As you see her with a smile on her face, that's how she always is," she said.
Just being born in a town called Alkali might tend to keep one humble. The tiny enclave in far western La Plata County no longer exists, although Alkali Gulch does. In 1926, at age 3, she moved with her parents to the Animas Valley, about a mile north of Hermosa where the James Ranch is now.
She spent first grade living in Howardsville, a then-bustling mining community northeast of Silverton, where her dad worked as a carpenter. She recalls trips to the outhouse made through a wooden tunnel. Trips to Durango were done by train; the road closed once snow fell.
In the Animas Valley, her father tried his hand at raising cattle and sheep. The Locke family did successfully run Meadowbrook Trout Farm; their fish pond stocked local restaurants.
Back in the Animas Valley, Albrecht attended school in Hermosa with about a dozen others until eighth grade. High school got a little complicated. Her house was not in the Durango school district at the time, the mid-1930s, so she had to find her own way of getting to town.
Although cars had been around for decades, "You didn't just drive to town every day," she says. Another sign of the times: Their house was still a couple of years from receiving electricity.
So, although it's hard to conceive now, she spent most of her first two high school years as a weekday boarder in Durango. She lived with a family in return for doing household chores, going home only on weekends. She kept in touch with her parents by phone on a "party line" shared by as many as eight other customers.
Later in high school, she lived with an aunt in Durango, then got rides with a Hermosa-area neighbor who worked in town. But he worked until 5 o'clock, "so I spent a lot of time at the library."
She graduated from high school in 1940 and then attended business school for a year in Denver. She worked for a company constructing the Vallecito Dam and in Denver worked as a stenographer for a company that hired workers building a lock on the Panama Canal. When Pearl Harbor was bombed in December 1941, Albrecht remembers someone calling and urging them to stock up on dynamite for the canal project – "There may be a run on it."
By October 1944, she was back in Durango when Richard Albrecht, whom she'd been dating, came home on leave from the Air Force. He'd been in England flying missions over Germany. They decided to get married (and they remained so until his death in 1992).
He was assigned to a military base in Biloxi, Mississippi, for several months – not a time Eileen Albrecht treasures in her memory. Ants in her lunch, bugs of all sorts; "cockroaches, oh!"
They returned to Southwest Colorado at war's end in 1945. In the early 1960s they settled into a house with their two sons north of Hermosa, across the road from her parents. In 1994, she sold that property and moved into the Crestview neighborhood. That's where she lives now; her sons Ron and Larry are always close by.
Durango's come a long way from a small town with no traffic lights, as she remembers it from her childhood. Changes don't seem to fluster her. Albrecht is nothing but thankful for all she's done, seen and experienced in her life.
How else to describe her? Maybe there's no need to work that hard. The simple truth is that others feel a deep admiration.
Says Rundquist, as the two swim easily in the pool, "When I grow up, I want to be just like her."
johnp@durangoherald.com. John Peel writes a weekly human-interest column.