Broncos at the bye have positives and negatives to pass around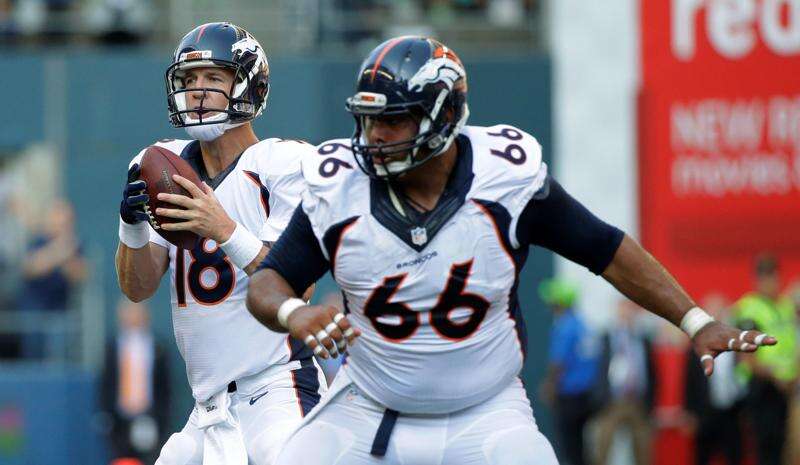 DENVER – In the aftermath of another letdown against the Seattle Seahawks, Denver Broncos' head coach John Fox was asked if he could nevertheless take some positives out of his team losing in overtime rather than getting blown out as they did in the Super Bowl.
"Do you mean, is there a moral victory? The answer to that would be no," Fox said. "But like all games, you have things you do well and things you don't do well. We call it 'the good, the bad and the ugly."'
In that vein, Denver's 2-1 start has provided plenty to ponder in each category as the Broncos take an early bye this weekend.
The Good
Peyton Manning: The five-time MVP is off to another solid start, throwing eight touchdown passes against one interception. At age 38, Manning has regained his full strength three years after neck surgery, and his 108.5 quarterback rating is just a tick behind league leader Russell Wilson's 108.9. But it sure looks as if he misses Eric Decker and Knowshon Moreno so far, doesn't it?
Emmanuel Sanders: The prized free agent leads the league in catches (25) and yards (334). He's set career highs in both categories each of the last two weeks – 8 for 108 against K.C., 11 for 149 against Seattle. No more Pittsburgh purgatory for this speedy receiver who called Denver "wide receiver heaven" when he signed.
Linebackers: Von Miller is rounding into shape with 14 tackles and two sacks over his last two games, but the real eye-openers have been Nate Irving and Brandon Marshall. They are tied for the team lead with 29 tackles, and each has a sack, leading a defense that has kept teams out of the endzone five times already when facing goal-to-go.
Julius Thomas: The Pro Bowl tight end followed up his breakout 2013 season with a spectacular start, catching three touchdown passes in the opener against Indy. And his touchdown catch sparked Denver's fourth-quarter rally from a 14-point deficit to force overtime at Seattle.
The Bad
Hangover II: So far, the Broncos' high octane offense has the look of a sequel that can't live up to the original. After setting records last year, they can't stay on the field because of bad calls, dropped passes and missed blocks. Manning isn't without blame; he was intercepted when he threw into triple coverage last week while trailing 17-12 late in the fourth quarter.
O-line Struggles: Left tackle Ryan Clady is back from a foot injury this year, and he's the only one on the line who doesn't have major issues. Left guard Orlando Franklin still is adjusting to his new position. Right tackle Chris Clark is committing too many penalties. Center Manny Ramirez is a big reason that on a third of all carries, the running back is getting hit in the backfield. And All-Pro right guard Louis Vasquez is dealing with a bad back. This unit might get shuffled again soon.
Grounded Ground Game: The Broncos didn't exactly want to go back to the Tim Tebow era and lead the league in rushing. But they did need a more balanced attack to keep defenses honest. Montee Ball fumbled away the ball on Denver's first snap at Seattle, and C.J. Anderson and Ronnie Hillman have fared no better. (See: O-line struggles above). It might be time to give undrafted rookie Juwan Thompson a chance.
Demaryius Thomas: Denver's star receiver hasn't been himself, with one touchdown and five drops. Fans wonder if money is on his mind, if his grandmother's death this summer is affecting him, if losing his buddy Decker to the Jets is bothering him or whether he's hurt. He does have a sore left foot, but it hasn't forced him to miss any practices, and he swears a long-term contract isn't weighing on his mind.
The Ugly
Danny Trevathan's Injury: Denver's leading tackler last year and also in the playoffs, Trevathan broke his left leg in August. Although Marshall has done a superb job of filling in for him, the Broncos sorely have missed Trevathan on third downs, and his absence actually has hurt Denver more than that of Wes Welker's.
Where's Welker: His four-game suspension for amphetamines ended up being two games, and he returned to the field last week with a-half dozen catches for 60 yards. But Broncos fans cringe every time he goes over the middle after seeing him get hurt in the preseason with his third concussion in nine months.
Matt Prater's Suspension: The Pro Bowler had a bad camp with his four-game suspension weighing on him. His replacement, Brandon McManus, has given the Broncos reason to contemplate keeping him once Prater returns. Although he hasn't been faced with a pressure kick yet, McManus has made all three of his field goal tries and has been superb on kickoffs. Plus, he's cheap ($420,000) compared to Prater ($3 million base).
H H H
General manager John Elway slogged through the rubble of that Super Bowl landside and decided he needed a tougher team on both sides of the ball so that Manning wouldn't have to be such a one-man show.
He added Marvin Austin, Aqib Talib, T.J. Ward and DeMarcus Ware to a defense that also got a boost from the return to health of Chris Harris Jr., Miller, Rahim Moore and Derek Wolfe. This star-studded defense has the makings of a modern day "Orange Crush."
The offense still is trying to find its way, but Ball insisted Manning wasn't going to have to carry the burden by himself.
"It's still early in a long season, and we're going to get things going," Ball said. "Some people may disagree, but I believe we are tough. We do fight. I think we proved that (at Seattle)."