Plumtaw Fire grows slightly as crews battle the blaze into Wednesday
The Plumtaw Fire north of Pagosa Springs grew a little more than 10 acres overnight as firefighting crews and nearly a dozen aircraft battled the blaze Wednesday.
The fire was mapped at 613 acres late Wednesday morning, up from 600 acres Tuesday evening, said Lorena Williams, a spokeswoman for the San Juan National Forest.
"There's always room for corrections in mapping, so that could be part of the discrepancy, but it did see limited growth overnight," she said.
The fire closed within 150 feet of Fourmile Road (Forest Service Road 645) overnight, but firefighting crews set a "burn out," which pushed a low-intensity fire back from the road to meet the fire, creating a buffer. The strategy was meant to improve visibility and allow firefighters to use Fourmile Road as a containment line.
In a news release Wednesday afternoon, the U.S. Forest Service credited fire mitigation treatments along Fourmile Road completed in 2021 with helping firefighters hold the fire at the road.
About 150 firefighters were fighting the blaze along with five helicopters and five airplanes as they tried to keep the fire north of Plumtaw Road and west of Fourmile Road.
Information about the containment of the fire was unavailable as of early Wednesday afternoon.
"We have several aircraft assigned and resources are engaged on the ground, and we're chipping away at it," Williams said.
The Plumtaw Fire was reported about 1 p.m. Tuesday about 7 miles north of Pagosa Springs, producing a thick cloud of smoke that could be seen from Durango as it scorched ponderosa pine, Gambel oak and mixed conifer forest in San Juan National Forest.
Soon after, officials issued an evacuation notice for the Lost Valley of the San Juans, a small and fairly remote subdivision in Mineral County, which remained under evacuation orders Wednesday.
"The evacuation order remains in place, but the fire did not move north last night toward the neighborhood. It remained an easterly push," Williams said.
"There have been no additional threats or changes to those structures in the neighborhood," she said.
No other evacuation orders had been issued as of Wednesday afternoon.
The Forest Service directed those seeking evacuation information to contact the Archuleta County Emergency Operations Call Center at (970) 422-7084.
The fire area is closed to the public, including Fourmile Falls Trailhead, Fourmile Road at the forest boundary and Plumtaw Road (Forest Service Road 634) from the junction of McManus Road (Forest Service Road 633).
A Type III incident management team took over control of the firefighting response Wednesday and will manage the fire until a Complex Incident Management Team arrives and assumes command on Friday, Williams said.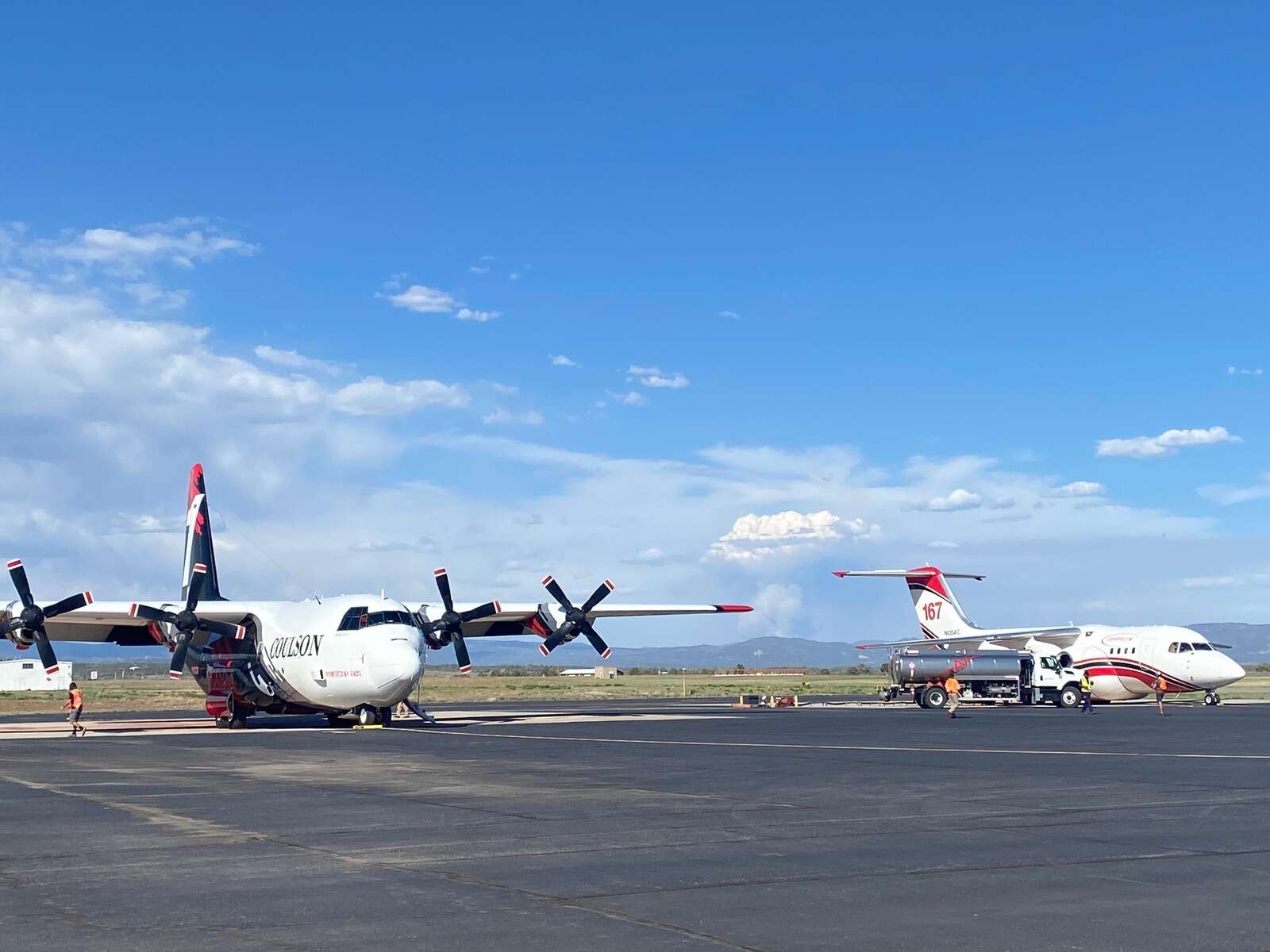 Smoke from the Plumtaw Fire triggered an air-quality warning from San Juan Basin Public Health on Wednesday.
Sensors indicated "unhealthy" or "very unhealthy" air in northern Archuleta County and southern Mineral County, according to a news release. The public health agency recommended that those affected by smoke should remain indoors and locations where the air is filtered.
Those sensitive to smoke, including those with heart disease, respiratory illnesses, the very young and the elderly should consider limiting outdoor activity and reducing heavy exertion, the news release said.
"It's a lot of white, dispersed smoke," Williams said.
While the fire stagnated overnight, fire officials were closely monitoring the weather. The National Weather Service has issued a red flag warning for Southwest Colorado beginning 11 a.m. Thursday extending into the evening. The warning called for 20 to 30 mph winds with gusts up to 50 mph.
In its news release, the Forest Service also announced San Juan National Forest would enter Stage 1 fire restrictions on Friday, five days ahead of schedule. San Juan National Forest was previously scheduled to enter Stage 1 on May 25.
"Wind is always a factor with wildfire, so fire managers are planning carefully knowing that that red flag warning is coming tomorrow," Williams said.
ahannon@durangoherald.com