Denver still aims to get longterm deal done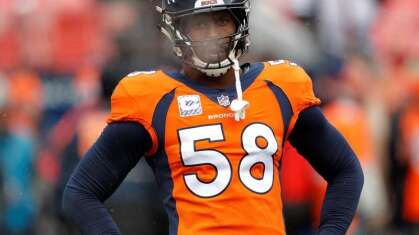 ENGLEWOOD – New general manager George Paton said Thursday the Denver Broncos want Von Miller back in 2021, but they want to hear more about an off-field investigation into the star lineback...
ENGLEWOOD – Jurrell Casey's stint in Denver lasted just three games. The Broncos released the veteran defensive tackle Thursday, freeing up about $12 million in salary cap space t...
Rookie lauds Drew Lock, Deshaun Watson in eyebrow-raising media tour
With some fresh but familiar advice from his mentor, Tampa Bay Buccaneers linebacker Shaquil Barrett aims to wreck Patrick Mahomes' prospects for another Super Bowl parade the same way Von ...
Right of first refusal in team sale at issue
Paton promises collaboration, consensus
Backup quarterbacks did more than just hold clipboards in the NFL's divisional playoff round. Jameis Winston threw a 56-yard trick-play touchdown pass to Tre'Quan Smith on his fir...
Denver interested in adding diversity
Bowlen children continue to feud over team
Denver tight end catches blow from Las Vegas coach
Franchise legend steps up into new role, will hire new GM