Nuggets did not have first-round pick
Pelicans eager to make top pick official
Much at stake as Warriors force Raptors back to Oakland
Win comes at cost with injury to Durant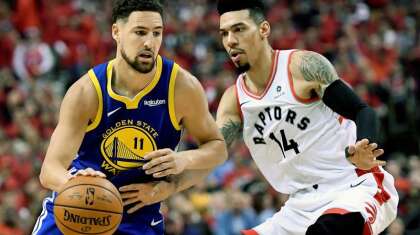 Thompson scores 25, Raptors can't keep pace
Leonard, Gasol add to Siakam's career-high 32
Lillard, Kemba, LeBron among noteworthy picks
NEW YORK – Magic Johnson and Larry Bird, whose coast-to-coast rivalry in the 1980s propelled the NBA to a new level of popularity, will be honored with the Lifetime Achievement Award. ...
Eastern Conference up for grabs without James
NEW YORK – D'Angelo Russell had 27 points and 11 assists, and the Brooklyn Nets surpassed last season's win total by beating the Denver Nuggets 135-130 on Wednesday night. Russell...
NEW YORK – The New York Knicks have traded Kristaps Porzingis to the Dallas Mavericks, parting with the young All-Star forward as he recovers from a torn knee ligament. The Knicks...
NEW YORK – The NBA estimates an increase of about 40,000 miles of travel in the postseason if it scrapped its current conference format and took the top 16 teams. Calls to change ...