Minimum salaries for entry-level teachers would increase from $41,000 to $50,000
SANTA FE – New Mexico's plan to address the needs of underserved Indigenous students hasn't been shared with tribal leaders or the public despite promises made by state officials that they w...
$1.2 million deal that leapfrogs piecemeal efforts by state and tribal officials
SANTA FE – The New Mexico state Senate voted Friday in favor of a spending plan for $478 million in federal pandemic relief to expand highways, internet infrastructure, electric vehicles and...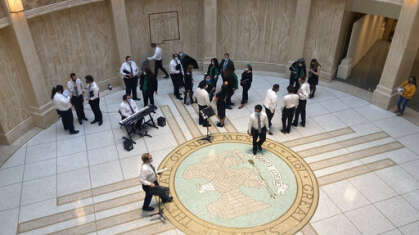 SANTA FE – New Mexico's state legislative complex will be open to the public during upcoming Legislative sessions, but only for those who provide proof of vaccination. New rules will also pr...
SANTA FE – At least two schools in New Mexico are sending students home early this week for remote learning, citing concerns about a coronavirus infection surge. Students at Santa Fe Public ...
SANTA FE – New Mexico officials have been inundated with critical letters on proposed K-12 social studies standards over the inclusion of racial identity and social justice themes in a maj...
SANTA FE – The committee responsible for proposing new political boundaries in New Mexico has sent a final report to state legislators, recommending maps to be used in redistricting. In the ...
SANTA FE – In her first prepared speech Tuesday, the new leader of New Mexico's child protection department pledged to restore the agency's credibility after a series of scandals under her p...
SANTA FE – Companies clamoring for contracts on internet services and student testing are buying legislators free lunches at meetings about education policy. It's a legal and a frequent prac...
SANTA FE – New Mexico's Democratic governor is seeking legislation to help jump-start hydrogen production from natural gas in her state, a process that generates harmful greenhouse gases but...
SANTA FE – The proficiency of New Mexico's elementary students in math and reading has dropped significantly amid the pandemic, with only 31% achieving it, according to a review of prelimina...