Durango's Blevins, Kuss selected
LAWRENCE, Kan. – Empty seats have been the norm the past few years at the University of Kansas, where a succession of football coaches has failed to turn around the flailing fortunes of the ...
The decision to postpone the Tokyo Olympics until next year because of the coronavirus pandemic has left American cyclists with an abundance of mixed feelings. Relief that a move ...
USA Cycling will have a familiar face directing its efforts at the Tokyo Olympics this year. The national governing body announced Wednesday the return of Jim Miller as its head o...
When Rob DeMartini took over at USA Cycling about a year ago, the longtime businessman immediately noticed parallels between the sport's governing body and New Balance, the footwear and appa...
DATE: Feb 6, 2020 | CATEGORY: Sports
Mahomes magic has K.C. in good shape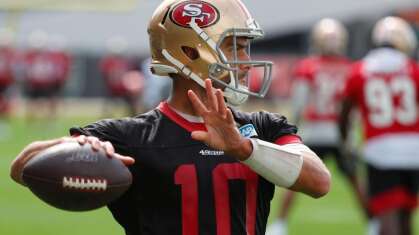 DAVIE, Fla. – The Chiefs and 49ers went through their final practices Friday in preparation for the Super Bowl, and both coaches said their teams have everyone healthy and available for when...
Buffs fall to No. 23, Rutgers ranked for first time since 1978-79
Coaches an intriguing aspect of AFC title game Sunday
Kansas City to meet Tennessee for AFC Championship
KANSAS CITY, Mo. — The Kansas City Chiefs made it a miserable homecoming for Broncos quarterback Drew Lock. With snow swirling all afternoon, the Chiefs relentlessly pounded the f...
Denver loses to Kansas City for 9th consecutive game