Fourth-quarter collapse cost Denver last time
Bouchard-Hall key in leading resurgence
Denver faces pivotal game after loss
ST. LOUIS – The spotlight was downright searing when Jordan Spieth arrived at Quail Hallow last summer, fresh off a victory at Royal Birkdale that had put him on the precipice of the career ...
KANSAS CITY, Kan. — Kevin Harvick surged past Martin Truex Jr. with one lap to go to win Saturday night at Kansas Speedway, his fifth win in what has turned out to be a dominant start to the...
In some ways, Peter Sagan and Mark Cavendish will always be joined at the hip. Or the elbow. You see, the two have long been among the world's top cyclists, routinely w...
U.S. figure skater hit six quadruple jumps
GANGNEUNG, South Korea – When the International Skating Union made the popular decision to allow lyrics in all performances, the Paul Simon classic "The Sound of Silence" seemed like it woul...
DATE: Feb 14, 2018 | CATEGORY: Music
Johnson is Kansas City's all-time leader in tackles
KANSAS CITY, Mo. – The countdown to the Patrick Mahomes II era in Kansas City began the moment the Chiefs traded up to select the strong-armed quarterback in the first round of last year's d...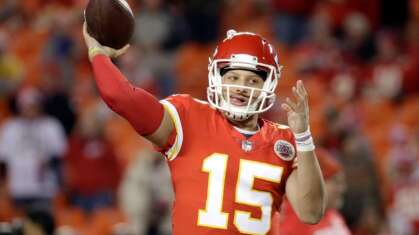 KANSAS CITY, Mo. – Patrick Mahomes II snapped a 34-year streak in which the Chiefs eschewed drafting a quarterback in the first round when they traded up to pick him 10th overall earlier thi...
KANSAS CITY, Mo. – Alex Smith threw for 231 yards and two touchdowns, Kareem Hunt ran for 155 yards and a score, and the Kansas City Chiefs routed the turnover-prone Los Angeles Chargers 30-...