League trying to preserve important era in baseball history
KANSAS CITY, Kan. — Martin Truex Jr. finally ended his string of rotten luck at Kansas Speedway. Danica Patrick was left to rue more bad luck of her own. Truex pulled a...
American cyclist Coryn Rivera long ago established her credentials on home soil, winning so many national championships in so many disciplines that she sometimes lost track of the total. ...
Ducks on to Final Four after convincing win against Kansas
LAWRENCE, Kan. – Brandon Rush returned to Kansas to have his jersey retired this week, and it so happened that the ceremony coincided with the No. 3 Jayhawks clinching a share of their 13th ...
LAWRENCE, Kan. – Kansas athletic director Sheahon Zenger understands people may have questions about the many legal issues surrounding the Jayhawks' storied basketball program, an avalanche ...
Cyclones overcome 14-point halftime deficit to win
LAWRENCE, Kan. – Kansas took a big step toward keeping its streak of Big 12 titles intact Wednesday night. Kept a lot of other streaks going, too. The third-ranked Jayh...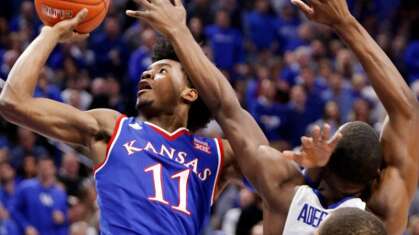 LAWRENCE, Kan. – The one place Kansas guard Frank Mason III and his teammates can find a reprieve these days seems to be the basketball court, where the third-ranked Jayhawks can be defined ...
Holding flag on 2-pt try cost Chiefs
Denver loss elimantes playoff chances
K.C. takes control of division with 3 to play