Without Scalia's vote, justices are continuing to end up with ties on big cases
Court rules in favor of police in search case
Trump's latest attacks on judge raise new concerns
WASHINGTON – The Supreme Court upended the conviction and death sentence of a black Georgia man Monday because prosecutors violated the Constitution by excluding African-Americans from the a...
Justices may be buying time until a ninth justice is chosen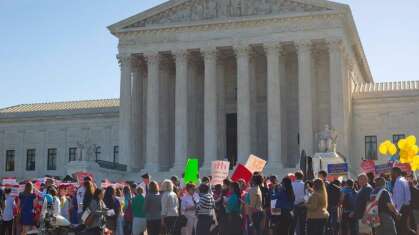 WASHINGTON – The Supreme Court is taking up an important dispute over immigration that could affect millions of people who are living in the country illegally. The Obama administr...
Defendant: Racial slurs deprived him of impartial jury
WASHINGTON – A unanimous Supreme Court ruled Monday that states can count everyone, not just eligible voters, in deciding how to draw electoral districts. The justices turned back...
WASHINGTON – In a new challenge to President Barack Obama's health care law, the Supreme Court appeared deeply and evenly divided Wednesday over the arrangement devised by the administration...
Justices grill attorneys about law's restrictions
WASHINGTON – Chief Justice John Roberts on Monday remembered the late Justice Antonin Scalia as a friend and colleague of "irrepressible spirit" as the Supreme Court resumed work for the fir...
WASHINGTON – Justice Antonin Scalia's sudden death a month before his 80th birthday and the potential impasse over replacing him is giving new impetus to an old idea: limiting the service of...