Obama administration will ask justices to back equality
WASHINGTON – A small church in a Phoenix suburb appears likely to win its Supreme Court dispute about a local ordinance that puts limits on roadside signs that direct people to Sunday servic...
Women cites descrimination while working for UPS
WASHINGTON – The U.S. on Saturday announced the release of the two Americans in North Korean custody after a secret trip to the reclusive communist country by President Barack Obama's nation...
Supreme Court to hear Obamacare case in March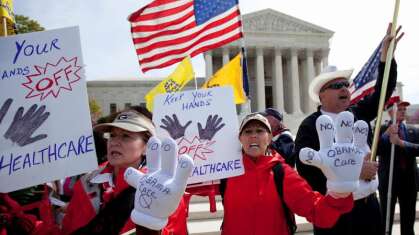 WASHINGTON – Supreme Court justices have their first chance this week to decide whether they have the appetite for another major fight over President Barack Obama's health care law. ...
Kansas, Montana, South Carolina refusing to issue licenses
WASHINGTON – The Supreme Court unexpectedly cleared the way Monday for a dramatic expansion of gay marriage in the United States and may have signaled that it's only a matter of time before ...
High court expected to decide matter soon
WASHINGTON – The Supreme Court ruled Monday that some corporations can hold religious objections that allow them to opt out of the new health law requirement that they cover contraceptives f...
WASHINGTON – The Supreme Court on Thursday struck down a 35-foot protest-free zone outside abortion clinics in Massachusetts. The justices were unanimous in ruling that extending ...
WASHINGTON – The Supreme Court on Thursday limited the president's power to fill high-level vacancies with temporary appointments, ruling in favor of Senate Republicans in their partisan cla...