Guiding them much like Scotty on 'Star Trek'
NEW YORK – A.R. Gurney's romantic play "Love Letters" is about to hit Broadway again with some big movie stars. The two-person work, composed of letters exchanged over a lifetime ...
NEW YORK – Before she was Princess Anna in "Frozen" or even Veronica Mars, Kristen Bell was a musical theater geek. Now she's letting her roots show. Bell is starring in the irre...
NEW YORK – Moving to a new home is said to be one of the most stressful events you can endure – up there with death and divorce – but Julia Stiles has just done it and looks radiant. ...
NEW YORK – At about 10, Hershey Felder had to make a decision that would change his life: Pick acting or pick the piano. He chose to tickle the ivories. "You can't fake this," the...
NEW YORK – David Byrne has gone more than an extra mile to ensure his immersive show "Here Lies Love" about Filipino ex-first lady Imelda Marcos is as authentic as possible as it goes intern...
NEW YORK – Gerry Goffin, a prolific and multi-dimensional lyricist who with his then-wife and songwriting partner Carole King wrote such hits as "Will You Love Me Tomorrow," "(You Make Me Fe...
DATE: Jun 20, 2014 | CATEGORY: Music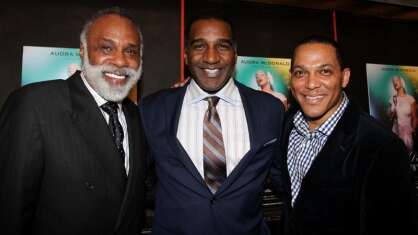 NEW YORK – In a rehearsal room near Times Square this week, some two dozen men with Broadway-honed voices huddled to strategize. They were practicing choral work ahead of a landma...
NEW YORK – Jane Lynch has zipped off the tracksuit and left the Cheerios behind. The "Glee" star is going cabaret. The Emmy- and Golden Globe Award-winner makes her nightclub debu...
NEW YORK – For Ruby Dee, acting and activism weren't contradictory things. They were inseparable, and they were intertwined. The African-American actress, who earned lead roles in...
His latest play, 'The Who & The What,' opens Monday
Native Irelander plays fiery redhead in this Irish comedy