Public health measures in place to limit COVID spread
COLORADO SPRINGS — A man who fatally shot six people at a Colorado birthday party before killing himself was upset after not being invited to the weekend gathering thrown by his girlfriend's...
La Plata County Sheriff's Office Monday 11:13 a.m. A vehicle crashed into a tree in the area of Eagle Pass. 3:26 p.m. Mail theft was reported in the area of Sortais Road and Nu...
Board member: Too much time in the weeds, not enough on student performance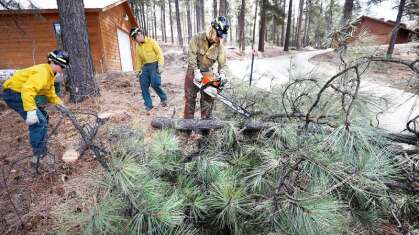 Subcommittee to weigh key issues, cost questions
LAS CRUCES, N.M. – The New Mexico Republican Party is moving its three-day convention and retreat this weekend to Amarillo, Texas, citing speakers' concerns about New Mexico's COVID-19 restr...
WINDOW ROCK, Ariz. – The Navajo Nation on Tuesday reported nine new confirmed COVID-19 cases, but no additional deaths for the second consecutive day. Tribal health officials said the latest...
Three clinics with Pfizer vaccine offered this week
Ceremonies return to football field after last year's parking-lot, drive-in event
The state, counties and cities could receive payments within days
School district to offer Zoom forum that will include questions from residents