Eagle-Net nears completion of high-speed Internet link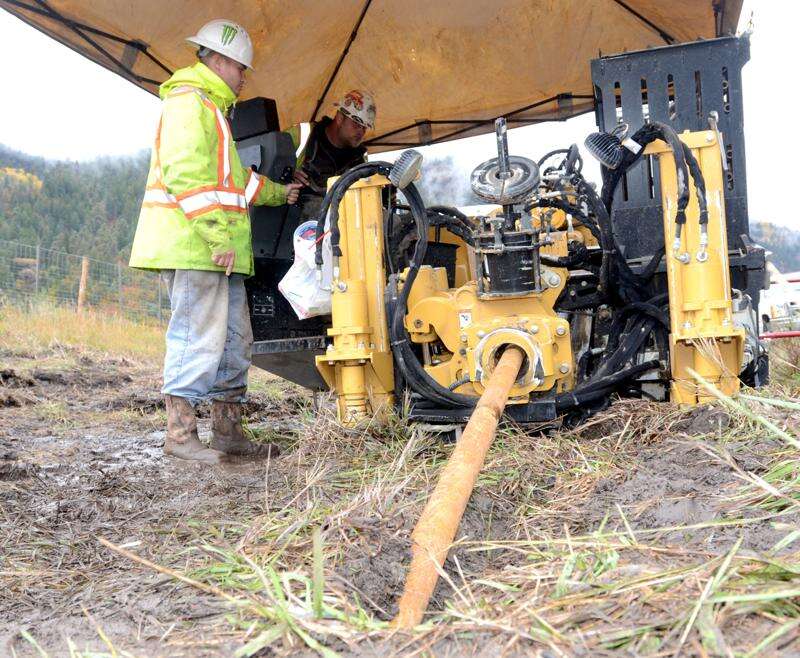 SILVERTON – Twenty years ago, residents here began meeting to plot ways to improve Internet service to this isolated town of 637 that serves as the seat of San Juan County.
Pete McKay, who serves on the County Commission, recalled waking up in the dark and walking in below-zero weather to the meetings.
On Thursday, officials with Eagle-Net and Internet provider Affiniti assured Silverton residents fiber Internet is on its way.
"I don't know if it's going to get done before winter," said Eagle-Net President Mike Ryan. "It's Mother Nature. But we're going to get it done."
Silverton will be the last county seat in Colorado to be reached by Eagle-Net, which was created in 2011 and awarded $100 million in federal stimulus money.
Silverton's link is the most expensive and difficult project in Colorado, officials said. Helicopter crews spent 23 days in August stringing fiber-optics line over the mountains.
Silverton residents, politicians and tech groups involved in the project celebrated at Silverton's school building Thursday. The mood was upbeat even though the project still isn't done.
"We are assured of the connection," McKay said. "If it takes a couple of weeks, or a month or two, we're OK with that."
The higher capacity will be critical to the town's future, McKay said. He expressed hope faster Internet speeds will attract businesses and even data-storage companies that could rely on the town's redundant electric capacity.
Silverton has Internet service, but residents say it's woefully inadequate. Retailers complain they can't process credit-card transactions fast enough when the Durango & Silverton Narrow Gauge Railroad disgorges passengers.
On July 4, telephone and Internet service ground to a halt trying to meet the demands of thousands of holiday visitors.
There long were doubts Eagle-Net would reach Silverton. Political pressure helped.
Phil Bryson, former chief executive of Brainstorm Internet in Durango, recalled a meeting last year with Sens. Mark Udall and Michael Bennet. The senators told a representative of the National Telecommunications and Information Administration in no uncertain terms that the fiber would reach Silverton, Bryson said.
"Udall, Bennet, made clear to NTIA, you don't get to Silverton, and you'll have us in your face," Bryson said.
Bryson said private providers never would have completed such a difficult and potentially unprofitable project without the federal money and muscle. "I've got to honestly say, I'm amazed it happened. It shows one of the real values of the government being involved."
Private providers have been skeptical of Eagle-Net. CenturyLink, a current provider, noted it offers DSL service up to 12Mbps.
Udall and Bennet both issued statements Thursday praising the impending completion of Eagle-Net's project.
Bennet said, "The community has been persistent and tenacious in advocating for the new fiber infrastructure, which will enhance economic growth in cities and towns across Western Colorado. We have come a long way since our initial conversation in 2011 when we began this process. I look forward to seeing students and businesses take advantage of the increased broadband capacity."
Udall called broadband Internet "essential for communities that want to have first-class economies, schools, health care and innovation."
"I was proud to work with the NTIA to help bring broadband to Silverton," Udall said. "This is an important victory, but I will keep working with local leaders, Eagle-Net and telecom companies to level the broadband playing field."
When Eagle-Net finally links with Silverton's school building – either in coming weeks or in the spring – students are expected to enjoy video conference capabilities with their peers around the state. Private providers would then provide "last mile" service to homes and businesses, piggybacking on Silverton's newfound capacity.
"It's something that's been far too long in coming," said Rep. Scott Tipton, R-Cortez, who attended Thursday's event. Tipton said Colorado's congressional delegation is "unanimous in getting rural communities connected."
The project suffered setback after setback. Last year, Eagle-Net was running low on money when Affiniti, of Austin, Texas, agreed to pay $3.5 million to become the operator.
Silverton residents once even organized a chili cook-off that raised $600 toward the high-speed Internet effort. A Denver law firm provided free legal services.
On Thursday, McKay wondered aloud, "How is it that we lost every single battle over 15 years – and still won the war?"
cslothower@durangoherald.com
This article has been corrected from a previous version. Pete McKay serves on the county commission, but is not chairman. Ernie Kuhlman serves as chairman.