Proponents of life-ending medication for the terminally ill report $4.5 million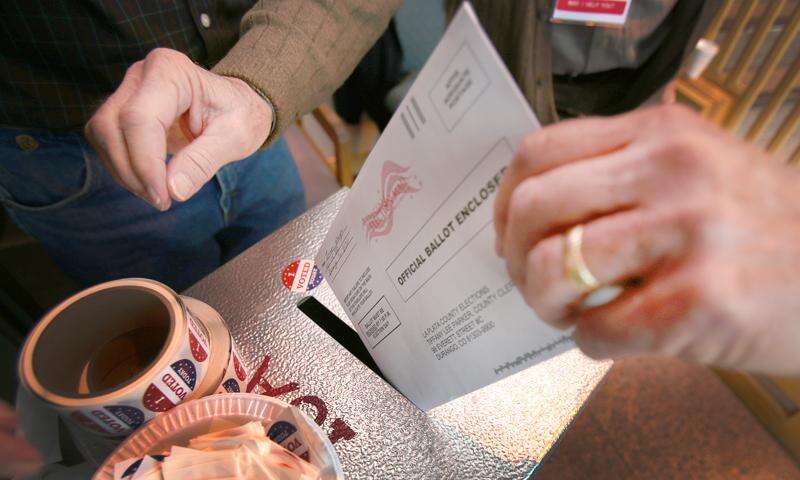 DENVER – Proponents of an initiative that would allow terminally ill patients to request life-ending medication so far have raised the most money of seven citizen-led issues facing Colorado voters this November.
Yes on Colorado End-of-Life Options raised nearly $4.5 million, with $373,803 in the bank after spending money on consulting and advertising.
Opponents of a single-payer health care proposal came in next with about $3.9 million.
Proponents of raising the minimum wage reported more than $1.7 million, while an effort to amend the state constitution raised nearly $1.6 million.
And proponents of creating primary elections in Colorado reported nearly $1.5 million.
End-of-life options
The end-of-life options proponents have been kept afloat by Compassion and Choices Action Network, which advocates for so-called "death with dignity" measures. The group has contributed more than $4.2 million, including non-monetary contributions.
In the past month, proponents raised $104,679, according to campaign filings that were posted Wednesday, following a Sept. 6 filing deadline.
"We know from people across this state that giving people their own choices at the end of their lives is critical and urgent," said Jess Grennan, campaign manager for proponents. "The campaign will have the resources necessary to ensure that each voter fully understands the provisions and safeguards included in the end-of-life options measure."
Opponents, meanwhile, have raised about $1.2 million. Most of the donations have come from the Archdiocese of Denver, with more than $1.1 million. Focus on the Family and Colorado Christian University also are keeping the opposition afloat.
Jeff Hunt, director of the Centennial Institute, a part of Colorado Christian University, said the crux of the opposition will rely on painting perceived unintended consequences.
"Our biggest overall philosophical thought is that this thing always moves from a 'right to die,' to a 'duty to die,'" Hunt said.
Grennan said the opposition is leading a "fear-based" campaign "despite the law's success in making end-of-life health care more inclusive and responsive."
Universal health care
The second group in the big money category is opposition to a single-payer health care proposal.
The $3.9 million raised so far by Coloradans for Coloradans includes major donations from the health care industry, including insurance providers.
The $25 billion proposal would eliminate private health insurance in Colorado for a state-run system. Employees and employers would pay a combined 10 percent payroll tax.
Opponents raised $266,265 over the month and have $443,792 in the bank.
Proponents have raised $337,516, mostly on individual donations. They raised $72,883 over the month, and have $34,187 in the bank.
A spokesman for the initiative said proponents expect help from former Democratic presidential candidate Bernie Sanders' new group, Our Revolution.
Minimum wage
The $1.7 million raised by proponents of gradually raising the minimum wage includes large contributions from unions, such as the National Education Association and American Federation of Government Employees.
Proponents have spent about $1.1 million, leaving $588,982 in the bank. They had an impressive fundraising month, putting away $547,662.
Opponents – led by the business community – have raised $539,084 so far to fight the initiative. They have $435,099 in the bank after raising $425,634 over the past month.
Top contributors for opponents include the Workforce Fairness Institute, which advocates for business owners, as well as a political action committee for the hospitality industry and the Colorado Restaurant Association.
Raise the Bar
A campaign dedicated to making it more difficult to amend the state constitution also had an impressive fundraising month, reporting $623,378. The haul brings its total to nearly $1.6 million. Proponents have $299,600 in the bank.
Opponents have established two committees, though neither has reported any monetary contributions.
Citizens for Integrity is one opposition committee, which is also registered to oppose the primary elections questions.
Raise the Rafters! Vote No On 71 is the other opposition committee, which received a delinquency letter from the secretary of state's office for not filing by the Sept. 6 deadline.
Primary elections
Proponents of two ballot questions on primary elections – one for presidential elections and the other for state and local elections – have raised nearly $1.5 million.
The ballot questions would include unaffiliated voters and moving away from a caucus.
Top donations come from a New York-based organization dedicated to open primaries, with $250,000, as well as the Denver Metro Chamber of Commerce, $100,247, and Colorado Concern, $100,000.
Proponents took in $465,145 over the month, and have $234,000 in the bank.
In addition to Citizens for Integrity, opposition is being led by Save the Caucus, which reported $398.
Tobacco tax
A final ballot issue has yet to come fully into focus, as opposition from tobacco companies is just beginning to mount.
The proposal from the Campaign for a Healthy Colorado would raise the tax on a pack of cigarettes by $1.75, moving it from 84 cents to $2.59 per pack.
The question also would increase the tax on other tobacco products, such as cigars and chewing tobacco, by 22 percent.
The goal is to raise $315 million in the first full year for a variety of services, including cancer, heart and lung disease research; programs for veterans; mental and behavioral health; rural health care, and tobacco education.
Proponents have so far raised $857,711, and they have $22,834 in the bank after spending on advertising and consulting.
The big question, however, is the tobacco companies, and how much they'll spend to defeat the measure. No Blank Checks in the Constitution is registered as opposition.
The committee started with a $695,992 contribution from Altria Group Inc., which includes companies such as Phillip Morris USA.
The opposition committee is also registered to the Colorado Wyoming Petroleum Marketers Association, which represents gas stations that sell cigarettes and other tobacco products.
pmarcus@durangoherald.com