Skyhawks also add three freshmen going into 2021-22 season
CHARLOTTE, N.C. (AP) — Chris Clunie chuckles thinking about what Stephen Curry's marketing potential might've been at Davidson College during the Wildcats' remarkable 2008 NCAA Tournament run had Curry played in an era when college students could profit from fame and celebrity.
DATE: Jul 2, 2021 | CATEGORY: Sports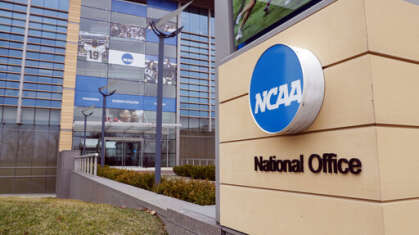 DALLAS – The NCAA Board of Directors approved one of the biggest changes in the history of college athletics Wednesday, clearing the way for nearly a half-million athletes to start earning ...
DATE: Jul 1, 2021 | CATEGORY: Sports
WASHINGTON (AP) — The Supreme Court decided unanimously Monday that the NCAA can't enforce rules limiting education-related benefits — like computers and paid internships — that colleges off...
ROSEMONT, Ill. (AP) — College Football Playoff expansion took another step forward Friday as the full group of commissioners who manage the postseason system wrapped up two days of digging ...
DATE: Jun 18, 2021 | CATEGORY: Sports
Skyhawks looking for third coach in six years
DATE: Jun 11, 2021 | CATEGORY: Sports
Long balls story of the day at RMAC tournament
DATE: May 14, 2021 | CATEGORY: Sports
Middle moving on to Laramie County Community College
DATE: May 14, 2021 | CATEGORY: Sports
Fort Lewis got tying run to plate in seventh
DATE: May 13, 2021 | CATEGORY: Sports
The Pac-12 hired George Kliavkoff to be the conference's next commissioner on Thursday, replacing Larry Scott with another college sports outsider and charging him with rebuilding the league's football brand.
DATE: May 13, 2021 | CATEGORY: Sports
Tie for 37th at regionals lays seeds for 2022
DATE: May 11, 2021 | CATEGORY: Sports
Only eight players under par in Round 2
DATE: May 7, 2021 | CATEGORY: Sports