Kids and families juice fruit the old-fashioned way at Durango Farmers Market on Saturday
The Durango Farmers Market was packed on Saturday with hundreds of people gathered in the TBK Bank parking lot during the 14th Annual Apple Days celebration. The Good Food Collective, which hosted the event, amassed about 6,000 pounds of apples for the celebration thanks to a strong fruit season this year.
Rachel Landis, director of the collective, said the organization's goal was to obtain at least 4,500 pounds, which it handily surpassed with just a small group of volunteers in the week leading up to Saturday's festival.
Four oak-framed, hand-cranked apple presses – purchased by locals Darin Parmenter, Erin Jolley and Brian Peterson about 14 years ago and kept with several nonprofits, Landis said – were stationed near The Good Food Collective's booth at the market where volunteers helped children and families grind apples and press them into juice.
Mya Holladay, glean coordinator for the collective, said it takes 18 pounds of apples to produce one gallon of apple cider.
"Then that luscious, beautiful, yummy-smelling pulp goes to feed our (community's) piggies," she said.
In all, about 40 volunteers had officially signed up to help at the festival on Saturday. But even more joined on during the event, per the norm, Landis said.
For Landis and other members of the collective, apple picking is an "amazing" way to learn more about the Durango community. She said she and volunteers went picking at the Russels' orchard near Dolores, which was planted in 1944 and became the foundation for Mountain Sun Juice Factory, once the largest organic juice factory stateside.
"We just got to (see) through their eyes what this meant to them," she said. "This connection to place and people and community."
Holladay said people from every economic background, age and gender, and several languages, volunteered their time picking apples ahead of the festival.
"Everyone has been super giving and willing. Some people are very able-bodied and some aren't. But everybody is wanting to give back to the community," she said. " … We've had one opportunity to have seven little ones, they were all under the age of third grade, and (it was) the first time they had ever picked fruit from trees.
"I feel it's such a community builder and our goals are being met. And I get to be outside with other happy people picking fruit," she said. "And I just can't think of a better job on the planet."
Landis said the orchards between Cortez and Mancos are great because they are protected by the terrain from rougher climates during the fruit producing season.
"There are orchards literally between two canyons, so it never freezes. So they never lose all their bloom," she said. "So they don't have the risk that you do at higher elevations. But when that cold air comes down through the canyons at night, it makes them (taste) really sweet."
The collective has also visited other orchards and picked fruit from people's backyards leading up to Saturday, she said.
The "perfect" apples are donated to food banks and other nonprofits while damaged or severely bruised ones are handed off to farms and ranches for animals to enjoy, Holladay said.
Holladay said this is her first season gleaning fruit for pay, but she is a farmer and grew up with the philosophy that it is good to take advantage of resources already available and food waste should be limited.
"Who doesn't love climbing a tree and picking food from its source?" she said. "And then, if you're lucky enough to be in a position where volunteers from all over the community come and join you, it's just absolutely, profoundly wonderful."
She enjoys providing local food to local bellies, she said.
Holladay said between 30% and 40% of all food in the U.S. goes to waste and The Good Food Collective addresses that by encouraging sustainability. The organization moves an average of about 12,000 pounds of food to tables every summer. This year, the collective will achieve a higher number because it reached that average mark earlier this summer, she said.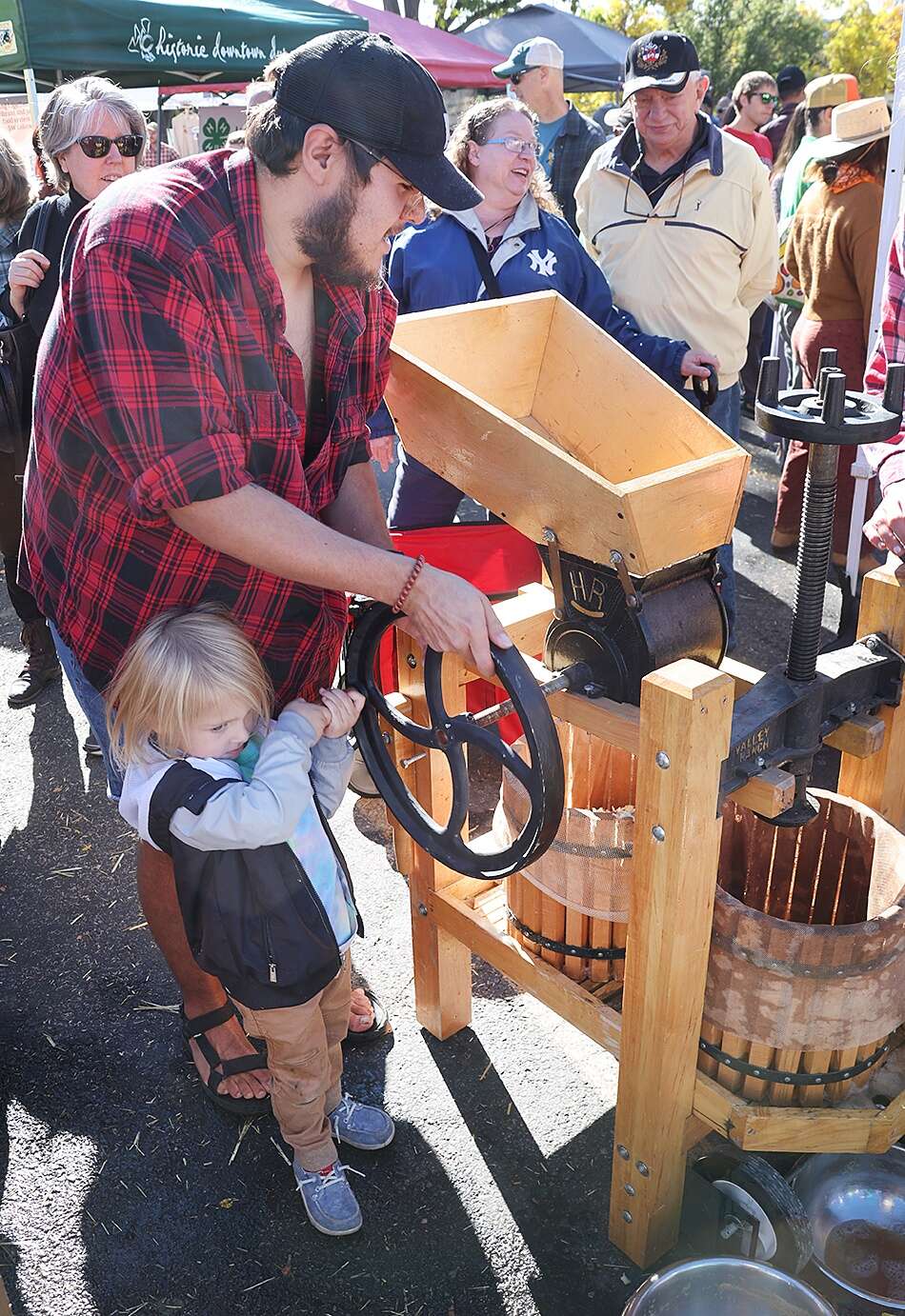 On Friday, the collective pressed 2,500 pounds of apples into juice, and she said it may press 3,000 pounds by Saturday's end.
"With this gleaning in particular, in the field, it's the best job you can have. Absolutely riotous if you like being outdoors and you like to make a difference in our little local food economy," she said.
In addition to feeding people and livestock, the collective aims to remove apples from properties that would otherwise increase the odds of human and bear interactions.
"One of our big goals is to prevent bear encounters so that we have less euthanized or relocated bears," she said.
Linda Crossett, a volunteer for The Good Food Collective, said she has helped the organization for about five years now and has volunteered at various places for most of her life. She said she isn't sure what drew her to the collective specifically, she just finds volunteering and picking apples fun.
Some of the orchards the collective gleans are 70 to100 years old or older, Crossett said.
"It's really kind of an honor to be in these historic orchards of bounty. When I'm climbing in a tree and it's older than me it's like wow, it's still giving fruit," Holladay said.
Landis said she expects good apple picking to last at least through the first week of November this year.
cburney@durangoherald.com