More than 5,000 fans packed into Wolverine Country Stadium to witness Bayfield High School beat the visiting La Junta Tigers for the Colorado High School Activities Association Class 2A state football championship game Saturday afternoon. It was the most fans to ever watch a high school football game in Southwest Colorado.
Bayfield didn't disappoint its supporters. The Wolverines dominated La Junta from start to finish to earn a 34-7 victory and their third football state championship in school history. It was the team's 20th consecutive home win to extend a school record.
It was the first state championship game played in La Plata County since 1968, and the environment made it the party of the century. Though plenty of Bayfield fans traveled to Kersey for the 2015 state championship win against Platte Valley, Saturday's game blew that atmosphere away.
"Shudders, goose bumps and chills," Bayfield senior linebacker Kirk Malone said of the feeling he had when the final whistle blew and the Bayfield crowd roared. "That 48 minutes went fast, but it was an amazing feeling the whole time, nothing like it.
"This is my hometown, where I was born and raised my whole life. To see everyone in support of us, that's what it's all about."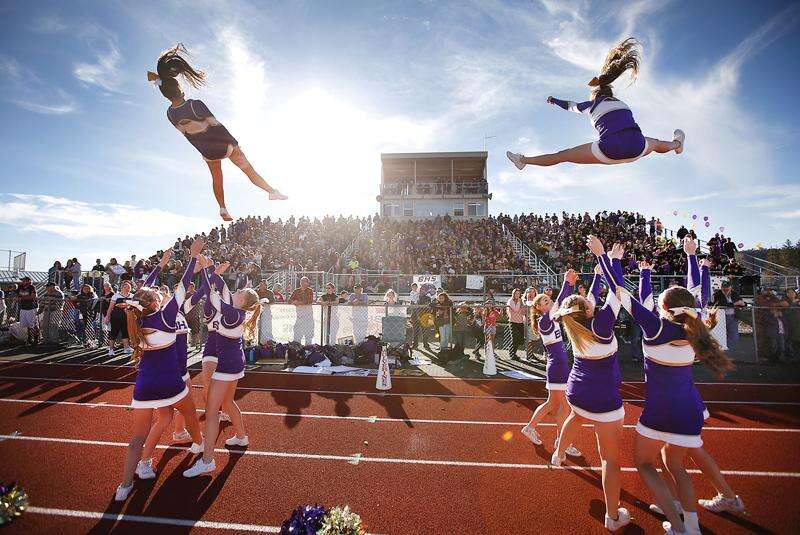 Wolverine Country Stadium sits 1,300 fans at its usual capacity. Bayfield brought in seven sets of extra bleachers to put on both sidelines, and fans lined the fence the entire circumference of the field. Beyond that, another estimated 1,500 fans sat on a hill behind the east sideline. Nobody left early, and the hill only seemed to become more crowded as the game progressed.
"It's a big deal," said Bayfield senior Dax Snooks, whose family has long been a staple of the Bayfield community. "I'm super proud, and I feel like we made the community proud. They love football, and it was great having everyone here to watch us. It was huge."
Supporters from Durango and Ignacio were in attendance to cheer on the Wolverines. The 2015 state championship team had a pregame reunion, and all former players in attendance were brought together for a group photo underneath the scoreboard at halftime. Four former coaches also were in attendance.
The pregame environment was electric and sent chills down the spine of even a neutral observer. In an epic display, members of the La Plata County Sheriff's Office, Bayfield Marshall's Office and Colorado State Patrol drove squad cars behind the fence of the south end zone. When the Wolverines took the field for the first time, the cars fired up their lights and sirens to a loud ovation from the fans.
Bayfield senior Hunter Killough ran onto the field wearing a badger fur cap with a Wolverine pelt around his neck. With the entire team lined up on the south goal line awaiting the national anthem, Killough paced up and down the line delivering a speech as if he was Mel Gibson's character William Wallace in the movie "Bravehart."
"I was just trying to get some excitement, some energy," Killough said. "It was a pretty big game, and some of these guys haven't been part of a game like this. Some of us were here in 2015, and we were lucky for that experience. For the guys who weren't, I wanted to ease their nerves and bring a happy attitude and have some fun. Everyone got pretty pumped up, and we were ready to play."
La Junta brought plenty of its own fans, too. The Tigers' faithful were estimated at nearly 1,000 strong. Though the team wasn't able to capture its seventh state championship in school history, the fans stayed start to finish to support the Tigers.
"It's always amazing. We have great fans, some of the best in the world," said La Junta junior star Jon Nuschy. "They have our backs no matter what, win or lose. It's a great community, and we love it in La Junta."
For Bayfield head coach Gary Heide, who completed his sixth season leading the Wolverines on Saturday, the state championship game provided one last chance to coach his twin sons, Carl and Dawson, who will graduate in the spring. Heide immediately dismissed the idea of his resignation and said he would be back to defend what the Wolverines earned in 2017.
"I'll let it ooze out of me now. It's been a dream come true for a father," coach Heide said. "I had to pinch myself so many times through the year. To have twin boys on such a fine football team and both contributing, it's been special. This week, I had to put it out of my mind that this day was a reality for me and my two boys and that it would be our last game together. Never take it for granted, and it's something I will always remember.
"I'll always remember all of these seniors. They're just like my sons. I'll never forget what they did in combination with my two boys."
The Heides moved to Bayfield when Carl and Dawson were in middle school. Carl said he had no idea he would graduate from the program with two state championship rings.
"I had no idea until I got here what Bayfield was all about," he said. "I started playing with these guys in middle school. I knew we would be a great group of kids. I didn't know until I got here, but I learned quickly."
For Bayfield junior Keyon Prior, he was able to add to his family's legacy. His grandfather, Butch Prior, was a coach of the Wolverines from 1974-1988, and his father, Kevin, won a state championship of his own with the Wolverines in 1996, when Bayfield won its first state title. Keyon Prior had a big interception in the second quarter Saturday that helped the team build a 20-0 lead.
"I contributed to my team, played my heart out for my team," Keyon Prior said. "My dad is going to be bragging about it probably for the rest of his life he's so excited. I've got one more season, we have one more season, and we want one more."
Beyond all the records and the state championship banner that will hang inside the school's gymnasium, this Wolverines team wants to be remembered for one thing.
"Our grit," Malone said. "No matter what, we were not going to go out there and let anyone push us around. We were gonna go out and dictate it to you. That's what it was about all year, and hopefully that's what Bayfield football will continue to be about."