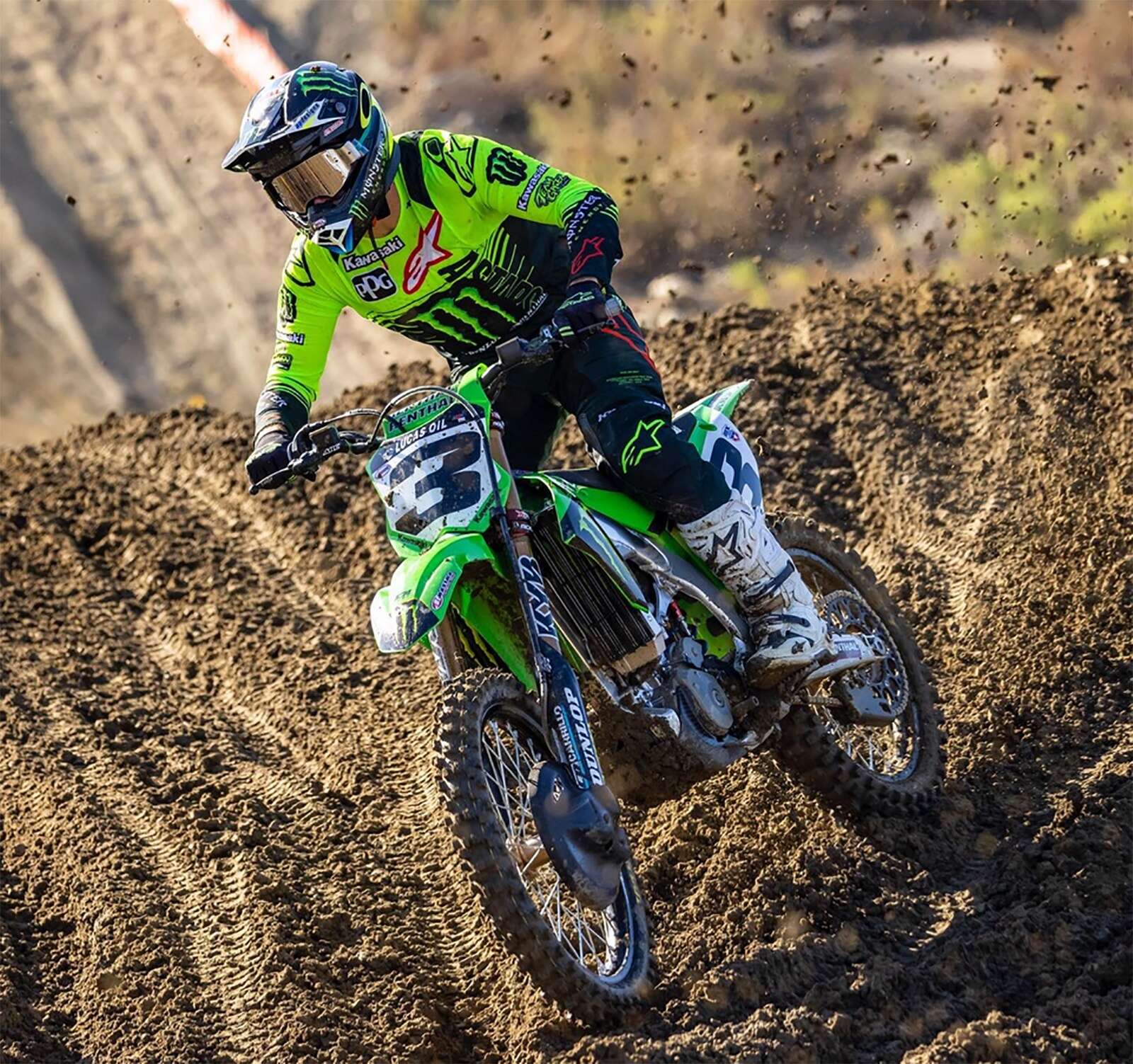 Cortez rider benefits from strong riding, Roczen crash
Eli Tomac of Cortez on Saturday capped a comeback season with a fourth-place finish and a win at Hangtown to overtake Ken Roczen in the motocross standings and finish second overall.
Dylan Ferrandis, the rookie sensation in the 450cc class, won the 2021 title.
Entering Hangtown Raceway in Sacramento, California, nine points behind Roczen, Tomac set up a strong race day with a fourth-place finish in Moto 1. He started the race in fifth place and passed Christian Craig in Lap 2. Roczen grabbed the early lead over Ferrandis. Cooper Webb was in third.
In Lap 6, Tomac raced nearly 2 seconds faster than Webb and passed him for third. Then, with the leaders in his sights, Tomac laid down the fastest lap of the race in Lap 7, at 2 minutes, 14.5 seconds – nearly 2 seconds faster than Ferrandis' time.
His charge was short-lived, however. He crashed in Lap 8, and finished fourth after Webb regained third place. Ferrandis overtook Roczen for the lead and eventual victory in Lap 10.
"I felt like I was gonna be able to catch those guys, and of course just missed my one main line," Tomac said in a post-race interview. "And I washed my front end out."
He also said he injured his thumb in the crash, which hindered his speed after he remounted his bike.
Part 2 of the race day story
Tomac got his break in Moto 2.
He avoided a crash at the first turn, which snagged Ferrandis and Roczen. Ferrandis dropped to 23rd place after Lap 1, and Roczen dropped out of the race altogether.
Tomac finished Lap 1 in fourth place and passed Max Anstie for third in Lap 3 while Craig and Webb raced for the lead.
It was the green light that he'd been waiting for.
Webb and Tomac passed Craig in Lap 5 and engaged in a duel for first. Tomac posted his fastest lap in Lap 8, and passed Webb for the lead and eventual victory with seven laps to go.
Ferrandis ran perhaps the most striking comeback race of the season. After crashing in the first turn, Ferrandis started Lap 2 in 23rd place. But he charged into sixth place in Lap 5 and into third in the 14th of 15 laps.
Ferrandis' combination of a first and third in the two motos gave him the overall victory, his sixth of the 12-race season. Tomac was second overall, with a fourth and first, and Webb was third, with a third and second.
Tomac's victory in the second moto gave him his sixth moto win of the season and his third since winning the second of two motos in the Ironman in Crawfordsville, Indiana, on Aug. 28.
It also capped the end of a surge that gained momentum in the second half of the series.
The second half of the season
Since racing in Washougal, Washington, on July 24, Tomac was on the moto podium nine out of 12 tries. In the first half, he was on the podium just four times.
He started the second half in fourth place overall, two points behind Justin Barcia at 207-205, and 25 points behind runner-up Roczen at 230-205. Ferrandis led with 262 points.
This season, Tomac won two of the 12 races and finished on the podium 13 times. His average finish during the first half of the season was 5.5. In the second half, he cut that average to 2.6, for an average of 4.1 for the entire season.
Ferrandis, the rookie for Yamaha who made the leap to the 450cc class this year, won eight of the season's 24 motos, and finished on the podium 22 times. His average finish was 2.1.
Roczen won seven motos and was on the podium 15 times. His average finish for the season was 6.1.
What's next?
Tomac can't comment until Oct. 1, when his contract with Monster Energy Kawasaki expires, but insiders say he'll join the Star Racing Yamaha team. The move would give Star Yamaha Ferrandis and Tomac, the top two finishers in the 2021 AMA Motocross series.
On Saturday, Tomac said he had mixed feelings about leaving the Kawasaki "family," and though he and the team were on good speaking terms, he was "pretty emotional."
"It was tough that way today, leaving the track, but, um you know, it's this life-goes-on kind of thing, and that's all you can do."
Tomac's move helped set in motion a series of changes.
Jason Anderson of Albuquerque, who had talked with Star Yamaha, likely will take Tomac's place on Monster Energy Kawasaki.
Aaron Plessinger, on the way out at Star Racing Yamaha, likely will go to Red Bull KTM, and Malcolm Stewart has signed with Rockstar Energy Husqvarna.
And after that?
The Monster Energy Supercross season begins Jan. 8 in Anaheim, California, and Tomac, who first raced in 2010, will be there.
"I still have the itch for chasing green flags and checkered flags and being on the start line," Tomac said Saturday. "I still like to do it, so that's it: I still like to do it. I still enjoy trying to win races and trying to be the best guy. So, um, that's why I'm still around. "