'We're in a much better position tonight than we were 24 hours ago'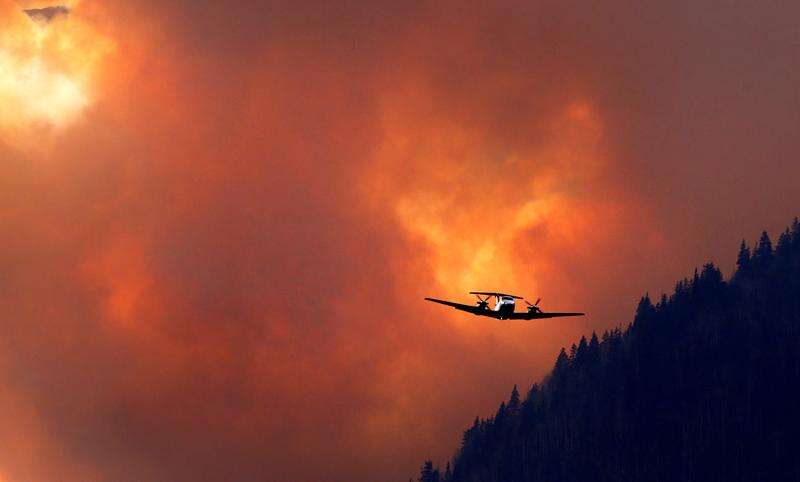 SILVERTON – A wildfire burning in the San Juan Mountains west of Silverton slowed its spread Tuesday after roaring to life Monday, scorching 508 acres and trapping 23 hikers on the popular high-alpine trail to Ice Lake.
The Ice Fire broke out around 1:30 p.m. Monday about a quarter mile up the Ice Lakes trailhead and quickly burned through a couple hundred acres of heavily forested area.
On Monday night, the San Juan National Forest Type 3 Incident Management Team assumed control of the fire and went into full suppression mode, calling in a fleet of air and ground crews.
About 100 personnel were assigned to the fire as of Tuesday, according to the U.S. Forest Service.
Two main objectives have emerged, said Forest Service spokeswoman Esther Godson: keep the fire north of South Mineral Road (Forest Service Road 595) and west of U.S. Highway 550.
Because the burn is on steep terrain, the effort is mostly relying on air attacks, though ground crews have conducted burnouts and are using avalanche chutes to create barriers around the fire.
Warm, dry and windy conditions have not helped firefighting efforts. However, less wind Tuesday allowed firefighters to gain 15% containment.
"We're in a much better position tonight than we were 24 hours ago," Incident Commander Brad Pietruszka said in a statement.
A community in waiting
No evacuation orders are in place for the town of Silverton, which is about 6 miles east of the fire and has a population of about 600, but residents have been alerted to be ready should the fire start to threaten the town.
San Juan County Sheriff Bruce Conrad said should the fire significantly spread, it could threaten the town's water supply and affect travel on Highway 550.
An air-quality health advisory for wildfire smoke was issued for San Juan County at least through 9 a.m. Wednesday.
"There's a lot of potential here for this to affect our community," Conrad said.
The Sheriff's Office spent all summer strictly enforcing fire bans, knowing any outbreaks could turn catastrophic given how dry the region is and how strapped emergency resources are with other fires, as well as with the COVID-19 pandemic.
Across the West, numerous active wildfires have continued to break out and spread, especially in Colorado and California.
"All summer we were aggressive," Conrad said. "Then at the end of October to pull the big one, it just doesn't seem right."
Hike out or wait for help?
Immediately after the Ice Fire broke out, South Mineral Road, a popular area for camping, was evacuated and closed. A total of 23 hikers and three dogs were trapped above the fire and required rescue by helicopter Monday.
Greg Anson of Carbondale was on a day hike to Ice Lake when he noticed a "massive" plume of smoke around 1 p.m.
Anson and other hikers visiting Ice Lake grouped together to decide what to do, debating whether to try to find a way to hike out of the area or wait for help.
"There was a little tension whether to wait or hike," he said. "Some people didn't think they could make it."
The first helicopter landed to rescue the hikers about 30 minutes after the smoke was noticed. It took four flights to extricate the hikers. Anson said he was ferried to safety and landed about 3:15 p.m.
"It was crazy," he said. "I've never been through anything like that."
Loved to death
The Ice Lakes trail is one of the most popular and heavily used in Southwest Colorado, which starts at an elevation of 9,840 feet and climbs a couple thousand feet to two stunning, turquoise alpine lakes: Ice Lake and Island Lake.
The alpine lakes are commonly featured on best hike lists in Colorado and shared on social media. On any given day in the summer, hundreds of people make the trek to the lakes, leading to significant resource damage in recent years.
For the past two years, the Forest Service, along with San Juan Mountains Association, have set up an informational booth at the Ice Lakes trailhead in an effort to educate hikers about best practices in the backcountry.
Public lands around Silverton escaped major wildfire outbreaks this summer, despite unprecedented visitation, and the informational booth was taken down about mid-September. It is especially painful to have a fire break out this late in the season, said SJMA Executive Director Brent Schoradt.
"It's exactly why we were there all summer," he said. "It's so terrible. I think it underscores the need to educate forest visitors. The rush of visitors is not going away, and we just need to keep it up."
The impact to the Ice Lakes trail, at this point, is impossible to say, Schoradt said.
"We don't know what the damage is going to be," he said.
A new normal?
What makes the Ice Fire so unusual is how late in the season it started, and how high in elevation it burned.
Heidi Steltzer, a Fort Lewis College biology professor, said the high country usually has its first dusting of snow in late October. But instead, the past few weeks have been unseasonably warm and incredibly dry.
Steltzer said this might be the new normal as a result of the effects of climate change. And as a result, higher-elevation forests that typically didn't experience catastrophic fires may now be at risk, she said.
Indeed, the last major fire near Silverton was 141 years ago when the Lime Creek Fire south of town burned 26,000 acres of high-elevation forests around Molas Pass.
Jonathan Thompson, a local author and journalist, said locals referred to the forests around Silverton as "asbestos forests," believing a wildfire was not a risk to their community.
"Before 2002 (and the Missionary Ridge Fire), no one in Silverton really seemed to think about wildfires up there," he said. "It just wasn't an issue. There had been a few smaller fires after that (Lime Creek Fire), but nothing catastrophic."
Weather not playing nice
The rest of this week's weather forecast is not encouraging news for slowing down the fire's spread, said Erin Walter, a meteorologist with the National Weather Service in Grand Junction.
For the next few days, wind gusts could reach more than 30 mph, with highs in the upper 50s and no chance for precipitation.
"Dry and gusty winds are not helpful for any fire growth," Walter said.
But Walter said there is a chance a storm could enter the region Friday, and potentially bring moisture over the weekend.
"There's still some uncertainty between the models on how much precipitation and how those storms will pass," she said.
Fire danger has remained high throughout the summer in Southwest Colorado, and Stage 1 fire restrictions remain in place in the San Juan National Forest, which prohibits campfires and smoking in certain outdoor areas.
The cause of the Ice Fire remains unknown and under investigation, but the region hasn't had any lightning storms in weeks, which leads one to believe it was likely human-caused, Conrad said.
Godson said the Forest Service's fire investigators have been on scene the past few days, but there's no timeframe for when they'll determine a cause.
The Forest Service asks the public to not stop on the highway to take pictures or fly drones, which forces aerial attack aircraft to ground. All public lands that border Mineral Creek are closed to the public.
jromeo@durangoherald.com