Family-owned businesses hope to benefit community
Jennifer and Jonathan Grady and Gregory and Lena Hill are deeply invested and committed to the cannabis business. The Gradys grow cannabis at their Bloomfield farm and operate Grady's Cannabis retail store in Aztec.
The Hills ventured into new business territory after Greg Hill's employment in the mining industry abruptly ended after 14 years. With the legalization of cannabis in New Mexico on June 29, 2021, they saw cannabis as the most promising and lucrative direction to go.
They love the historical, downtown Farmington location they chose for their retail store, The Alchemist, at 115 W. Main St.
"I was told it was originally a pharmacy," Hill said. So for him, it's going full circle, to The Alchemist. Nostalgic energy permeates the open, airy space, which he believes is "the best-looking shop in town," with "its turn-of-the-century vibe."
Sales of recreational cannabis and medical marijuana have consistently risen in recent months. According to the N.M. Cannabis Control Division website, Farmington had $192,284 in medical sales and $608,371 in recreational sales for a total of $800,655 in October, a significant increase from the $666,135 mark in April 2022.
Forty-one medical marijuana/recreational cannabis outlets are listed in San Juan County, according to the Medical Marijuana Dispensaries website. Within Farmington city limits, 12 retailers are registered to sell recreational cannabis products, which include cannabis flower buds, prerolled flowers, gummies, CBD oil and accessories.
Bloomfield has issued four cannabis licenses for growing and cultivation, and has two applications for retail dispensaries that have yet to be approved, according to Bloomfield City Clerk Crystal Martinez Hornberger. The town of Kirtland has one shop in city limits, which is working to open soon.
Jennifer Grady, and husband, Jonathan, opened Grady's Cannabis, at 111 N. Main Ave. in Aztec, on June 6. After years of growing chili, blue corn, pumpkins and other produce on their 280-acre USDA-certified organic farm in Bloomfield, they saw profits with cannabis. Understanding the unpredictability of the retail business, the Gradys still envision steady growth for their new venture.
Their primary product is cannabis flower – indica hybrid strain – along with prerolled cannabis and gummies. The price per gram, $11 to $18, is based on THC potency, typically ranging from 15% to 25%. THC, or tetrahydrocannabinol, is the chemical responsible for most of marijuana's psychological effects, as it acts much like the cannabinoid chemicals made naturally by the body, according to National Institute on Drug Abuse.
"Cannabis" refers to all products derived from the plant Cannabis sativa, while the plant contains about 540 chemical substances. Indica is the more relaxing strain, while sativa stimulates the senses, as stated on NIDA website.
The Gradys try to buy flowers with a THC range of 18% to 25% for the store.
"If we get a grower that cures really well ... like big, heavy buds ... when they look like that we can charge more," Jennifer Grady said. "Since this is harvest time, there is an abundance of product and variety available."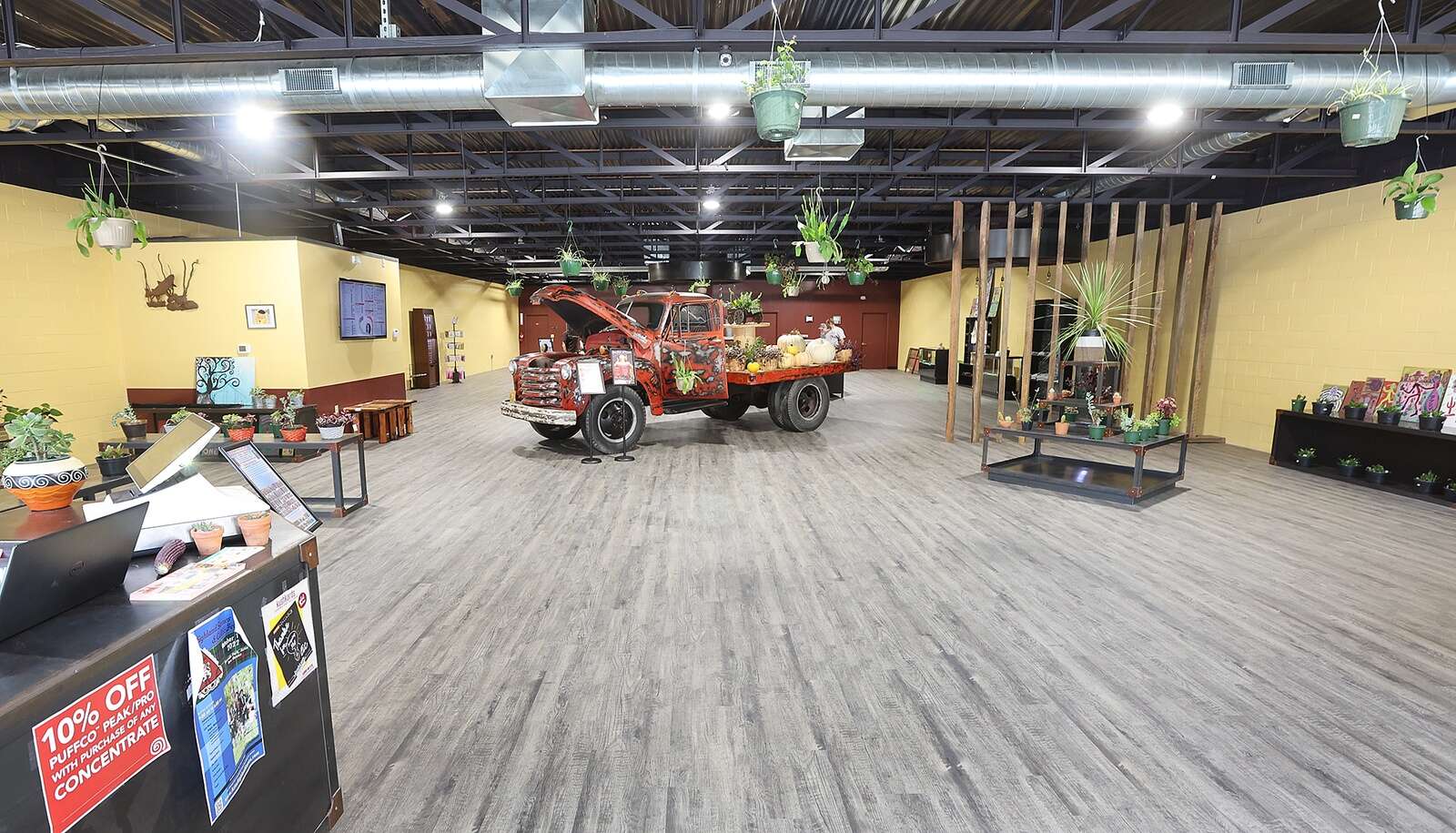 Combined, the Gradys have more than 50 years of practical contact with farming and growing. They got into the business "wanting to do something new and different with their large-scale agricultural experience, and aim to promote their Farmers First brand.
Jennifer Grady would like to counter the social stigma attached to growing and buying cannabis.
"We're just changing the view of the dispensary. ... It doesn't have the medical feel, like you're doing something wrong ... that you have to go in behind closed doors."
Cannabis culture is changing perceptions and the Gradys' goal is to push for quality control through proper branding to identify product sources and growers. "This is an agricultural product!" she asserted.
Community is a priority for them, demonstrated by their donation of sweet corn to school districts. They hope to unite cannabis growers in San Juan County and statewide with a brand that recognizes Farmers First and highlights the importance of farmers and the use of practical, sustainable farming techniques.
Attesting to their creative inclination, they've placed a 1951 Chevy farm truck as a nostalgic centerpiece in their store. With deep roots in agriculture and a love for purity in products, the Gradys are optimistic about steady growth of their business.
Because all product must be purchased from within the state – none can cross state lines – supply of quality product could become an issue. Hill said he's "not really" concerned about the supply issue. "It's just a waiting game, is what it is ... two to six weeks."
"We've had eight or 10 different growers come in within the last month and a half," Hill said, and all are in San Juan County.
The toughest part of the business for Hill is "the fact that it's a new business." "I loved my job. ... It's not about the money. It's about the people I worked with ... supplying affordable, clean coal to our community. That was my retirement job." He proudly displays the last two pieces of coal that he pulled out of the mine.
The Hills went to Denver to purchase prominently, classic bar back cabinets as display cases that originated in Massachusetts.
The outlook is bright for the Hills, and business is good.
"Our family's here, grandkids are here. Let's help build the community back up. ... Let's revive downtown," he said.
"We were the first cannabis business (in Farmington) to have a red-ribbon-cutting and to be in the Chamber of Commerce," Lena Hill said, pointing to the framed licenses.
Their state-issued "courier license" will enable them to deliver directly to their prepaid customers. Greg expects that deliveries will be a significant portion of their business, especially during winter.
Daily specials are posted on their website, thealchemistllc.com, and Hill suggested that consumers download the leafly app from leafly.com.