Local group receives state grant to strategize a path to equitable homeownership
The housing crisis in Durango and La Plata County is becoming more and more untenable.
Baristas, teachers, police officers and medical personnel are being priced out of the area. Data from the Durango Area Association of Realtors shows median in-town home prices rose from $550,000 in the third quarter of 2020 to $650,000 in the third quarter of 2021.
The La Plata Economic Development Alliance hosted a virtual forum Thursday to kick-start a community conversation about the crisis. The forum served to create a baseline about the subject of housing. It was also a chance to invite the community into the conversation to help identify problems, talk strategy and identify pathways to potential solutions.
The alliance received a Rural Economic Development Initiative grant from the state of Colorado in partnership with the city of Durango that Executive Director Michael French said will be used to create "a workforce housing investment strategy or investment plan."
The economic alliance hired three entities to assist in making a plan in "an expeditious way." The forum was led by representatives of those agencies: housing experts Jonathan Cappelli and Mary Coddington with Cappelli Consulting; Jenn Lopez with Project Moxie; and Lisa Bloomquist with HomesFund.
The forum was called "Housing 101," but a rebranding to "Housing 911" wouldn't be that much of a stretch.
Bloomquist with HomesFund, a nonprofit focused on mortgage assistance and pre-purchase housing market advice, described Durango as a "quasi-resort community" with all the problems that come for such communities.
Lopez with Project Moxie, a housing development and strategy consulting firm, described the local housing market as "the worst it's ever been" and said that is why 60 residents had taken the time to attend the meeting.
Demand for below-market housing is high, but there are various barriers that make meeting that demand appear almost unattainable. Challenges are being imposed by myriad factors, such as COVID-19, supply chain issues, lack of land inventory, lack of labor, "market mismatch" and wage stagnation.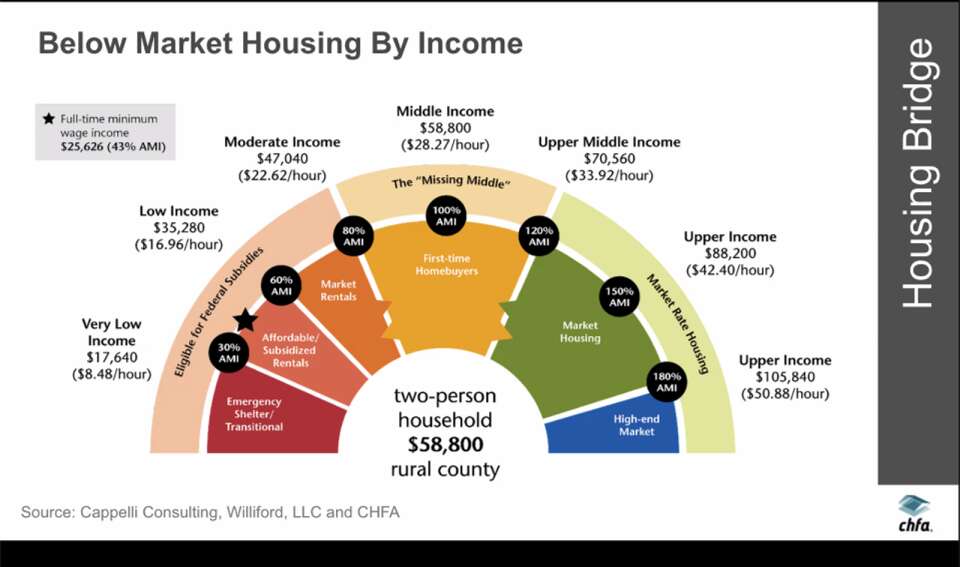 In a breakout discussion about the meaning of "affordability" in relation to affordable housing, Andy Hawk with Timber Age said a standard needs to be set, and it likely needs to be below 60% adjusted median income.
"Even at 60% AMI, we're losing teachers, we're losing not just the service industry, we're losing key and critical positions in our community," he said.
Hawk observed how Durango School District 9-R is down about 50 faculty and staff members. He suggested examining the wages of entry-level professionals, such as new teachers, firefighters, police officers and city and county workers, in order to truly define what "affordability" entails today.
"Regional AMI was about $66,000," Hawk said. "To afford some of the in-town units you are at almost 200% AMI. It was shocking."
La Plata County Deputy Manager Mike Segrest said the area is headed toward a "complete disaster" if the housing crisis isn't addressed.
"It is going to mean we are going to have to collectively join together to subsidize – I know we don't like that term – but we're going to have to find a way to come together to subsidize the folks that weren't so lucky as to move here 10 or 15 years ago if we are going to continue to have a viable community," he said.
During the meeting, strategies and tools to find below-market housing were reviewed and included concepts such as development subsidies and household subsidies. The former allows developers to be able to afford below-market rent or mortgage without going bankrupt while the latter involves a payment to a homeowner to cover the difference between what they can afford (prices less than 30% of their income) and what their housing actually costs.
Strategy development will focus on the sweet spot between community vision and resources, creativity, partnerships and political will.
Strategies will also strive to preserve existing below-market housing, promote development of new housing and increase access to housing opportunities.
The complete recording of the presentation and slideshow is available to access on the economic alliance's website at https://yeslpc.com/la-plata-housing-101/.
cburney@durangoherald.com