Skyhawks runners rounding into competition form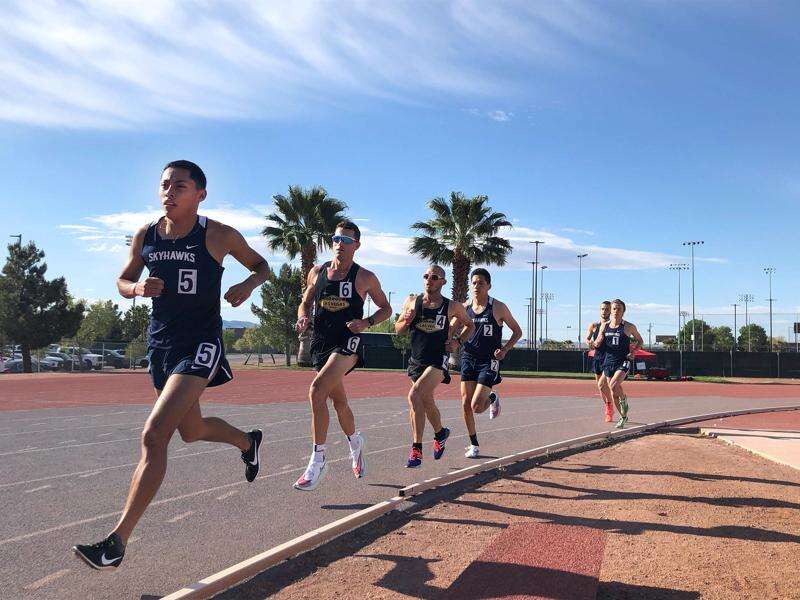 Head coach Joshua Coon can't ask for much more than what he has seen from the Skyhawks on the track during the last week.
After a layoff of nearly a month between competitions, the Fort Lewis College track and field team has gotten back into meet mode at UNLV and New Mexico.
In only its second year, the men's program has put together some substantial results, including Steven Nez's first ever NCAA provisional time for the Skyhawks. That came in the 10,000 meter run at the UNLV Silver State Track Classic last weekend, as the sophomore finished in 30 minutes, 35.22 seconds. That is the 46th best time so far this year in NCAA Division II.
"He's been working hard for four years, and it's been an honor to watch him progress and represent the Skyhawks with class," Coon said of Nez, who was an All-Rocky Mountain Athletic Conference cross-country selection in the fall. "We'll look to move up to top 24 in the next month."
Fort Lewis swept the top five spots in the 5K run at UNLV. John Ngaruiya won in 15:17.56, while Elvis Chelak, Cody Speece, Ethan Bartlett and Max Robinson rounded out the top five.
Ngaruiya also would win the 1,500 in 4:04.97. Less than a week later at the Don Kirby Tailwind Open on Thursday at UNM, he lowered his time to 3:58.33 in the 1,500 invitational race.
"John reset the school record and should have a great shot to get into the RMAC Championships," Coon said. "He ran in the midst of a lot of top guys."
Nez placed third in the men's 1,500 meter run in 4:12.87. Western New Mexico's Daniel Beam won in 4:06.48. Along with Ngaruiya in the invitational half mile, FLC's Allen Fowler finished 13th in 4:06.79.
Durango High alum David Moenning, who was an 800-meter star for the Demons, has come into form in his specialty event for the Skyhawks after he transferred away from Western Colorado University. He lowered his time from UNLV by almost three seconds Thursday in Albuquerque, where he placed fourth in the finals in 1:54.93. Ngaruiya placed seventh in the event in 1:57.60, while Aaron Busche of FLC was ninth in 1:59.02.
"David broke through in his 800," Coon said. "We knew he was fit based on his workouts the last three weeks, just had to risk a little more. He's the kind of guy who can make noise at RMAC. Aaron and John also ran personal bests. They'll be on the line getting into RMAC."
Fort Lewis was the lone men's team to compete in the 3,000 meter steeplechase Thursday. Ethan Bartlett won in 10:35.42. Nicholas Weber was second in 10:47.86, Braedon Sittman was third in 10:55.22, Robinson was fourth in 11:15.66 and David Wilcox was fifth in 11:26.79. Coon is anxious to get them into a meet where they can face outside competition.
Taylor Murphy and Rose Chemeli did see competition in the women's steeplechase. Murphy was third in 13:02.51 and Chemeli finished fifth in 13:34.29. Adams State's Erin Stonebarger was second in 12:04, while unattached runner Emily Schoellkopf won in 11:56.88.
It was a strong day in the women's 5K for Fort Lewis' Alisi Honyumptewa, who was fourth in 18:40.25. Embry-Riddle's Ariana Anderson won in 18:10.72, while Adams State runners Reina Paredes and Amalia Dorion took second and third, respectively. Honyumptewa, who won the event at UNLV, was a half second back of third place.
Women's coach Brett Sublett said Honyumptewa and Makiah Salzano should both qualify for the conference meet in the 5K.
In the women's 400 meter dash Thursday, Fort Lewis' Katie Fankhauser placed eighth in 1:01.47. The race was won by New Mexico Junior College's Maria Simanca in 55.60 seconds, while New Mexico State's Madelin Whelpley was second in 56.77 seconds.
FLC's Angel Curley qualified for the finals of the women's 1,500 and finished in 16th in 4:54.03. Adams State's Roisin Flanagan won in 4:23.27.
Before the RMAC Championships, FLC will compete one more time this weekend at Grand Canyon University in Arizona.
"Overall, it was a solid day," Coon said of Thursday's meet. "I'm proud of the effort. Every week, guys are running personal bests and getting better. I can't ask for much more than that."
jlivingston@durangoherald.com