Freshmen Ford, Johnson connect for big home goal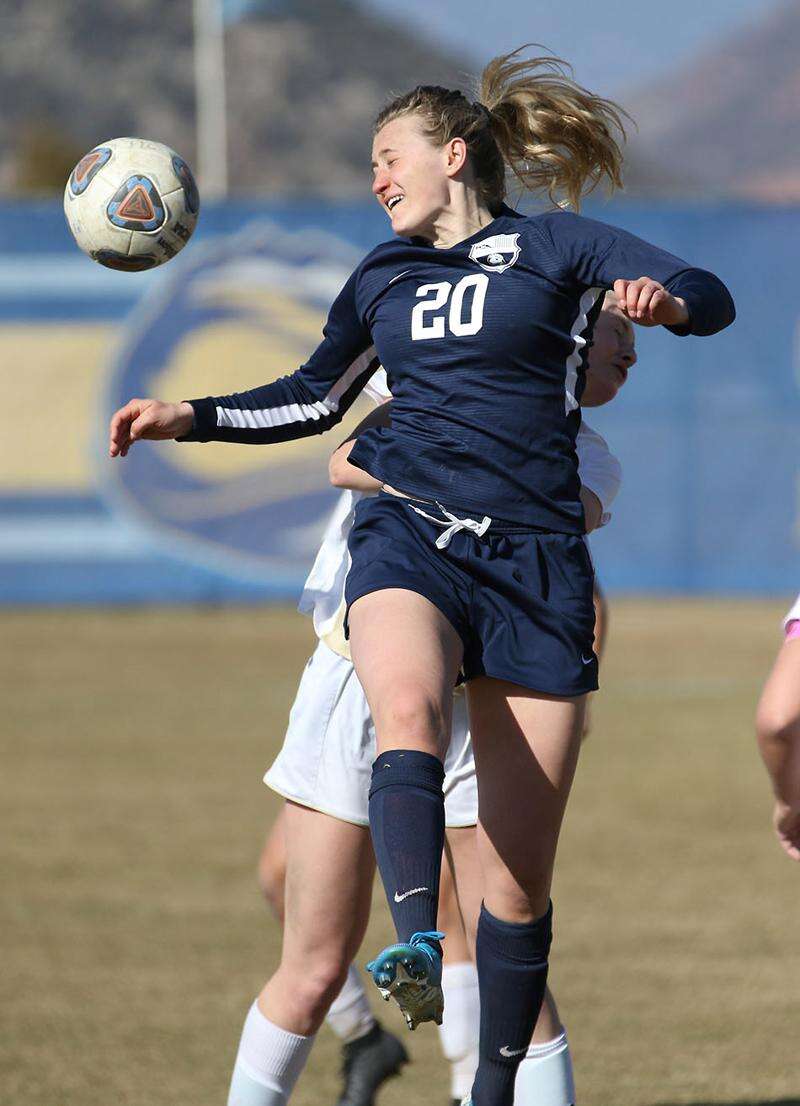 Matched up against an opponent with results against two Division I teams already this spring, the Fort Lewis College women's soccer team was eager to show its growth Friday in its home opener.
Westminster College visited Dirks Field for the first home game of the spring season, which was pushed back from the fall because of the COVID-19 pandemic. Though it is a shortened regular-season from 16 games down to nine, the Skyhawks have embraced the opportunity to finally play games.
The visiting Griffins, which already owned a 2-1 win at Southern Utah as well as a scoreless tie with Idaho State this season, entered the game having beat FLC four consecutive times by a combined score of 8-2 dating back to 2016.
It looked as though the Skyhawks might succumb to the Griffins once more after giving up a 74th minute goal to Dominique Estrada, but FLC buckled down and created a chance late in the game to find the tying goal.
McKenna Ford got the ball in the midfield and distributed a perfect pass to freshman Julia Johnson, who calmly finished her shot in the lower left corner of the goal to beat Westminster goalkeeper Kelsea Cracroft, who had come on in the 65th minute in place of Naomi Kehl.
The result stood up through two overtimes, giving FLC (0-0-2) its second consecutive 1-1 tie to start the season after finishing with the same score last Sunday at Colorado Mesa University.
"We are trying to build ourselves into a tougher program as a whole, and I think we kind of showed a bit of grit," said FLC head coach Damian Clarke. "That's a really good Westminster team, and we showed we are taking small steps forward every time we play against the top teams."
It was a connection between two freshmen that delivered FLC its goal. Ford, a forward from Rio Rancho, New Mexico, was able to find Johnson, a freshman midfielder from Alaska, for the timely equalizer.
"We are trying to get our kids to engage higher and win tackles in the attacking half, and it looked like our goal came from us winning a tackle," Clarke said. "McKenna had the composure to find a good pass onto another freshman kid, and what a calm, cool finish from Julia."
FLC was getting the better shots on goal in the first half, but Westminster (1-0-2), which had fired multiple shots but lacked accuracy, turned up the pressure in the second half, eventually resulting in the goal from Estrada.
FLC was outshot 12-7 in the match, but the Skyhawks put all seven shots on goal to only four by the Griffins. Skyhawks goalkeeper Katie Dunbabin would make three saves. Kehl made five before coming off for Cracroft, who had one save.
The Skyhawks, who were picked in a tie for fourth in the preseason coaches poll, will look to get their first win at 3 p.m. Friday at Adams State, which has yet to play.
"We are happy to be getting games and grateful to be competing," Clarke said. "We want to try to win every game we're in this spring. In the same sense, it's about us continuing to build the momentum these girls built in 2019 as a whole. We want to develop our players' attitudes and tactics, and I think you will see us giving a lot of players time to develop in this spring season before the fall."
jlivingston@durangoherald.com