Junior scores game-high 19 points in win over Bayfield
When two technical fouls were issued to the Durango High School boys basketball team in the first half of Saturday's Southwest Classic third-place game against Bayfield, Demons junior Jordan Woolverton didn't panic. He took over.
Woolverton scored a game-high 19 points and led DHS (7-6) to a 45-34 win against the Wolverines at Montezuma-Cortez High School. It was the Demons' first win against Bayfield (1-7) since 2017.
"We came out slow and sluggish in the first quarter," Woolverton said. "We saw the way that Bayfield was playing, and I thought that no team should hang with us, so I came in with the goal to take advantage, get our team up and going, and that's how I got all those buckets and steals."
In the first quarter, both teams got out to a slow start, as each struggled to get rolling on offense. DHS took an 8-2 lead, but the Wolverines scored four quick points.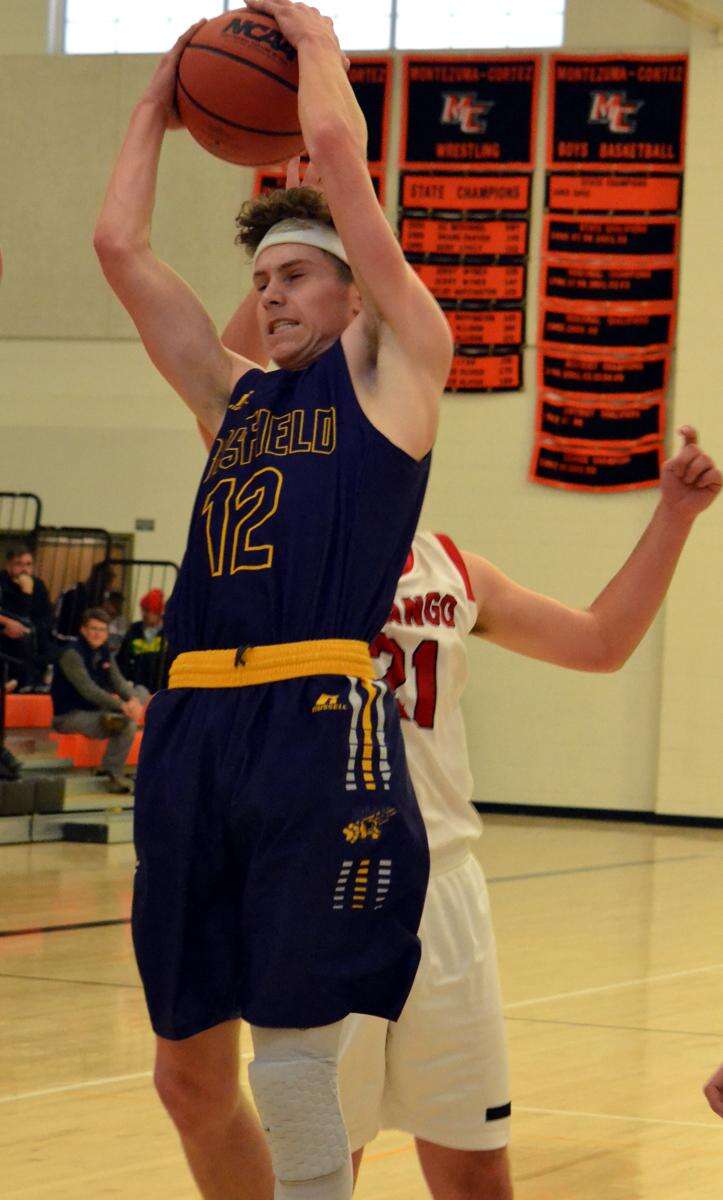 BHS' Crosby Edwards broke a five-minute scoring drought when he sank a jump shot, and Kacey Chandler got a quick steal and score. At the end of the first quarter, the Demons led 9-8.
In the second, Woolverton scored the Demons' first basket and was just getting started. He would go on to score nine more points in the quarter. His best stretch came with just over two minutes to go, when he made a corner 3-pointer,and, on the ensuing possession, stole the ball at half court, drove to the lane and scored an easy layup to give the Demons an 18-12 lead.
With the Demons' big men in foul trouble for much of the first half, head coach Alan Batiste put in freshman AJ Folk, who scored four points before the half. The Demons led 24-13 at halftime, but Batiste thought the Demons still could have been more efficient.
"Overall, we were fortunate enough to get easy buckets, but we could still be better," Batiste said. "We ended up turning up the tempo to get our 13-point lead at half, but again, we still need to do what got us that lead. We're trying to find that out as a unit. We took a step back offensively, and we have to get after it this next week."
In the second half, the Wolverines were able to match the intensity of Durango, but the execution was lacking. Bayfield head coach Klint Chandler said his team wasn't able to keep the energy high for all four quarters, a recurring theme this season.
"We get in a hurry and don't want to move the basketball," Chandler said. "It's hard to score that way, and we can't score that way. At times, they play well, but it goes back to the same deal. We have to play at the same level for the whole game, and that's on me."
Durango's Martin Cuntz and Folk continued to get involved in the scoring. Folk would finish with eight points in his varsity debut, and Durango led 36-23 after three quarters.
"In practice this week, I got moved up to play with varsity and am starting to find the chemistry with these guys," Folk said, "They did a great job of finding me down low, and I can help out on the defensive end, too. Coach told me when I went in to get rebounds, and I was also able to do that. It was really cool to make an impact in my first varsity game."
In the fourth, Hunter Bayles was able to get involved in the scoring and chipped in four points for BHS, but it was not enough.
"We need to do a better job of swinging the ball around and finding better shots," said Bayfield's Zack McSweeney, who scored six points. "We have to do a better job of that heading into the Intermountain League play."
Woolverton almost put the exclamation point on the game with an emphatic slam dunk but was fouled before he could finish. The Demons could have extended the lead at the free-throw line, but struggled as they shot just 4-of-15. Still, the Wolverines' offense was not able to mount a comeback, and the Demons held BHS to 11 points in the fourth quarter.
Durango will have one final non-conference tuneup against Telluride (3-4) at 6 p.m. Tuesday. The Wolverines will head into league play against Alamosa (4-3) at 7 p.m. Saturday at Bayfield High School.
bploen@durangoherald.com