Undaunted riders adjust to shortened course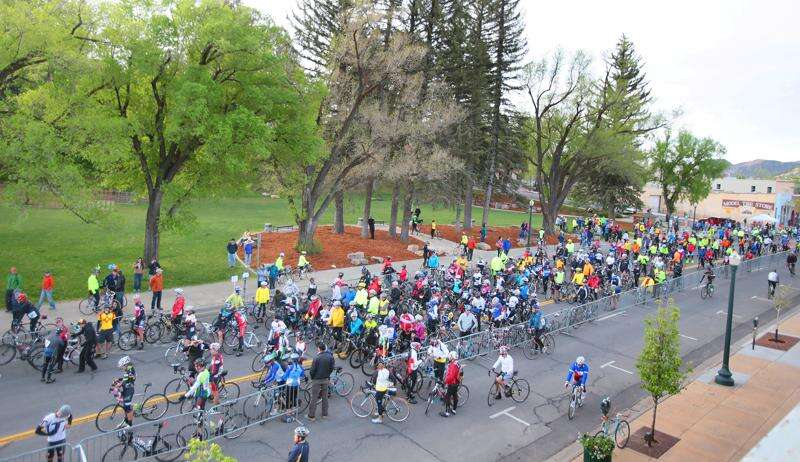 Without a train to race or a full course to ride, cyclists in the Iron Horse Bicycle Classic took off Saturday morning from a new starting location and under surprisingly mild weather on their way to Purgatory.
Four categories grouped riders in three competitive classes and one tour ride, and all riders began in waves from Buckley Park in downtown Durango.
Race Director Jeff Frost said the new location was intended to better showcase the event, which drew about 3,000 registered participants.
"The new starting location is super important," Frost said. "This is more about Durango and downtown."
While thousands lined up for the challenge, checking off an item on their 'bucket list,' many professional athletes went all out for what some consider to be the first day of cycling season.
"It's like opening day of baseball season," Frost said. "It's opening day here in the San Juans and the southern Rockies."
In the professional race, Troy Wells won with an unofficial time of 1 hour, 19 minutes, 13 seconds.
Marisa Asplund took the women's race with an unofficial time of 1:26:52.
Durangoan and IHBC five-time champion Ned Overend wound up in second place overall.
The race and Citizens Tour was shortened from its usual 47 miles to Silverton to 27 miles to Durango Mountain Resort when snow started falling on the passes Friday night.
Frost said safety always is paramount for the Iron Horse, one of the oldest cycling events in the country. With threatening weather, making the decision was difficult, but "it was the right decision," he said.
As of Saturday afternoon, rain and lightning were reported near Silverton.
Certainly a blow to Silverton's local business economy as riders usually finish in town and gorge on local goods, plenty of participants were disappointed, as well, but many were just out for a good, long ride with family and friends.
And while the course was cut short, there still was 2,281 feet of elevation gain to pedal.
Lief Clements of Albuquerque said he was looking forward to the slow quad-burning grind over the passes.
"It cut out all the steep sections, which is the really good climbing," Clements said.
Bill Houlihan came up from Scottsdale, Arizona, for his third Iron Horse for "the epic event with a great ride, great people and great vibe."
Houlihan said he battled 50 mph winds two years ago and had a beautiful full course last year.
Eric Allen and his nephew were riding together.
"I love the collective energy," Allen said.
Stephanie Grossman, with her daughter Claire, 10, of Grand Junction said it was good to be able to spend time alone together and train for something like this. Her daughter said she was excited to finish.
"I'm excited to get to the end and do all the stuff at DMR," Claire said.
Local cycling icon Ed Zink was on the event's original planning committee in 1972 and said they never imagined it would evolve into what it has become.
"It's remarkable," he said. "When we started, we had 36 riders."
Zink said things have shifted through the years, from an elite competitive field to an opportunity for anyone to participate, setting their own goals – and achieving them.
"There are lot of people riding today that have personal challenges," Zink said. "There are cancer survivors, people with heart disease. People have individual goals, and we're delighted to be able to accommodate them."
bmathis@durangoherald.com
Put in place for Saxotech transition implementation
Today's Iron Horse Events
For more information, visit www.ironhorsebicycleclassic.com.
Self-guided road rides, several routes are available, 10 a.m.-3 p.m., Buckley Park, Main Avenue, www.boure.com/durangoroadrides.html.
Fort Lewis Cross Country Race, 8:30 a.m., Fort Lewis College.
Kids races fueled by SPRITE, ages 3-12, benefits the Boys and Girls Club of La Plata County, 10 a.m.-noon, Ninth Street and Main Avenue.
Cruzer Criterium, costume cruiser parade, benefits the Women's Resource Center, noon-1 p.m., Ninth Street and Main Avenue.
Subaru Downtown Criterium presented by Morehart-Murphy, 1:30-4 p.m., downtown Durango, Ninth Street and Main Avenue.