Realities of closing San Juan plant and mine setting in for surrounding communities
SANTA FE – New Mexico has the worst rate in the nation for alcohol-related deaths at nearly 2,000 people per year and some lawmakers are debating whether the state tax on booze should be hig...
ALBUQUERQUE — An American Airlines flight from Texas to New Mexico was evacuated Sunday after landing at the Albuquerque airport because of a security threat, authorities said. All 179 peopl...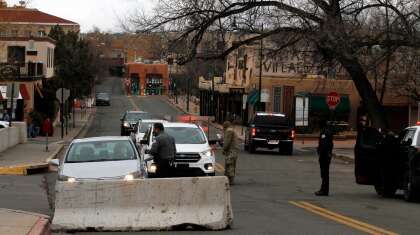 Goal is to change attitudes about driving impaired
Police will host family event Tuesday at Berg Park
The Farmington Police Department on Wednesday sought the public's help in locating Martijn Yazzie, 31, who was last seen Tuesday, Sept. 20. According to the police department's Facebook page...
Expect to see kilt-wearing athletes competing in heavy lifting, vendors galore, traditional Scottish music and dance at the Aztec Highland Games this weekend at Riverside Park in Aztec. Prou...
Key business, traffic area closed Tuesday morning
Rally features concert by The Guess Who, daily launches
'There was a whole area of wetlands that needed developing'
Climate change creates a hospitable environment as United Nations warns of potential for disease spread
Scientist fears agency might over-correct for the errant prescribed burn