No injuries reported, but two of owner's dogs are missing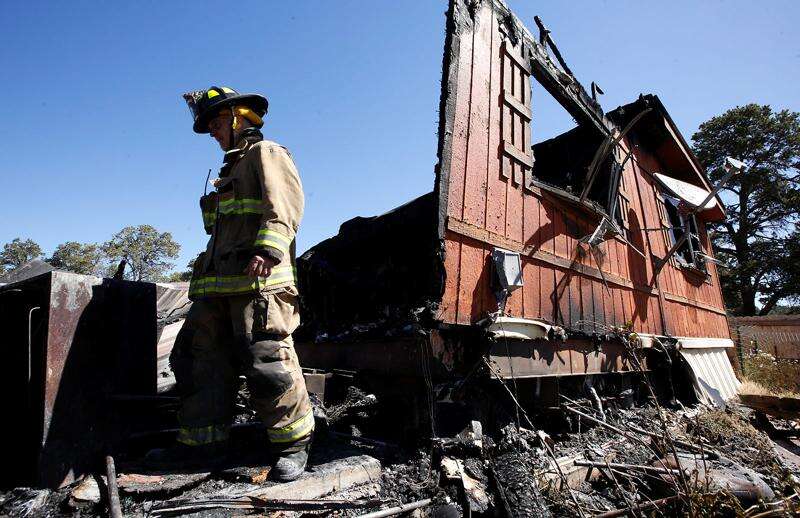 A mobile home was destroyed in an early morning fire Monday in the Alpine Shadows subdivision, east of Durango.
The fire was reported at 4:42 a.m. on East Pine Ridge Road, northeast of Elmore's Corner. Twelve minutes later, a shed and home were fully engulfed in flames, and the fire was spreading to the forest, said Karola Hanks, fire marshal with the Durango Fire Protection District.
"It's a mobile home, and half of it is gone, so I would say that's a total loss," she said.
The fire appears to have started in the shed, she said. The cause was under investigation Monday.
No one was injured while fighting the blaze.
The home is owned by Enrique Rubalcava, according to La Plata County Assessor records.
Rubalcava ran back into the house looking for his five dogs. He was able to free three of them before jumping through a window for safety. He suffered a cut to his head and tore his clothing while jumping through the window.
The owner had five dogs, and three of them were accounted for. A Yorkshire terrier and Pomeranian were missing after the fire. An animal control officer from La Plata County Animal Control found the Pomeranian Monday afternoon and took the dog to the Human Society. According to the Human Society, the dog suffered some burns but was doing well and would survive. The dog will stay at the Humane Society until Rubalcava finds a place to live.
"We always advise people that pets and property, unfortunately, should be left alone, and definitely make sure people are out and safe," said Scott Davis, with DFPD. "Let the fire department come in and search for pets and try to save your property. Bottom line is, we don't advise anyone to go into a fire for any reason."
The fire also burned a boat, vehicle, scooter and outdoor equipment, including a lawnmower and snowblower.
"There was not a lot of property left that was not touched by fire," Davis said.
Firefighters had to pull water from the Three Springs subdivision, more than 2 miles away, which had the closest functioning fire hydrant, he said.
Check back with www.durangoherald.com for updates.