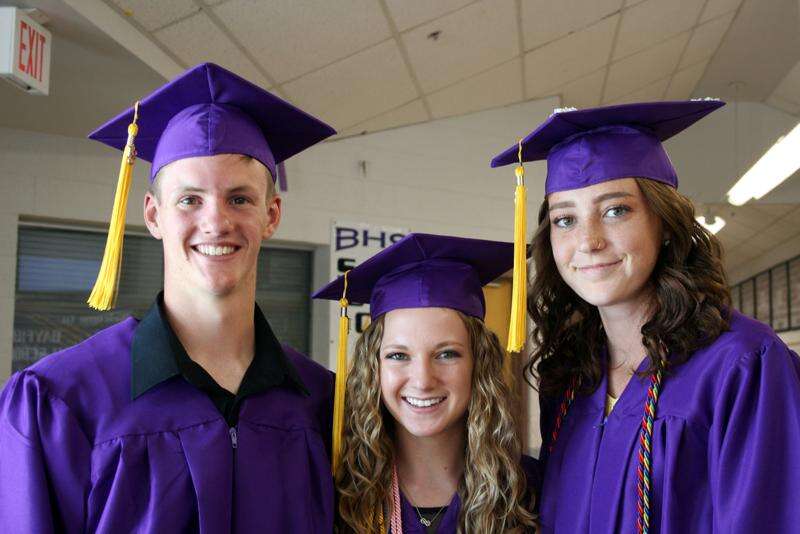 Sending off a state-champion class in style, Bayfield High School graduated 84 members of the class of 2018 on Sunday.
In addition to Colorado championships in football, poms, basketball, boys track and field, and cabinetmaking, this year's seniors also earned $1.2 million in scholarships and had students in the running to be National Merit Scholars, noted Principal Leon Hanhardt.
While parents and teachers are important to their students' success, ultimately, it is up to the seniors themselves to finish their high school careers and obtain that cherished diploma, said Troy Zabel, former Bayfield superintendent.
"Bless you," he said at the end of his short speech. "Have a great, great life."
Collin Jackson and Zenn Roberts spoke as the co-valedictorians for the big day.
Roberts noted that graduation is also a commencement, not the end, but "the beginning of a beautiful journey."
The class chose Dianne Milner, a math teacher at BHS, to present the class address. She started off her speech by singing the quadratic formula, and numerous BHS grads in the audience sang it along with her.
Milner had three pieces of advice for the graduates. First, she told them to take risks. If graduates don't take chances in the future, they won't fail, but neither will they succeed at much, either. Second, she asked them to unplug and be present. Undistracted time without TV, devices and phones is important for brains and spirits to unplug.
Finally, she asked each graduate to practice gratitude. Sometimes it is hard, but concentrating on what we have in life, not what we don't have, creates a better world, she said.
"This is an entire gym full of people who want you to succeed," she told the class. "How cool is that?"