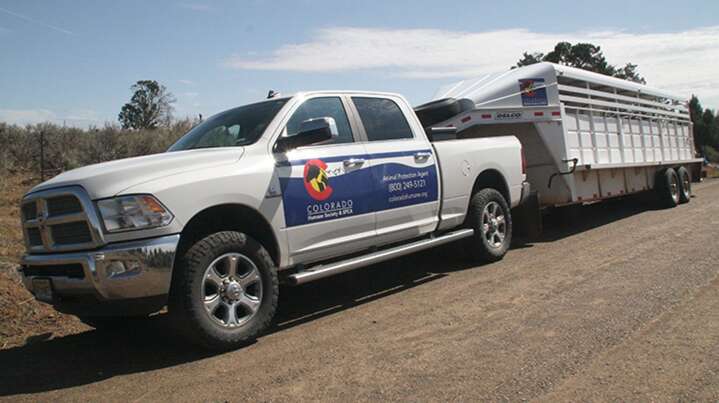 Bench trial set for related civil complaint brought by Colorado Department of Agriculture
A Mancos woman accused in May by the Colorado Department of Agriculture for alleged animal neglect in a civil suit, also faces criminal charges from the Montezuma County District Attorney's Office for alleged mistreatment of some of the animals.
From May 5 to May 7, the Department of Agriculture's Animal Protection Bureau executed a search warrant on the property of Sharon and Joe Ward at 31104 County Road P to inspect and take custody of 110 animals, which included horses, goats, sheep, pigs, dogs, cattle, rabbits, cats, turkeys, geese and chickens.
During a three-hour hearing May 17, Chief Judge Doug Walker of the 22nd Judicial District issued a preliminary injunction requested by the Colorado Attorney General's Office that prohibits the Wards from owning or tending to any animal.
"The evidence is brutally clear the animals are living in horrendous conditions," Walker said in granting the preliminary injunction. "You can never allow animals to try and survive under these conditions. I make a finding (the defendants) are not fit to own or possess animals."
The animals were taken to rehabilitation facilities and provided medical and nutritional care, said Department of Agriculture officials and Montezuma County Sheriff Steve Nowlin.
The civil complaint was initiated by the Department of Agriculture and the Attorney General's Office after an investigation.
DA files charges in case
On Aug. 9, DA Matt Margeson filed 31 misdemeanor criminal charges against Sharon Ward for alleged animal cruelty involving some of the animals seized by the state, plus two misdemeanor charges for unlawful acts related to pet animal care and facilities.
During a plea hearing in front of County Judge JenniLynn Lawrence Tuesday, Ward pleaded not guilty to the charges, and a trial date was set for Jan. 11-12.
According to an amended criminal complaint, the charges stem from alleged lack of care of the animals at 31104 Road P between July 26, 2021, and May 5, 2022.
The 31 animals allegedly mistreated are under the "charge and custody" of Ward, according to the complaint and include horses, rabbits, dogs and cats, Margeson said.
Twenty-nine of the charges allege Ward "unlawfully, knowingly, recklessly or with criminal negligence failed to provide the animals with proper food, drink or protection from the weather consistent with the species, breed, and type of animal involved."
Two of the charges allege that Ward "unlawfully, knowingly, recklessly or with criminal negligence allowed the animal to be housed in a manner that resulted in chronic or repeated serious physical harm or otherwise mistreated or neglected or caused or procured the mistreatment or neglect of animal involved."
The criminal complaint further alleges that Ward violated the Pet Animal Care and Facilities Act by performing acts of a pet animal facility without the requisite license.
According to a May 5 Cease and Desist Order from the Department of Agriculture a PACFA investigator allegedly observed that Ward "harbored, housed and sheltered 15 dogs and two cats in a centralized private facility" at the Road P location.
According to state statute, it is unlawful to harbor, house or shelter more than 15 dogs and cats in a centralized private facility without a pet animal facility license.
Bench trial set in civil case
In the civil case, the Wards are set for a one-day bench trial in front of Walker on Oct. 21 at 9 a.m.
The plaintiff is Colorado Commissioner of Agriculture Kate Greenberg, represented by Attorney General Philip Weiser and First Assistant Attorney General Billy Seiber. The defendants are listed as Sharon and Joe Ward, who are represented by attorney Richard Simms.
In the civil bench trial, there is no jury. Walker hears arguments from both sides and hears witness testimony. He then rules whether the defendants are liable or not liable for a permanent injunction that prohibits them from owning or tending to any animals.
The animals seized by the Department of Agriculture from the Road P property were either placed in sanctuaries, put up for adoption or sold at auction, according to CDA officials.
The revenues from the sale are used to cover the costs of care for the seized animals incurred by the state.
The sale generated $1,100 over the total costs of animal care. During a pretrial conference Tuesday, Walker ordered the surplus funds be paid to the Wards.
When asked by The Journal if his client would comment about the cases, Sims declined, citing pending legal proceedings.