Firefighters, law enforcement complete Sky Steps in honor of fallen first responders
Firefighters, law enforcement and community members climbed the Sky Steps just west of Fort Lewis College on Monday in commemoration of service members who responded to the Sept. 11 terrorist attacks in New York City.
Firefighters said it was a chance to reflect on the commitment and sacrifice men and women in the emergency services made 22 years ago, as well as the dedication first responders give to their communities every day.
"There are people entering the fire service that weren't even alive on that day, which is kind of hard for some of us to believe who were alive that day and remember it," said Deputy Chief Randy Black, with Durango Fire Protection District.
The day began about 9 a.m. at the top of the Sky Steps, with a short speech read by Capt. Mark Fleming with Upper Pine River Fire Protection District.
"Your involvement, irrespective of participation in climbing the stairs, pays homage and preserves the memory of those who made the ultimate sacrifice," Fleming said.
Several dozen first responders then descended the Sky Steps and then climbed them, completing five laps to signify the highest point firefighters climbed in the World Trade Center – 110 levels – before the towers collapsed.
"When that tower came down, I go, 'They're all (expletive) dead,'" said Rich Dory, choking back tears.
Dory, who worked with the Chicago Fire Department for 37 years, was part of a FEMA team that went to Ground Zero a week after 9/11 to help dig through the debris in search of victims.
He choked up again when remembering the letters family members left on site in those early days.
"They were all saying, 'Daddy, I miss you and I hope you're OK,'" he said. "That affected me more than anything. … It was brutal."
The Sky Steps run from the base of East Sixth Avenue and 10th Street to the top of Fort Lewis College Mesa.
Firefighters and law enforcement patted each other on the backs and shoulders as they passed each other along the 750-foot route. At the 343rd step, they rang a bell in honor of the 343 firefighters who died on 9/11 in the towers.
Several firefighters wore full gear, which weighed 40 pounds. One also carried a chainsaw. They switched off carrying an American flag up and down the steps. At the top of the steps, many touched the remains of a steel I-beam that used to be part of the World Trade Center.
Black said 9/11 was one of the worst days for the country and first responders, but emergency workers run toward danger every day in an effort to save lives while others make their escape. Even during the height of the COVID-19 pandemic, firefighters put their own health at risk in the pursuit of helping others, he said.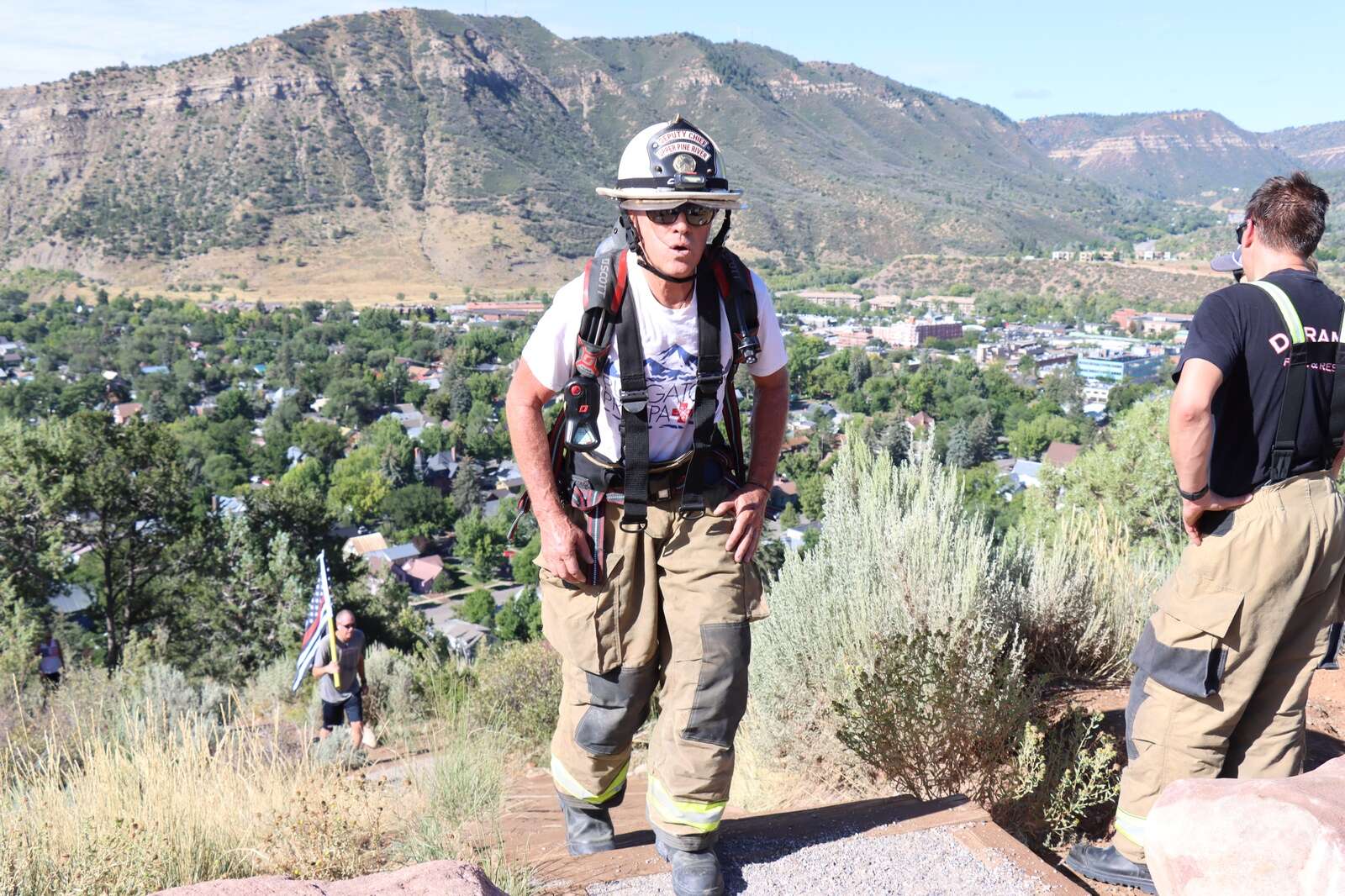 The 9/11 Stair Climb, in its eighth year, was organized by Fleming and Capt. Breaux Burns, with the Durango Fire Protection District.
The Stair Climb is in no way intended to be a fun outing or sporting exercise, Burns said. Rather, it reflects the selflessness and ultimate sacrifice others made in the spirit of helping others, he said.
"They didn't want to go to the Twin Towers and parish," Burns said. "So this is to pay homage to the 343 firefighters who died and a bunch of EMS and police officers, as well."
Several participants also served in the military, including Burns and Durango Police Department Chief Bob Brammer.
Burns served as a Marine at the time of 9/11. He was deployed to Iraq in 2003, a direct response to the Sept. 11 terrorist attacks, he said.
"As firefighters, we're pretty much going to war every day, just in a different manner," Burns said. "We see some things that other people don't see, and we do things that other people don't do. And we love our jobs, but at times we have a hard job."
Fleming said the Stair Climb is a way to empathize with the service members who died on 9/11, particularly the New York City Fire Department.
"I think that participating in a stair climb like this almost makes you (understand) not only what they were up against, but just how physically demanding, mentally demanding this job can be," Fleming said. "The first responders will give it all to save others."
shane@durangoherald.com