Colts host Durango in league showdown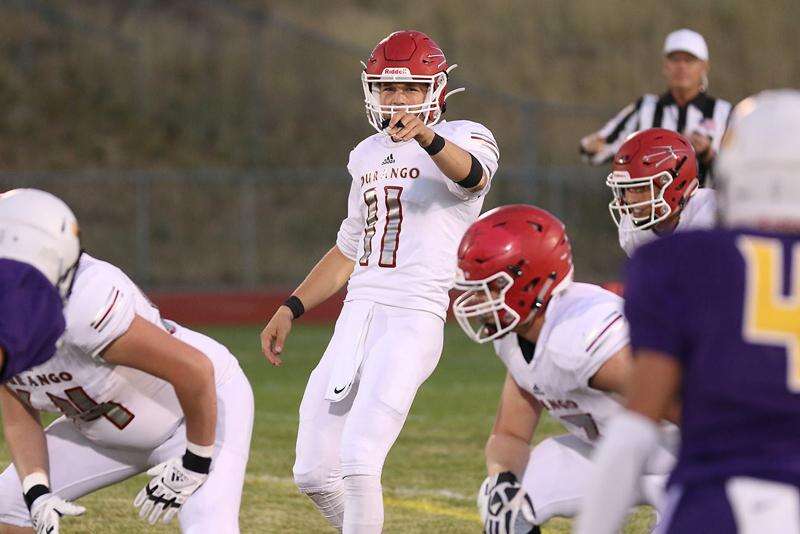 League championships come few and far between for the Durango High School football team. A golden opportunity to claim one will come tonight.
It's a clash of Class 3A titans in Colorado High School Activities Association football at 6 p.m. at Thunderbowl Stadium on the campus of Colorado State University-Pueblo. Seventh-ranked Durango will visit No. 3 Pueblo South with first place in the 3A South Central League on the line.
Under the leadership of head coach David Vogt since 2013, the Demons have gone 22-9 in league play but have never won a championship. That run includes four second-place finishes and a third-place last year.
"That's a big thing for us this year is to try to take that league title home," Vogt said.
A year ago, Durango had a chance at being in a three-way tie atop the league standings going into the final week of the regular season. But a 21-10 home loss to Pueblo South and 24-7 road loss to Pueblo East to end the season sent the Demons to third place.
It hasn't been easy for Durango to adjust to league play during the Vogt years. The leagues have changed four times and will once again next season with a completely new slate of foes. Travel, too, is tough for the Demons. Since leaving the 5A/4A Southwest League after 2013, every league road game has been contested in either Colorado Springs, Monument or Pueblo.
"It's tough. Most teams get used to playing the same people and get familiar with schemes and coaches," Vogt said. "Our coaching staff is on our heels sometimes, but we've been able to come up with a lot of new ideas. You look to take the positives out of it, if you can."
Durango (5-2, 2-0 SCL) would like nothing more than to steal a league championship on its way out of the Pueblo-based league this year. A massive test awaits Friday in the form of Pueblo South, the 2017 Class 4A state champion led by head coach Ryan Goddard.
The Colts (6-1, 2-0 SCL) have ran past the competition this year, with the lone loss a 24-19 defeat to No. 1 Palmer Ridge. South already has a key win against Pueblo East, 28-14, within the league, too.
South has been led by a defense that has given up only 16 points per game this season, while the offense has scored more than 34 per contest.
"Pueblo South's defense is a very physical, aggressive defense that also hides what they are doing very well," said DHS junior quarterback Jordan Woolverton. "They are a very great defense, but our offense has been very explosive all year. I think if we execute and do what we've done all year, then our offense will be able to prove just how explosive we are and how we will be able to compete with any defense that's out there."
Explosive is an understatement for the work Durango's offense has done during a four-game winning streak in which the Demons have totaled 52.25 points per game. Durango has averaged 41 points per game all season despite low outputs in a 25-18 loss to Palisade and a 14-13 road loss at Class 4A No. 3 Montrose.
In last week's 49-19 romp against Pueblo Central, the Demons totaled more than 350 yards of rushing. Senior running back Everett Howland is up to 855 yards and eight TDs with an average of 13.6 yards per carry. Woolverton has matched that yards-per-carry number and has 559 yards and nine TDs via the run.
Woolverton also has 1,143 passing yards and 17 TDs to only one interception, completing 68.6% of his passes.
"(Woolverton) has a lot of checks at the line of scrimmage that give him plenty of ammo to handle those blitzes of Pueblo South," Vogt said. "More and more through the season, we have wanted to give him more ownership of the offense. He is smart and sees what is going on. It's about letting him take control."
Ben Finneseth is the go-to target for Woolverton with 26 catches for 504 yards and seven TDs. Gage Mestas is up to 323 yards and four TDs on 15 catches, and he joined in the rushing attack last week, as the Demons used his speed to rush off the edges for a pair of TDs. Howland also has added two receiving TDs to go with 11 catches for 172 yards.
Woolverton has marveled at the Demons' ability to take a short pass and make the defense miss on the way to long scores this season. He credits his team's big offensive line for creating so many big-play opportunities.
Last week, the Durango defense was frustrated by Pueblo Central quarterback Brandon Martin, who used his legs to extend plays and connect on big passes. Vogt chalked some of that up to homecoming week and a lack of focus but said his defense will simplify its play calls a bit this week and get back to basics to prepare for the Colts.
South already boasts a 1,000-yard rusher this season in junior George Longoria, who has rushed for more than 100 yards in every game this season. He has 1,100 yards and 10 TDs with an average of 6.4 yards per carry.
The Colts are quarterbacked by Logan Petit, who has 945 yards and 10 TDs with six interceptions, completing nearly 60% of his passes. Petit also has rushed for 291 yards and six TDs.
Last year against Durango, Petit was held to 104 passing yards and one TD, while the Demons intercepted him twice.
"They don't make a lot of mistakes," Vogt said. "We know they will challenge our defensive line and our secondary this week. If we have good coverage and scramble on us, it will come down to our D-line to make a play. We're working as much as we can on trying to make their quarterback one-dimensional."
Behind a defense that has allowed fewer than 12 points per game, sacked opposing QBs 14 times and forced 10 turnovers, the Demons believe they have the team that can finally get over the hump this year.
"When they click on all cylinders, just like us, they are a very good team," Vogt said. "It's going to be fun."
jlivingston@durangoherald.com
Who:
No. 7 Durango (5-2) at No. 3 Pueblo South (6-1)
What:
CHSAA Class 3A South Central League football
When:
6 p.m. Friday
Where:
Neta and Eddie DeRose Thunderbowl Stadium, Colorado State University-Pueblo
Listen Live:
KKDG 99.7 FM
Twitter:
@jlivi2