Race draws local, regional riders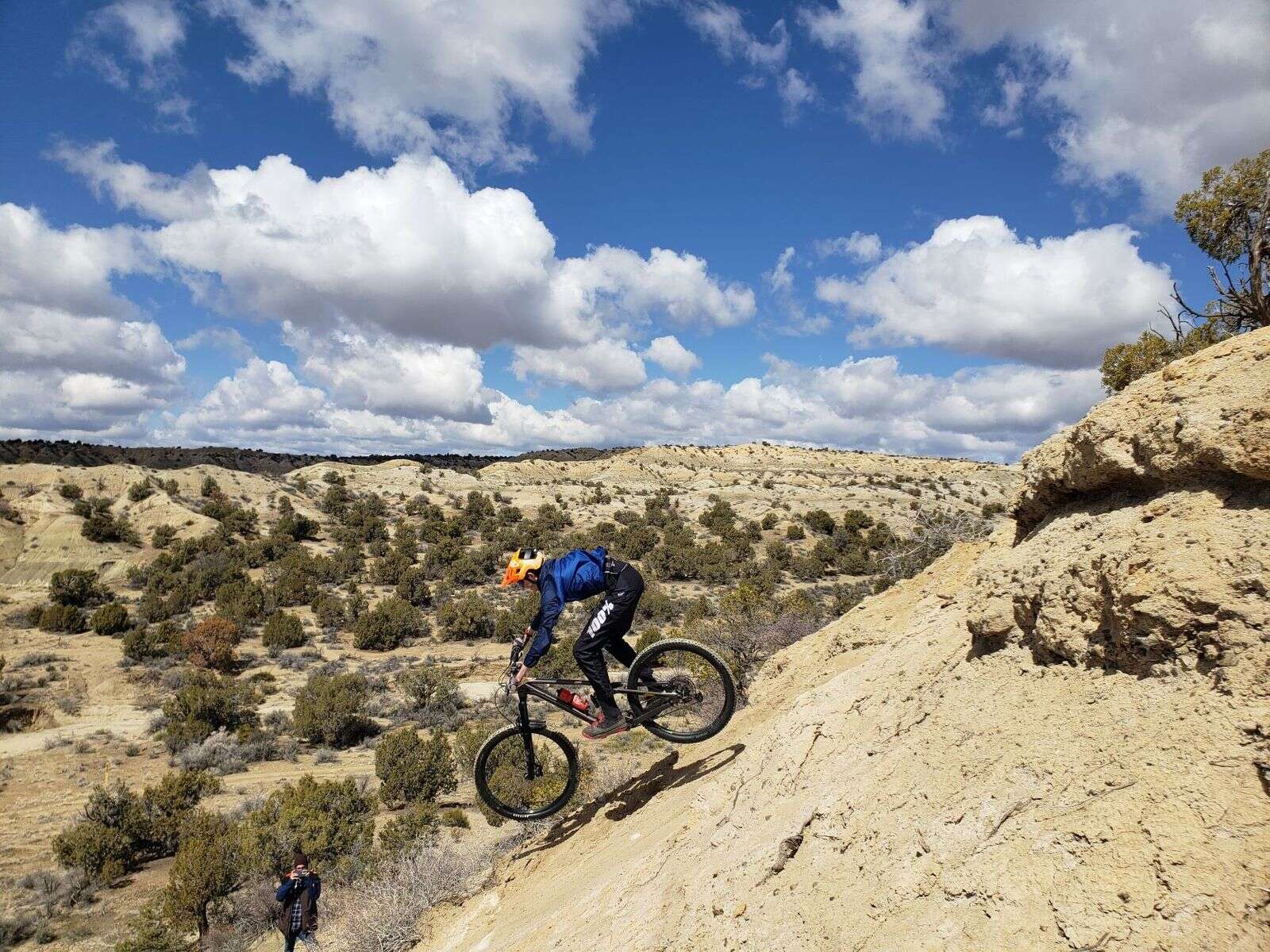 Roost the Ridges Enduro managed to avoid recent rain and snowstorms, taking place Saturday, March 18, at Lions Wilderness Park.
The race, hosted by Aztec Adventures, drew 125 mountain bikers from Farmington and Durango area, as well as riders from Albuquerque, Gallup and Flagstaff.
Enduro-style races have nontimed uphill portions and timed downhill portions. There are also transfer sections of the course, where riders are not timed but cannot receive outside assistance.
The race's total distance was 25 miles, with the three timed stages averaging about 1.5 miles each. Only the timed sections contribute to the official finishing time, which determines the winners in each category.
Open Pro Men top finishers
Toby Hassett, 7:52.96
Dylan Stucki, 8:00.35
Keiran Eagen, 8:00.45
Cody Wilderman, 8:04.45
Cole Fiene, 8:06.00
Open Pro Women top finishers
Kiya Kelley, 9:50.44
Ellae Montoya, 9:51.08
Maya Zarlingo, 9:53.37
Riley Huston, 10:00.69
Nico Brecht, 10:08.90
Intermediate Men top finishers
Dylan Timmerman, 8:28.24
James Booth, 8:57.04
Liam Bezek, 9:00.76
Jeff Lewis, 9:01.20
Dillon Burns, 9:07.67
Intermediate Women top finishers
Shannon Yoell, 12:00.70
Lauralyn Nez, 15:06.72
U16 Grom Men top finishers
Chase Connors, 8:17.25
Milo Deem, 9:09.21
Cedar Bremner, 9:09.36
Jaden Eagleman, 9:18.50
Antonio Pell, 9:30.60
U16 Grom Women top finishers
June Bremner, 10:49.33
Emma Bahe, 11:29.33
Janaria Segay, 14:54.57
Rain Jackson, 15:02.29
Beginner Men top five finishers
Eduardo Trevizo, 8:56.82
Bret Brachman-Goldstein, 9:12.01
Everard Silas, 9:16.27
Murphy Becenti, 10:22.74
Jeremy Boucher, 10:58.57
Beginner Women top five finishers
The Hangover Food Truck fed riders and spectators alike during the event and Revolution Enduro conducted timing for the race.
Aztec Adventure owners Neil Hannum and William Farmer said in an email, that the race "would not be possible without the great turnout from the members of the community, the city of Farmington and all of our sponsors: Desert Sun Coffee, The Wells Group Real Estate, Zuberfizz, Bedrock Bags, 1st Southwest Bank, Tailwind Nutrition, Sandstone Cycles, Rocky Mountain Roastery, 505 Cycles, Yellowman Builder, Cooper Fire Protection, King Cage Bisti Bicycles and Ziems Ford Corners."