Things seem to be looking up for event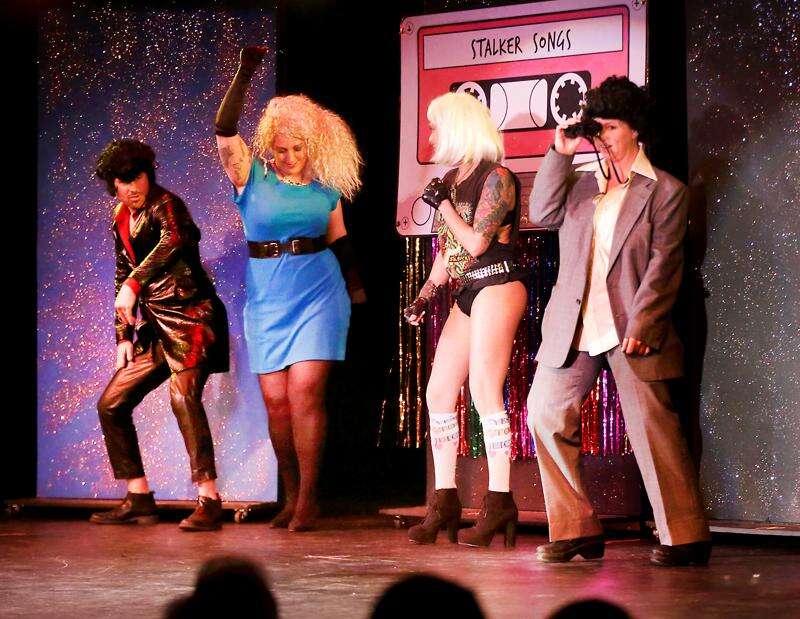 When Bruce Jenner (Rebecca Gilbert in a red track suit) raced slo-mo across the stage Tuesday night at the opening of Snowdown Follies 2016, everybody got it. The music from "Chariots of Fire" propelled him/her to the master-of-ceremonies platform.
When Caitlin Jenner (Dave Imming in hefty drag) popped out of a curtain, he/she stood next to Bruce. "Have we met before?"
This conceit made for a smart beginning, and the two-hour show ran pretty quickly with few glitches. Unlike previous Follies, there was a healthy mix of canned and live performances, short bits, a walk-on and one sing-along. I almost hate to say it, but after a multi-year slump where wit and local references seemed to disappear, things are looking up.
The Jenners created some word play on time and gender issues. They also quizzed the audience on movies from the '80s, tossing condoms to the winners. Even though Caitlin at times lost her/his place in the patter, it didn't matter. At the Follies, it's fun to see how our local performers recover.
The Follies, our mid-winter bacchanal, runs through this weekend. On Tuesday, it started at the Strater with the B Cast. After a solid first half, the A Cast showed up from its opening at the Durango Arts Center. Together, they completed a fairly tight, moderately raunchy and surprisingly funny evening of satire and silliness.
Old Snowdowners carried the day, including Linda Mannix (30 years) channeling Bette Midler in "Pondering Pounds" and Roc E. Simmons (28 years) who brought back Snowdown News with a new partner, Todd Falcke (one year). They took on local, national and global institutions and personalities. The Durango City Council came in for its share of mockery, most notably the wastewater management controversy, referred to as the Poop Plant. Simmons riffed on Rootin' Tootin' Putin' and rapped on Mexico, New Mexico and Texas. He got help on how Texans differentiate Pe-can from Pee Can with a vivid demonstration by Deb Renenker (three years) and Al Librande (four years).
Celebrity walk-ons began with Bill Cosby (Andre Pierre-Louis – 10 years). After intermission, we got a hefty dose of Donald Trump (Bobby Noyes – one year).
Peg Ochsenreiter (30 years) bills herself as a retired/trophy wife. She gave us the first of two solo word-play acts. "Second Grade Spelling" featured Ochsenreiter as teacher and two students who stirred syllabic spelling into a soup of adult misinterpretation. Yes, you had to be there.
Over the whole evening, pop icon Madonna inspired two numbers with a total of eight personas. Cast B staged an "MTV Presentation" with two squirming brides (Aisylin Lowe – six years, and Amanda Fresh – four years). They were joined by black-clad Mandy Gardner (two years) who added a famous, salacious ending.
Cast A upped B's ante with "Madonnatage." Six women danced through a collage of songs and costumes, including more brides and the famous ballistic bra.
Tim Maher (14 years) launched Cast A's section by strolling on stage as President Ronald Reagan, complete with dyed hair, suit, red tie and avuncular manner. Reagan introduced his saucy counterpart, Jane Fonda (Ashley Hein – one year), who performed a workout routine to whistles and cheers.
Together, they explored more local waste-management jokes, Durango parking woes, Lake Nighthorse and the always winning Ron LeBlanc.
Back to the '80s got a boost from "Tupperware Heights" featuring three Crestview housewives (Mindi Kondrat – three years, Kimi Hanson – one year, and Ginny Laidler – one year). Dawn Kast (eight years) belted out terrific blues for a perennial problem – homelessness.
Recalling the James Bond films of the '80s, Jay Hecker (12 years) as Donald Trump, Thatcher Leavenworth (one year), and Mark Thompson (two years) as Gov. Hickenlooper, danced in trench coats for "Goldmember Elixir." The trio took on the EPA and last summer's horrendous mine-waste spill, opening their coats for a surprise ending.
The finale, like Cast B's finale, took everyone by surprise. I'll leave the discovery to you and say only the title: "It's Better in the Sack."
Again, credit goes to the co-directors, choreographer, crew, and in this case, dancers Jackie Smith, Jana Goldstein, Cindy Brossman, Jodie Petersen and Dave Peters.
If we had a river catastrophe last summer and there's something in the water, by the looks of Snowdown 2016, things are oddly looking better.