Planting part of larger environmental restoration effort
Despite a snowy forecast, a group of volunteers gathered at 9 a.m. Saturday in the 416 Fire burn area near Hermosa for an Arbor Day tree planting.
The planting was organized by the nonprofit Mountain Studies Institute in partnership with the San Juan National Forest, said Amanda Kuenzi, MSI's community science director.
She said 52 volunteers registered for the event, many of whom were excited because they have wanted to do something to help the burn area heal for a long time, and Saturday was the first day the public has been invited to plant trees there.
The group had secured 900 trees – 600 ponderosa pine and 300 Douglas firs – to plant in the burn area. By about 11 a.m., all of the trees had been planted.
"All of the seed was collected from the national forest," said San Juan National Forest Columbine District Ranger James Simino. "We sent that seed to (the Charles E. Bessey Tree Nursery) that the Forest Service manages in Nebraska and they grew the trees out for us, and then we shipped them back down here to plant in the ground."
He said post-fire surveys identified areas with no seed trees, letting the Forest Service know where planting is needed.
"416, in general, was more of a natural footprint fire," he said. "It was really mosaic; there were areas that burned at low intensity and areas that burned at high intensity. But all in all, there was not a huge percentage of high-severity burns."
The time of day, the amount of fuel and other factors all contribute to the intensity of a burn, he said.
"The 416 Fire started on June 1, (2018), which is outside of what would be the natural cycle because it was a human-caused fire," Kuenzi said. "Given the natural way of things, we would have lightning with monsoon rains. Because this fire was human-caused, it was when the fuels were very, very dry, and it burned hotter and with more severity.
"Fire is a natural part of our ecosystem, but areas that haven't burned for a long time tend to burn hotter and with higher severity than the natural fire regime would warrant. Because our system got out of whack, if you will, our fire regime is off, and that is because of fire suppression though the early 1900s."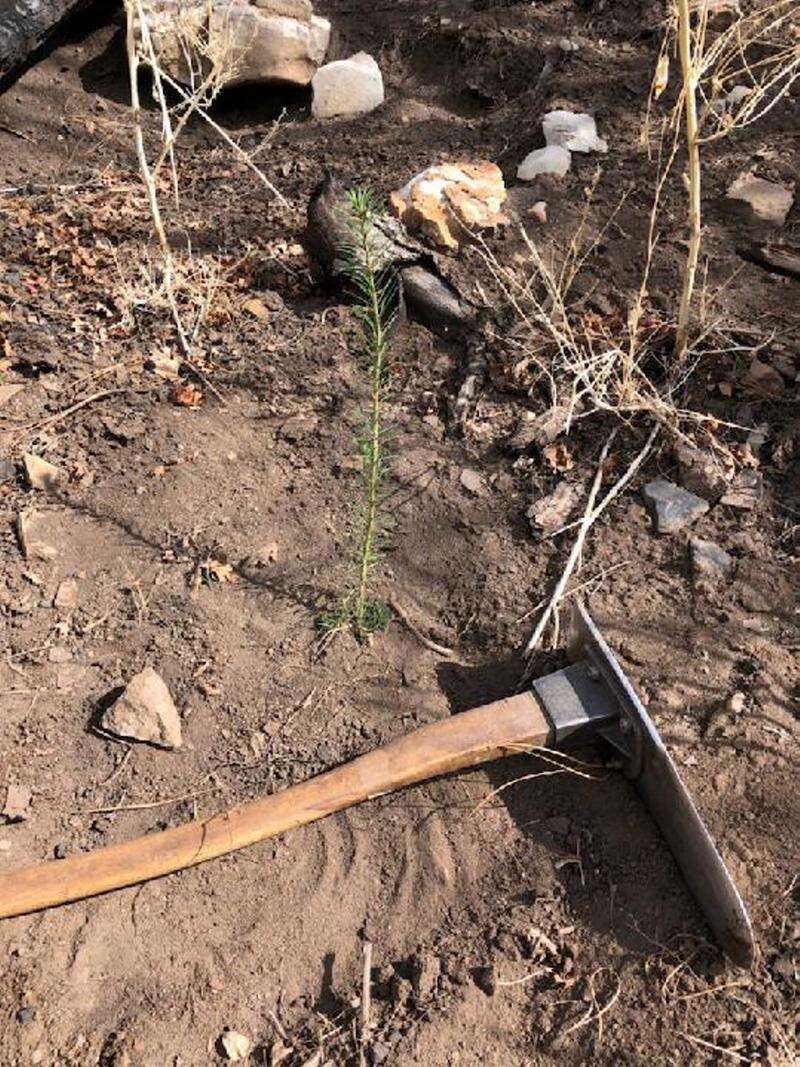 The 416 Fire burned about 54,000 acres in the San Juan National Forest, mostly in the Hermosa Creek watershed, north of Durango.
Some areas need more help than others, such as where no trees remain to provide seeds for future trees, said Austin Rempel with American Forests, a conservation group,
"Unless we do something, there are going to be no trees there," he said. "In other places, this was a really healthy burn, the likes of which we don't really see anymore. We're used to these catastrophic fires that take out all the trees and leave no way for it to come back."
Kuenzi said MSI is able to participate in the work and recruit volunteers because of grants from conservation organizations, including National Forest Foundation, National Environmental Education Foundation and American Forests. She said the planting day is the public part of a much larger effort involving several groups.
As part of the larger 416 Fire restoration project, Southwest Conservation Corps will hike up to headwater streams and plant riparian trees in the near future, Rempel said. Pack horses will carry the trees and members of the corps will camp there for two weeks and plant them. By restoring flora near the streams, they will also restore trout habitats.
"It's going to be pretty much the most Colorado project ever," he said.
Also this summer, the Forest Service will send people out to restore springs damaged by the fire. Some natural springs that burned are vulnerable to cattle, but workers will plant willows and cut down fire-burned trees to make natural fences.
Finally, researchers from Fort Lewis College will monitor the forest, seeing what is coming back and where. After the Missionary Ridge Fire, they found that pines were having trouble coming back, but not aspen, so they're interested if the same thing is happening in the 416 burn area, Rempel said.
Among the people who helped plant trees Saturday was Gretchen Fitzgerald, a former forester with the Forest Service who was responsible for the planting of more than 2 million trees in the San Juan National Forest. She has taken a job as the ecosystem staff officer with the Sequoia National Forest in California – making Saturday her final day planting trees in the San Juans.
She said volunteer projects like the one Saturday are important because they involve the community in the recovery of the forest, which gives community members ownership and helps them feel like they're part of land management.
"It's public land, so it's good for them to have that opportunity," she said. "It's also nice to plant some trees."
Fitzgerald has already started bringing her skills to the Sequoia National Forest, where the Castle Fire burned 170,000 acres last year. An ecological restoration project she is working on there has identified 20,000 acres for tree planting, which will begin with a volunteer project May 1.
Nevertheless, she is nostalgic for the forest she worked in for more than 20 years.
"It's been great working in the San Juan National Forest," she said. "I had a great career here and I love coming back and visiting all the trees that we've planted over the years."
ngonzales@durangoherald.com