As corporations gobble up resorts across the country, the Pitcher family has remained staunchly independent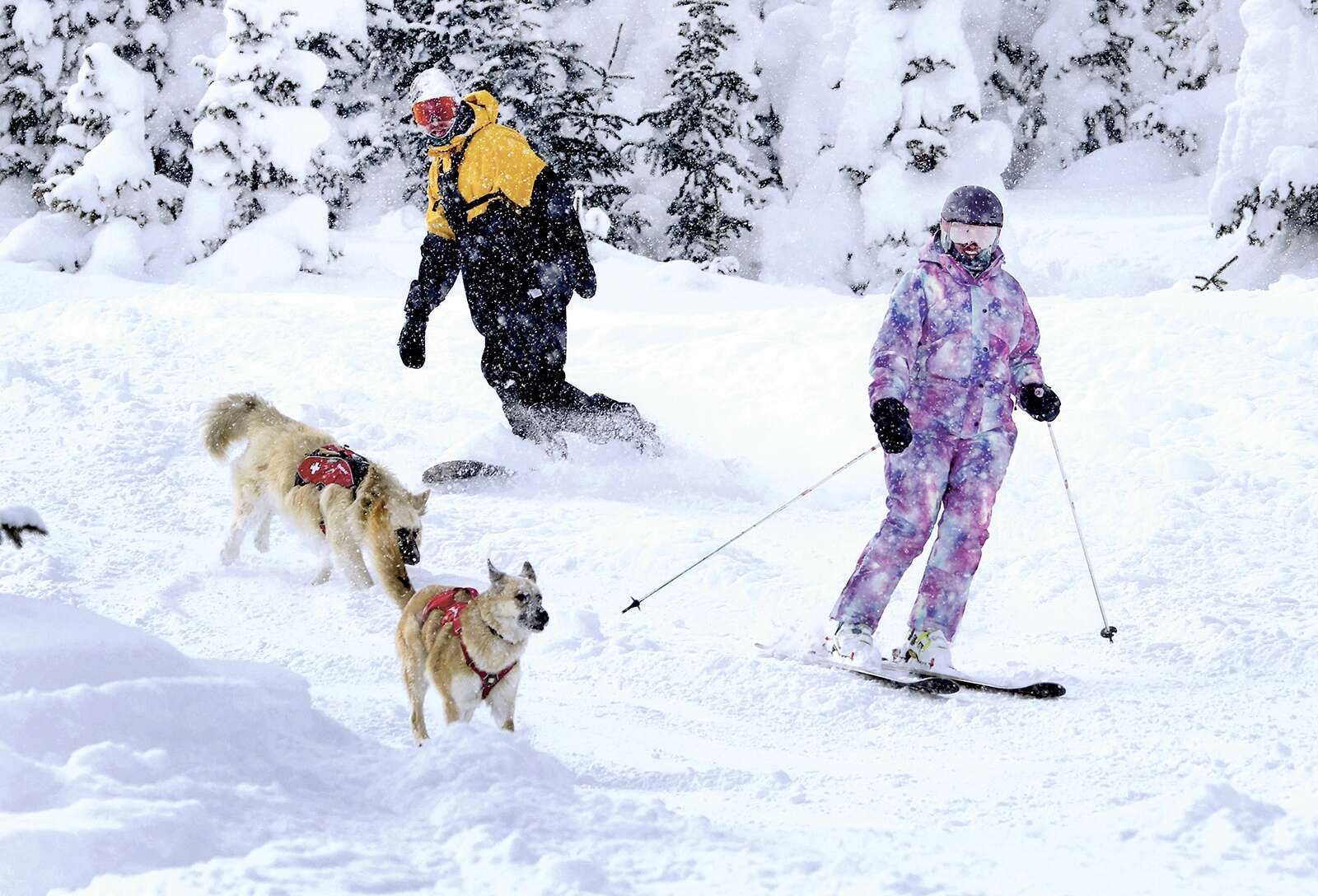 WOLF CREEK SKI AREA – As he prepares to recline into the fast-approaching chair, Davey Pitcher cranes his neck attempting to read the numbers inscribed in the concrete foundation of the Treasure Stoke chairlift's loading terminal. On the slopes, he drops into gentle telemark turns with agility, but the twisting motion on the chairlift is more difficult for the 60-year-old after a paragliding crash in the spring that resulted in a broken back.
"I can't remember if we built this lift in 2012 or 2013," Pitcher says as the chair scoops him up and carries him away from the legions of skiers who have come to visit Wolf Creek Ski Area one December day.
Pitcher has officially held the title of CEO at Wolf Creek Ski Area since 2002, but had helped his older brother, Todd, manage the area for several years before that. The brothers' father, Kingsbury "Pitch" Pitcher, invested in the resort in 1976 and eventually became the sole owner.
As resorts around the country fall under the enterprising authority of multi-corporate alliances and buyouts, Wolf Creek Ski Area has not only resisted, but thrived.
One pass to rule them all – or not
In 2008, Vail Resorts debuted the $579 Epic Pass – a single pass to ski resorts that offered owners unfettered access to the five resorts that the company owned at the time. In the decade and a half since, the company has extended its grasp. It now owns (or operates, in several cases) 38 resorts worldwide. The 2022-23 full Epic Pass, which grants passholders access to a total of 85 resorts, cost skiers $949.
Seeing Vail's success, the company that owns Aspen Skiing Co., Henry Crown Co., formed a partnership with a private equity firm to found Alterra Mountain Co. In 2018, Alterra released the Ikon pass, which both affirmed the imposing success of the Vail model and offered a competitor to Vail's dominance.
The product of these unions has been less than harmonious.
Vail came under intense criticism last season for mismanagement of Stevens Pass, the Washington resort the company acquired in 2018, for providing inadequate parking given the influx of skiers. It is not the first time Vail faced such criticism. Parking shortages and lengthy lift lines have proved to be the relentless proverbial thorns in Vail's stalking paws. The company also endured a torrential storm of criticism after ski patrollers at Park City Mountain – the nation's largest ski resort – nearly forced its closure by threatening a strike over low wages.
In 2019, Arapahoe Basin left its partnership with Vail after the influx of Epic Pass users caused insurmountable parking problems for the resort. A year later, the resort joined the Ikon Pass under a partnership that limited the number of days pass-holders could ski there.
In response to the conglomeration of major ski resorts, the Indy Pass emerged. Its motto?
"Avoid the mega crowds. Go Indy!"
The pass offers users a limited number of days at over 120 independent ski resorts.
As independent ski resorts around the country have flocked to reap the benefits of multi-resort passes, Wolf Creek's owner has resisted.
Pitcher does not harbor a festering grudge against multi-corporate ski resorts. And he is too savvy a businessman to say he'd never sell. But with a bright economic outlook and an heir apparent who shares Pitcher's penchant for hands-on management, the third Pitcher to hold the position of CEO sees no reason to sacrifice any part of Wolf Creek's independence.
Independence: It's what runs in the family
Wolf Creek's operations are as much a family affair today as ever. Pitcher's son, Keith, is the assistant lift supervisor; Davey's wife, Rosanne, is the vice president of marketing and sales and he has a network of nieces and nephews who have all pitched in over the years.
And while the ski area's independence imbues the skier experience with certain qualities – almost no lift lines, and a $10 homemade burger among them – those aren't the first virtues that Pitcher points to when discussing why he is inclined to keep the business in the family and out of the hands of would-be investors.
"When I get up in the morning, I don't go, 'I'm going to make contacts and see if I can sell the ski area,'" Pitcher said. "I get up in the morning, I think about if we can open new terrain, or if we need to deal with a snow removal issue or something else. I find it quite satisfying."
He describes his work like that of a passionate hobbyist. Pitcher's face gently morphs into an amused smile when describing the inventive methods his staff devise to move snow onto barren runs during early season operations.
Of the 10 chairlifts that operate at the resort, Pitcher has helped build every single one. Most resorts purchase turnkey lifts – not Wolf Creek. Pitcher has taught some of his staff to build lifts, which creates year-round jobs, saves on costs and sometimes hastens installation times that might otherwise be hindered by a lack of labor.
Pitcher's time on the slopes is punctuated, generally by choice, by radio calls to lift operators and maintenance workers to check on the status of various pieces of the area's infrastructure.
"My father, my two older brothers ... we all gravitate toward the motor room," Pitcher said.
Keith Pitcher, 32, seems to share this passion with his father. The dirt that the duo get on their hands every day is not so much a necessity of the job as it is a desire. And as long as that desire remains, the elder Pitcher says there is no reason to sell the resort. His son is content with that.
"I'm here until they decide to sell it, if they decide to sell it," Keith said.
A sale seems unlikely.
"It's hard to imagine, for me being born and raised in the business, doing anything else," Pitcher said with more than a hint of nostalgia.
Resistant, ambitious and independent
Despite Pitcher's resistance, it is not to say that Wolf Creek – which receives more snowfall annually than any other ski area in the state – has gone ignored.
Pitcher hesitated to name any of the specific entities that have approached him about buying the area. He did say that the Vails and Alterras of the world tend to approach distressed ski areas or owners who are weary of the business, two qualifiers that do not apply to Wolf Creek.
Still, "an organization" approaches Pitcher each fall to ask if this is the year he might sell. Pitcher said he generally does not respond.
Only once, during the abysmal 2017-18 ski season, has he found himself in a serious discussion of a potential sale. It took place in a meeting that he attended only out of social obligation.
"It was predatory by nature, to be honest," Pitcher recalled. "It was a year where we didn't have a lot of snow, the ski business wasn't exactly booming in Colorado in general. ... The nature of the conversation was, 'Are you tired of it? This could be the year when you end up with your back against the wall financially.'"
When Pitcher dismissed the idea that the area would succumb to the financial hardship brought about by a poor snowpack, the meeting effectively ended.
Even to join the Indy Pass or the Mountain Collective, each of which allow for only limited days at each ski area, would be too much of a compromise on the independence that the Pitchers enjoy. But Pitcher does not see these passes as the scourge of the industry as some do. He says their relative affordability allows skiers to have a little pocket change to ski a day or two at Wolf Creek.
Wolf Creek tried a reciprocity agreement close to a decade ago with Taos Ski Valley; the result, Pitcher's wife Rosanne said, was "a mess."
Now, the only reciprocity deal they have is with Discovery Ski Area in western Montana, which Pitcher's brother Peter owns.
"These great big ski areas and the ski areas that are involved in these shared passes – Mountain Collective, Ikon, Epic – from a management standpoint, it seems extremely complicated to me and it causes stress on communities," Pitcher said. "... It's easier to keep our formula simple. When you buy a ticket at Wolf Creek, you know what you're buying."
And what you receive with a ticket at Wolf Creek, or any independent ski area, is not necessarily the same product as the one sold by larger conglomerates.
"Monarch and Granby Ranch, Sunlight and Powderhorn are these fabulous, amazing resorts that really serve to get a lot of families on the slopes, making (skiing) accessible for a lot of people," said Sarah Beatty, a spokeswoman for the trade association Colorado Ski Country USA. "But they're interesting places to spend time as well. ... You are going to a town that has been there longer than the resort has. So I think that the independent ownership nature of many of our resorts leads to that experience that you're not just going to X resort somewhere, you're going to a town that has character, that has history. Independent ownership assists with that and helps bring that out."
The independence has also allowed the Pitchers to tiptoe around many of the thorns that now pester Vail. With no investors to whom they must answer, the Pitcher family said they raised the starting wage for all hourly employees to $18/hour, bringing the average hourly wage to $23.75, excluding management and salaried employees. They did so without raising the price of a lift ticket.
By comparison, the result of collective bargaining by Park City ski patrollers in 2021 brought the average wage to $19/hour. (Vail has since decided to invest $175 million in its workforce and increased the starting patroller wage to $21/hour across the board.)
Pitcher has modest goals for expansion – and costly ones at that. Although Wolf Creek's popularity has grown in recent years, helped in part by a pandemic that turned outdoor recreation into a refuge from airborne viruses, he said increased visitation is not the goal.
The terrain in question, a stunning series of cliffs and aprons to the west of the resort's current boundary known as the Matchless Pod, would appeal primarily to expert skiers and in some cases would require even technical climbing gear to descend certain lines. Pitcher has explored the area under the power of just his two legs for many years and is now seeking Forest Service approval to install a lift.
The expansion would be unlikely to increase traffic to the resort in any major way given its appeal exclusively to the upper echelons of snowsport enthusiasts.
"In the short run, if you looked at these numbers from a banker's standpoint, it doesn't pencil all that well," Pitcher said. "... Generationally, I think, this terrain would provide the community some excitement and a sense of purpose for multiple generations to come."
With the next generation of skiers top of mind for Pitcher, it is the next generation of Pitchers who may be tasked with managing, if not actually building, the lift if the expansion is approved.
"If we get it built, for me that's the toughest part," Keith Pitcher said. "It's hard for me to comprehend building it right now. But I know that if my dad's wanting to do it, we're going to do it."
rschafir@durangoherald.com
An earlier version of this story misspelled Sarah Beatty's first name. It has also been edited to clarify that Davey Pitcher's wife, Rosanne, is the vice president of marketing and sales.