With winter coming, advocates stress need for action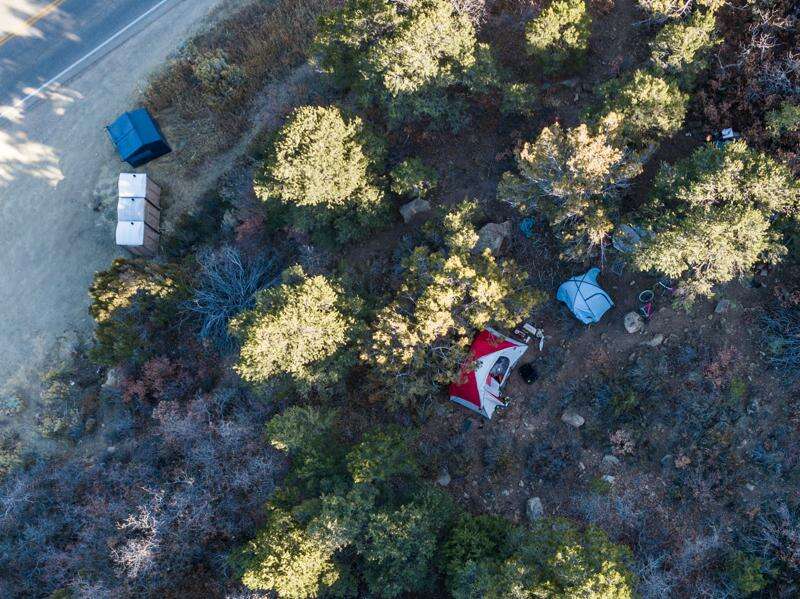 Durango City Council can't seem to commit to a place for a permanent homeless camp.
The city of Durango and La Plata County have wrestled with where homeless camps should be located for years. Now, a community group has come forward with a highly-managed camp plan for a location near Greenmount Cemetery in Durango.
City Council did not give an absolute go-ahead for that location. Instead, it stalled, taking one bureaucratic step forward while once again asking staff members to review alternative options at its meeting earlier this week.
"I just want staff to consider all of the parcels that we originally brought forward," said Councilor Melissa Youssef. "It would help me a lot in knowing that staff is saying that, nope, this is the only and the best site."
The Neighbors in Need Alliance proposed building a permanent transitional housing camp, called Elkview, close to services such as Manna, a soup kitchen, and Espero Apartments. Espero, still in progress, will provide permanent supportive housing for people who are unhoused, disabled and/or low-income.
Elkview is supposed to satisfy neighbor concerns while meeting the needs of unhoused community members. It would include 25 to 30 durable yurts, heated dining and hygiene facilities, all fenced in with a guard house. It is based on national best practices and a similar model, Camp Hope, in Las Cruces, New Mexico, NINA representatives said.
The proposed project comes after years of waffling about a designated campground and concerns that the city's former camping ban was unconstitutional, brought forth by the American Civil Liberties Union in 2018.
In 2019, the county allowed camping near Purple Cliffs along La Posta Road (County Road 213). By January 2020, the city and county released a jointly funded strategic plan on homelessness with goals to create better supportive housing.
NINA representatives said City Council can provide its verbal commitment to establish a managed camp model and take action so NINA can build the camp by November. Or the city could vote against the Elkview site, negating past support and one of its strategic plan objectives, said Caroline Kinser, a NINA representative. That option would cause NINA to return $90,000 in time-limited grant funds for the project, she said.
A step forward, a step back
City Council voted four in favor, one against to create a draft lease for the land parcel off Cemetery Road, 1 mile west of downtown Durango. Councilor Chris Bettin voted against the motion. It would likely be an 18-month conditional lease for the pilot project, proposed by NINA, a coalition of faith-based groups and community advocates.
Mayor Dean Brookie emphasized several times that the draft lease is not an approval of the project. The draft lease is the start of a long process that could last until mid-October, city staff members said. That process includes two lease readings by City Council, one publication period and several meetings between at least three city departments and NINA to finalize engineering, planning, fire and other project details.
Kevin Hall, assistant city manager, pushed for clear direction before committing staff resources, saying if council approved the project and location, staff members could figure out the details.
"I would not want to leave here tonight with uncertainty as to where this might be headed," he said Tuesday.
He got direction, but not definitive approval of the location. While the draft lease is being finalized, councilors directed staff members to take another look at alternative locations, most of which have already been reviewed by staff and NINA. That poses problems for NINA, which needs access to the land to apply for more grant funding.
Community division
More than an hour of public comment during Tuesday's City Council meeting revealed divided opinions about the project.
Residents near the proposed site raised concerns about increased crime, safety, decreased quality of life and impacts on the cemetery. They shared concerns about the site's impact on tourism because Durango originally intended to keep the parcel open to protect the city's viewshed.
"I've heard people say this isn't the best location, but it's the best that we've come up with. That's not good enough for me," said Elliot Krichman, a Crestview resident. "This is my home. This is where I'm raising my kids. These are streets that I use every day."
Supportive statements, many from NINA volunteers, faith groups or community partners, like Axis Health Systems, emphasized urgency: The economic impacts of the coronavirus pandemic could cause an increase in homelessness, and freezing temperatures in winter can cause health issues or even death for unhoused community members.
"It's time to stop kicking the can down the road and stick up for all people that live in Durango," said Jeff Sutherland, a board member at Manna. "It's important to voice our support in encouraging a quick resolution for all of this. Winter is coming."
Kicking the can
NINA's proposal raised some new questions for city councilors and one idea, keeping the current designated homeless campsite at Purple Cliffs, that caused frustration among La Plata County commissioners.
Brookie wanted clarity on the city's full financial obligations and concerns expressed by the city Parks and Recreation Department and La Plata Electric Association. Councilors Bettin and Melissa Youssef also wanted more information before deciding on a location.
"It's a bit of a moving target ... I feel that I have always supported this concept, but every time we see this, there's another new issue to resolve," Brookie said. "Primarily, my concern is the fate of Purple Cliffs and the long-term financial obligation."
While NINA's proposal offers a place for 25 to 30 people, more than 70 people currently live at the designated homeless camp at Purple Cliffs along La Posta Road. A 2019 point-in-time survey, a rough estimate, counted 192 unhoused community members.
"I'm still struggling in some ways with this concept because I feel there is an unmet need," said Councilor Kim Baxter. "Obviously, if this camp can only hold 30 people, there's still going to be people needing a place to camp."
NINA representatives wanted to keep the Purple Cliffs site open. The site, on county land, has always been a temporary option, said La Plata County commissioners. The county agreed to allow the land use, while Durango committed to finding a better option.
During a county commissioner meeting Wednesday, Commissioner Julie Westendorff said hearing the discussion was "such a frustrating experience, I have to calm down before I make any rash comments."
Community members and City Council members also considered the idea of using the DeNier Youth Services Center, an unused, state-owned youth detention center on county land, as a shelter alternative. The state is in the process of transferring ownership to the county.
County staff members said it has many options to consider, but the center is better suited as a halfway house than as a shelter.
"It is a jail. And it is not configured to be a shelter where you would potentially have people and families visiting it," said County Manager Chuck Stevens.
"As it relates to the DeNier center, that's a total ... let's kick the can back to the county," Westendorff said.
smullane@durangoherald.com
Editor's Note: This article has been updated correct the vote tally on the motion to go forward with a draft lease.