Development intended to bolster supply of low-income housing with completion date of Sept. 4
Construction is underway for the Gauge Apartments, an 89-unit affordable housing apartment project on Escalante Drive behind Home Depot that is expected to be completed by Labor Day.
A modular apartment unit hoisted above the ground by a crane could be seen at a work site at 1275 Escalante Drive on Thursday, the first day of on-site construction for the planned Gauge Apartments.
Weston Bierma with Four Points Funding said the units range from one to three bedrooms and 700 square feet to about 1,200 square feet. The units will be spread out among three apartment buildings.
He said the firm hasn't released pricing information on the units yet, but details should go public in April or May. The Eddy Apartments in Grand Junction, also owned by Four Points Funding, list one-bedroom rentals at $1,340 for 669 square feet and two-bedroom units at $1,650 for 981 square feet.
The Altitude Apartments in Glenwood Springs, also owned by Four Points Funding, does not list prices for one-bedroom units. But two-bedroom units are priced at $2,710 for 995 square feet of space.
"Broadly speaking, these are free market apartment rentals with an affordable component tied to them for 10 years per our City of Durango annexation agreement approved by the town council," Bierma added in an email on Friday.
Eva Henson, housing innovation manager for the city, said in an email to The Durango Herald that the city and Four Points Funding worked out an agreement to increase the Gauge Apartments' original conception of 83 units to 89 units and that 16% of the units to include rent-restricted units for the local workforce.
"Fourteen units will be rent restricted for the 10-year term with rental ranges targeting 80% (to) 120% area median income wage earners," she said.
The city approved a building permit fee reduction for the Gauge Apartments' three building permits in the total amount of $26,654 ($8,884.66 per building), she said. The city is using its 2022 housing incentive funds to offset the fee reduction.
On Thursday, all of the modular units that will make up Building A were splayed about the development site. Within a week, the units will be fitted together and the first of three buildings will be standing, he said.
The thing about modular construction is it allows manufacturing and construction to occur concurrently, he said. While crews are laying foundations on Escalante Drive in Durango, Four Points Funding is manufacturing the next building's units simultaneously. Building B, the second of three planned apartment buildings, is halfway to three-fourths completed in the manufacturing plant.
Modular construction also produces less waste and, to a degree, reduces the costs of construction, he said. Its manufacturing facility is located closer to large lumber vendors and the modular units are constructed in a manufacturing plant, meaning fewer materials are present on the development site.
"We're only bringing in what we need, whereas stick-frame construction, you bring all that lumber down here and you have waste and then you've gotta haul that all back out," he said.
Bierma said Four Points Funding is performing similar projects in Grand Junction, Glenwood Springs, Estes Park and Idaho Springs with a primary focus on building lower income and affordable housing.
The challenge with developing projects of scale on the Western Slope is that it can be difficult to find construction resources in the region, unlike in Denver, Albuquerque and Salt Lake City.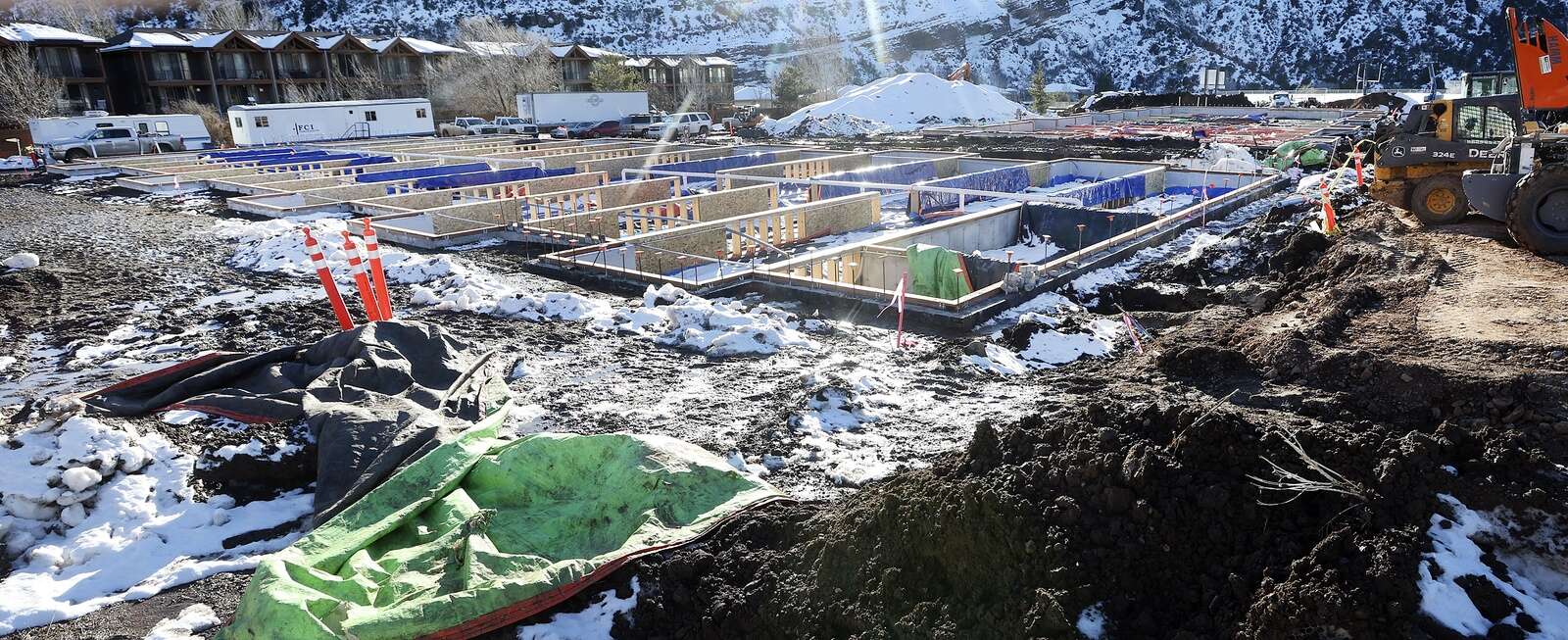 "The reason we're doing (these projects) is essentially a lack of resources down here – so finding large-scale framing crews, large-scale drywall crews. This allows us to do that at a rather economical rate and bring that down here," he said.
He said the Gauge Apartments is Four Points Funding's first and only Durango-area project at this time, but it has crews scattered across the Western Slope working on similar projects to address the housing shortage.
cburney@durangoherald.com
This story was updated with new information provided by Eva Henson, the city's housing innovation manager, regarding a 10-year rent-restriction agreement for the Gauge Apartments between the city and Four Points Funding.