State board recommends that Mesa Elementary be managed outside district
Citizens expressed frustration with the Montezuma-Cortez Board of Education and administrators on Tuesday, lamenting low test scores, citing low pay for coaches and calling for the resignation of Superintendent Tom Burris.
The Colorado Department of Education also recommended pathways for five district schools on the state's accountability clock for low performance, including placing Mesa Elementary under management outside District RE-1 administration.
Burris did not attend the meeting because of a family obligation. However, notes read in lieu of the superintendent's monthly report stated that teachers and staff have received a raise, and that class size would be topped at 26 students, four fewer initially planned because of budget and staffing limitations.
The $4,000 raise will be applied across the board for staff after months-long discussions about teacher raises in the district.
The raise amount came with a caveat from the superintendent, however. "To sustain the raises we need to look at the class sizes and staffing," Burris said in an email.
Board of Education President Sherri Noyes attended the meeting remotely on Zoom.
District lawyer Brad Miller attended the executive session at the beginning of the meeting to give the Board legal advice on matters regarding special education services and for negotiations and advice to BOCES memo of understanding, as well as contract performance. He encouraged residents in the audience to be "respectful" while addressing the board.
The board meeting started on a positive note as the board was told about a district staff member who helped a choking Lewis staff member by giving her the Heimlich maneuver. Board members said they were grateful for staff willing and able to help others in need.
State officials look to outside management for Mesa
Earlier in the school year, representatives from the CDE spoke to the board about the five schools in the district that are on the state's accountability clock for low performance and test scores. They are Battle Rock Charter, Kemper Elementary, Mesa Elementary, CMS, Children's Kiva Montessori Charter School and Southwest Open School.
Because Mesa is in its fifth year on the clock, the state board sent a panel to visit the school in March to speak with school staff, school board, parents and others to compile a report and recommend a potential pathway for the school.
Potential pathways when a school has reached its maximum years on the clock include closing the school's doors, turning it into a charter or placing it under outside management.
The panel filed a 40-page recommendation on options for Mesa. In its recommendation, the state panel suggested that the best course of action for Mesa would be to turn over management to a public or private entity other than the district to take on responsibility for the school.
The three main areas of focus noted were a need of improvement in behavior management and school culture, better systems for observation, feedback and professional development, along with leadership support in change of management.
They said a school needs to show two years' worth of measured improvement before they can finally be taken off the clock.
The CDE representatives also noted the district could improve by continuing to build student improvement, partner with educators and build trust and communication with parents, staff and the community.
Residents voice complaints
Before citizens addressed the Board, vice-president Sherri Wright, who was filling in for Noyes, reminded those in attendance to be civil in how they addressed the board.
"If you use personal attacks, I will ask you to leave," she said.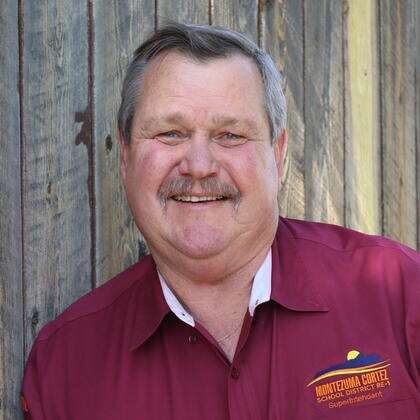 Montezuma-Cortez High School teacher and head football coach Garrett Watkins started by speaking about coaching pay, noting that it was very low when compared with pay in the area. According to Watkins, his coaching salary is $3,000 for a head coaching position, while assistant coaches in Shiprock are making $6,900 and head coaches $9,000.
"We coach because we love coaching and love our kids, not to get rich obviously," he said. "The least our coaches should expect for exhausting work and minimal pay is support for themselves and for their athletes."
Watkins said at the beginning of the school year, he walked the practice field with Burris and Wright, telling them about the hazardous and uneven field conditions.
There was one hole in particular that could cause serious injury to athletes if they happened to step in it while running, and Watkins said Burris said they would make sure it was fixed that day.
He said they fixed the hole by filling it with gravel and putting a strip of sod over it.
"As a coach, this is frustrating and alarming," Watkins said, calling it either "malicious negligence or gross incompetence."
He also spoke of how the track team and coaches received no help from the school when it came to maintenance and preparing for the team's home track meet, and that Burris had raised questionable claims about how track coaches Bob Archibeque and Jeremy Yarbrough used track team funds.
"An unfounded accusation that was even supported by a few board members. Our coaches deserve better," Watkins said.
Dan Tamminga, a high school teacher who has taught in the district for seven years, criticized the decision to place high school Principal Emily Moreland on administrative leave, saying she was "the best principal I have ever known."
He said Moreland helped change the school for the better by implementing improved teacher methods, professional development and student engagement.
"She was fired for standing up for her students," he said. "Students and staff have felt betrayed."
"Students feel as though their voices have been stifled, and teachers are afraid to speak out and stand for their students," Tamminga said.
Tamminga told the board there had been multiple opportunities for Burris to speak with staff members about changes in the district, but that he had avoided having those conversations.
He said the only communication teachers had been given from Burris came in the form of two columns written by Burris and published on The Journal's opinion page that were were "filled with lies and half-truths." He said the district needed to be held accountable.
JJ Lewis, a local emergency health mental health co-responder, social worker, psychotherapist and adventure therapist, said he was becoming increasingly concerned about the treatment of students and staff.
"I am here to express my concern over the failures of the board and the failures of your superintendent, and to demand he immediately resign, if he had the courage to be here," Lewis said.
"I'd like to address the ineptitude that is irrefutable," he added.
He spoke of the Montezuma-Cortez district's performance, noting that it is one of the lowest performing districts in the state of Colorado.
"That is the board's responsibility," he said.
Lewis said he has been called out to the school for his work as a therapist and mental health co-responder, saying that depression, self-harm and suicide ideation is running rampant in the schools, and the "mass exodus of teachers and administration" brought about by the atmosphere created by Burris isn't helping.
"The kids are in danger," he said.
He also said in speaking with teachers and other school staff, he has learned about the culture becoming increasingly toxic in district schools. He said that even staff members refer to the superintendent as "Burris the bully."
"He has created a culture of fear, intimidation, retribution and abuse," Lewis said. "I demand Burris step down immediately."
A few other parents and concerned members of the community addressed the board on this and other matters. Some angrily left the meeting before it was over.
The next meeting will take place Tuesday, June 20.