Brit Eaton has passion for collecting, investing in vintage clothing
Durango resident Brit Eaton is obsessed with vintage jeans.
He searches high and low for the rarest of relics, including mine shafts, storage sheds, yard sales and clothing auctions. He has warehouses full of jeans and other vintage clothing. He keeps the pairs he really likes and sells the rest.
"Every single pair of jeans that's ever been made … is unique," he said. "They're not unique because they have one pocket or two pockets – that just determines the rarity. They're unique because when they're worn, no two pairs are ever worn exactly the same. … Denim is an art canvas that gets painted through time by its own experiences. So that's really what I love."
On Saturday, he will auction off a pair of jeans that he says are the oldest known Levi's denim 501 jeans in the world, made in 1873.
He estimates the jeans will fetch $150,000 to $300,000.
Whether that happens remains to be seen, but it's not outside the realm of possibilities. He sold a pair of jeans last year for $76,000, or $87,000 after the 15% auction fee.
The jeans will be auctioned as part of the Durango Vintage Festivus, which began Thursday and extends through Saturday at Tico Time River Resort just south of the Colorado-New Mexico line.
Other vintage clothing items will also be auctioned, including hats, bags, boots, shirts and jackets, but the focus is on jeans.
Eaton will have a bulk sale featuring a pile of vintage jeans, weighing 10,000 pounds. People will pay for the right to sift through the pile and buy as many pairs as they like within a 10-minute period.
Eaton tries to be humble about his background and expertise in vintage jeans, but his résumé speaks for itself.
Three television shows have featured his scavenger-hunting lifestyle. He's also been featured in a Playboy magazine article, and he's had numerous other articles written about him. He even had a store in Durango called Carpe Denim, which operated from 1997 to 2015.
"I'm sort of commonly regarded as one of the worldwide leaders on denim," he said.
Eaton goes on "denim safaris," in which he drives for two weeks in search of denim.
"I've driven an average of 60,000 miles a year for 25 years, just going around knocking on doors all across the West, basically, and asking people if I can go look in their barn or their attic or whatever," he said. " … There's nothing I want to do more in my life than dig through somebody else's crap that they don't want."
A trendy thing
Vintage jeans became stylish among youths in the late 1960s during the Summer of Love and anti-Vietnam War protests. They are experiencing a resurgence among today's youth and overseas in places like Japan.
Eaton says he is partly responsible for the revival.
"Everyone in the collectibles world is now educated about denim, and part of that is my own fault for being the No. 1 person in the world promoting the denim market," he said.
Eaton said he began collecting denim 25 years ago. Since then, his financial position has improved and he can now afford to buy denim as an investment. He said he paid close to $125,000 for the 1873 pair of jeans that will be auctioned off Saturday night, but that is an estimate because other clothing items were involved as part of a larger deal.
"It's kind of like investing in what you already love," he said.
He compared it to collecting art.
"If it goes down in value, who cares? You've still got something beautiful hanging on your wall," he said.
Eaton said the denim market is so strong that if someone bought a pair of 1950s Levi's jeans in mint condition for $5,000 back in 2010, that pair would have increased in value by 50% every year since then.
"It would have been a better investment than anything you could find, literally, anywhere," he said. "Even better than real estate in Durango, Colorado."
People in China and Japan are investing heavily in denim, he said.
"What I'm surprised at is that the only people collecting this stuff are denim nerds like me – like people that are really, really into the love of denim – like we hang it on our wall like you hang artwork on our wall," Eaton said.
The denim trend is on par with a T-shirt fad, in which people in their 20s are paying thousands of dollars for vintage shirts that feature Aladdin or Snoop Dogg.
"It's flippin' insane," he said. " … Some people look at it and think, 'Oh, look what people do for money. It's so greedy.' I don't. I look at it like, 'Look at these young people that aren't working a freaking job at an office.'"
Part of the appeal for regular collectors – as in those who pay a few hundred dollars for personal-wear vintage – is that they don't want to keep buying factory-produced goods, Eaton said.
"There's such a massive movement where people don't want to be buying (expletive) from a sweatshop in China," he said. "Young people want to be conscious of where their items are found, and finding something used is recycling. It makes people feel good about themselves."
The pair of jeans that sold last year for $76,000 were bought by a 22-year-old man who also invests in T-shirts, Eaton said.
"It's just a shame that the Wall Street guys aren't collecting denim as a viable investment opportunity," he said.
Eaton has 12 warehouses full of vintage wares. With real estate costs going up during the COVID-19 pandemic, he decided it was time to start selling it. So, he started the Durango Vintage Festivus last year.
The event drew collectors from across the United States as well as China, Russia, Malaysia, Thailand, Japan, England and Sweden, he said.
"This year, we're hoping that it'll be the same," he said.
Story behind the jeans
Eaton said he bought his 1873 pair of jeans in October 2022 from Akira Tsuchida, a Japanese collector.
They are in rough condition. Part of the lower left leg is missing, and there is at least one patch on the front right leg where they have been repaired. They measure about 34 inches in the waist and 31 inches in length. It is unknown who owned the jeans or what that person's life story may have been.
Common to the jeans made before 1900, the 1873 pair have a buckle back and single back pocket.
"They're not in wearable condition," Eaton said. "They're definitely not in as good of condition as the pair we sold last year, but that's to be expected because they're almost 20 years older."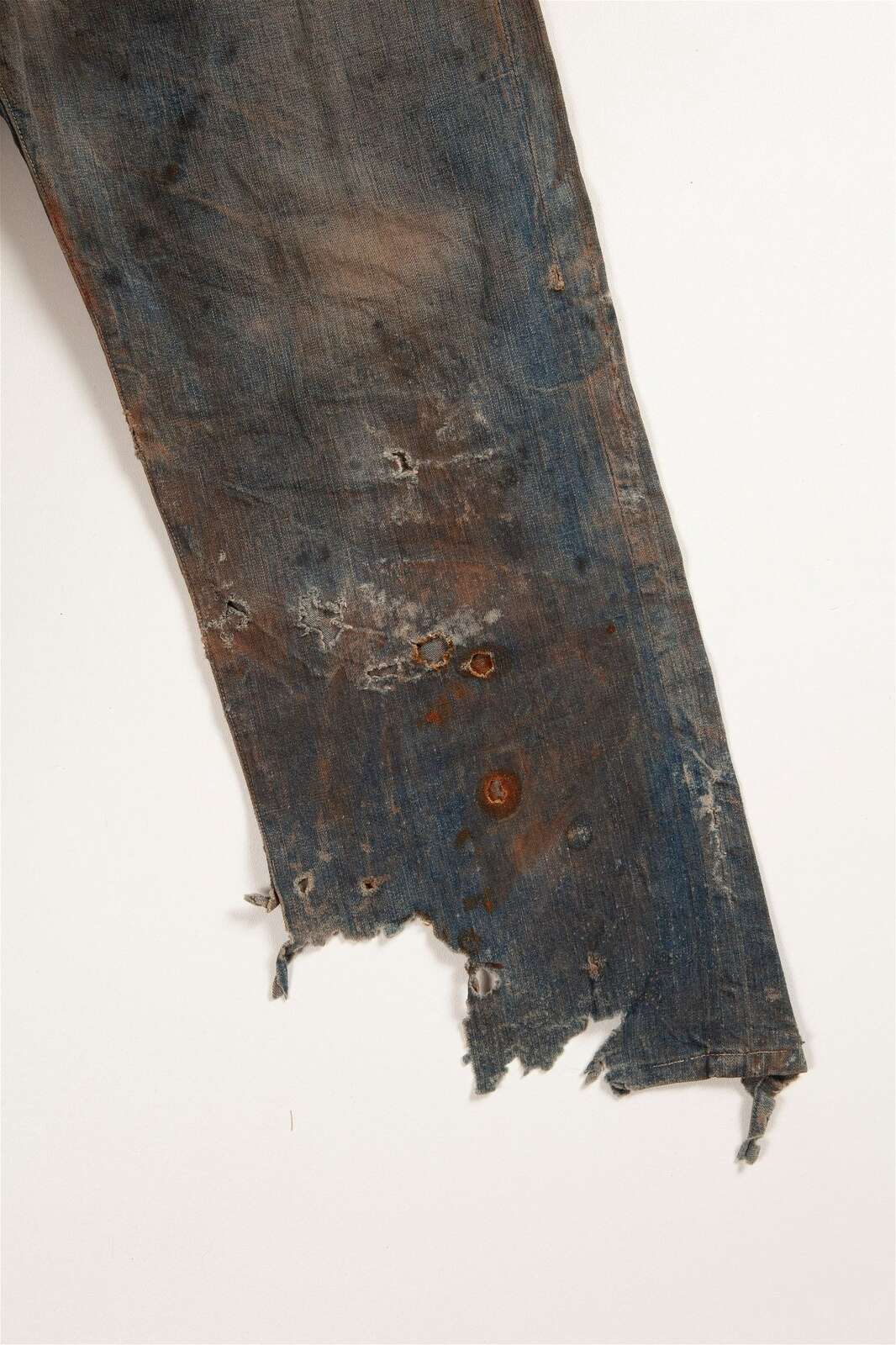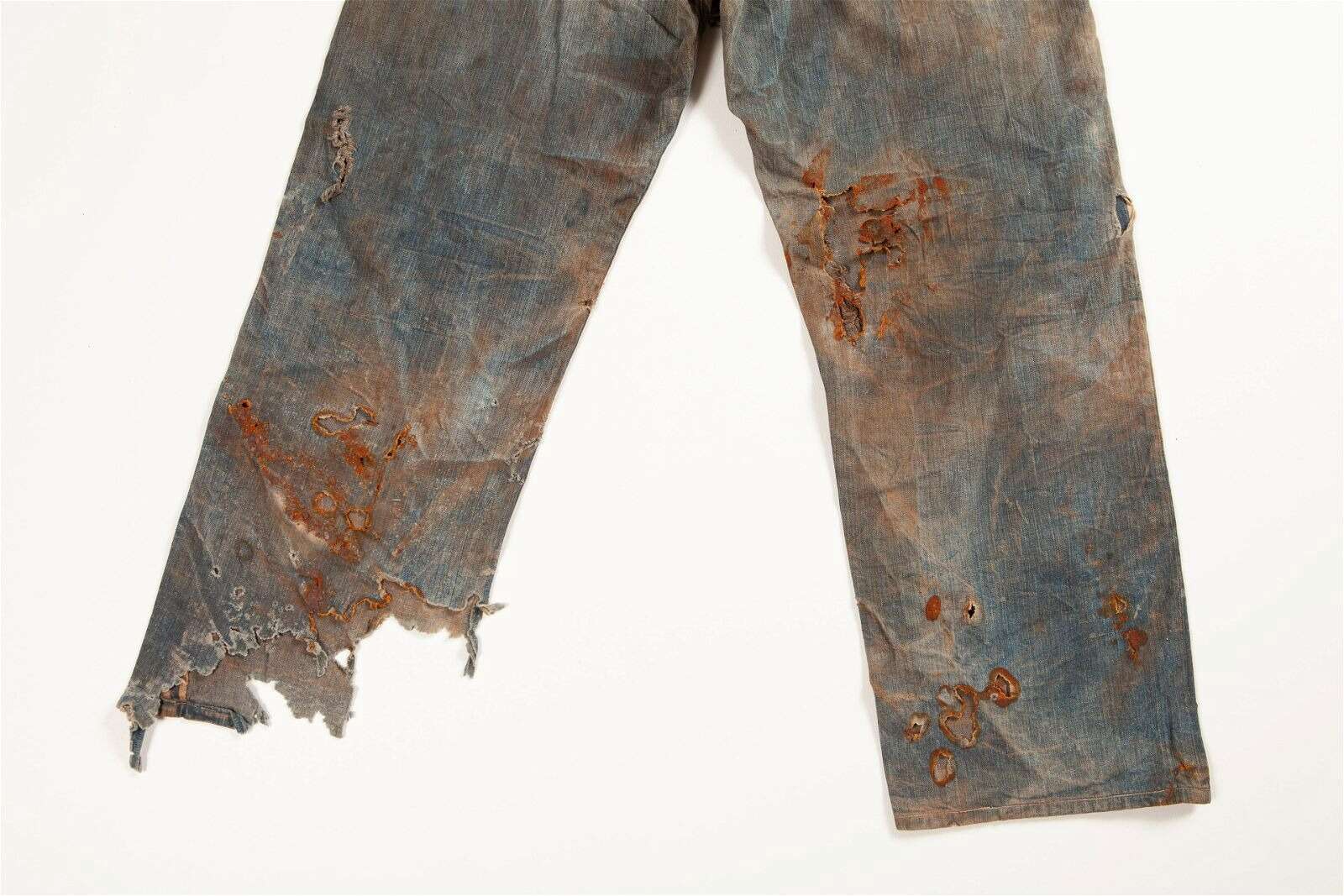 They have spent the last 10 years in Japan. More recently, they were in New York City where a Japanese tailor trained on old denim machines made a few reproduction pairs.
The jeans were unearthed 20 years ago in a Nevada mine by Michael Allen Harris, who also spends his time searching for early denim and has written a book titled "Jeans of the Old West: A History."
"Most of the good denim we find is in Nevada and North California, (but) mostly Nevada just because there were so many more mines in Nevada than any other state, and it's a super-duper dry state," Eaton said.
He said he has explored mines in the La Plata Mountains and around Silverton in San Juan County in search of jeans. But he hasn't found any and doesn't expect he ever will because of how much water flows through the mines in Southwest Colorado.
He said the material itself can be used in multiple ways, including covering car seats, making quilts and crafting scabbards to hold a gun or knife blade.
Denim wasn't considered "frivolous purchasing" or "conspicuous consumption" in the late 1800s, he said.
"It's not like you had Walmart back then producing massive tons of fast fashion that nobody wants," Eaton said.
When a pair of jeans wore out, people tended to find other uses for the material.
Miners likely would have taken an extra pair of jeans or overalls into the mine in case the pair they were wearing became wet or badly torn, he said. He has also heard of cases where old jean material could be used to hold blasting charges in place.
Eaton hopes his 1873 pair of jeans will be a hit among investors. The reserve, or minimum amount he will accept for a winning bid, is $150,000.
"There's got to be somebody out there in the world crazier than me," he said.
shane@durangoherald.com