Demons move to 3-1 with 51-28 win
The Durango High School football team scored a season-high 51 points on Friday at DHS against Grand Junction Central. The Warriors also found the end zone four times to keep Durango in their sights for most of the first three quarters, but DHS only trailed briefly and eventually won the nonleague contest 51-28.
"It felt amazing after the week we had in practice," said senior Julian Rodriguez, who made numerous big plays of defense for the Demons. "It felt good to capitalize against a team. We definitely played with heart."
DHS improved to 3-1 overall with its third straight home win while Central slipped to 2-2.
"We're clicking," said senior Louden Grimes. "All of the receivers have really good chemistry with Tyler (Harms) and the O-line dominated. He has days back there and he has the arm."
"Our guys are playing hard for each other and when you do that, you'll have a lot of success," said DHS head coach Matt Burton.
Durango took a 6-0 lead on the game's opening drive. Jaxon Fancher broke free for a 20-yard run on the first play from scrimmage and Harms eventually scored on a 17-yard run. Dylan Burns' kick after was good, but a Central penalty moved the ball half the distance to the goal line and DHS tried for two, but was stopped short.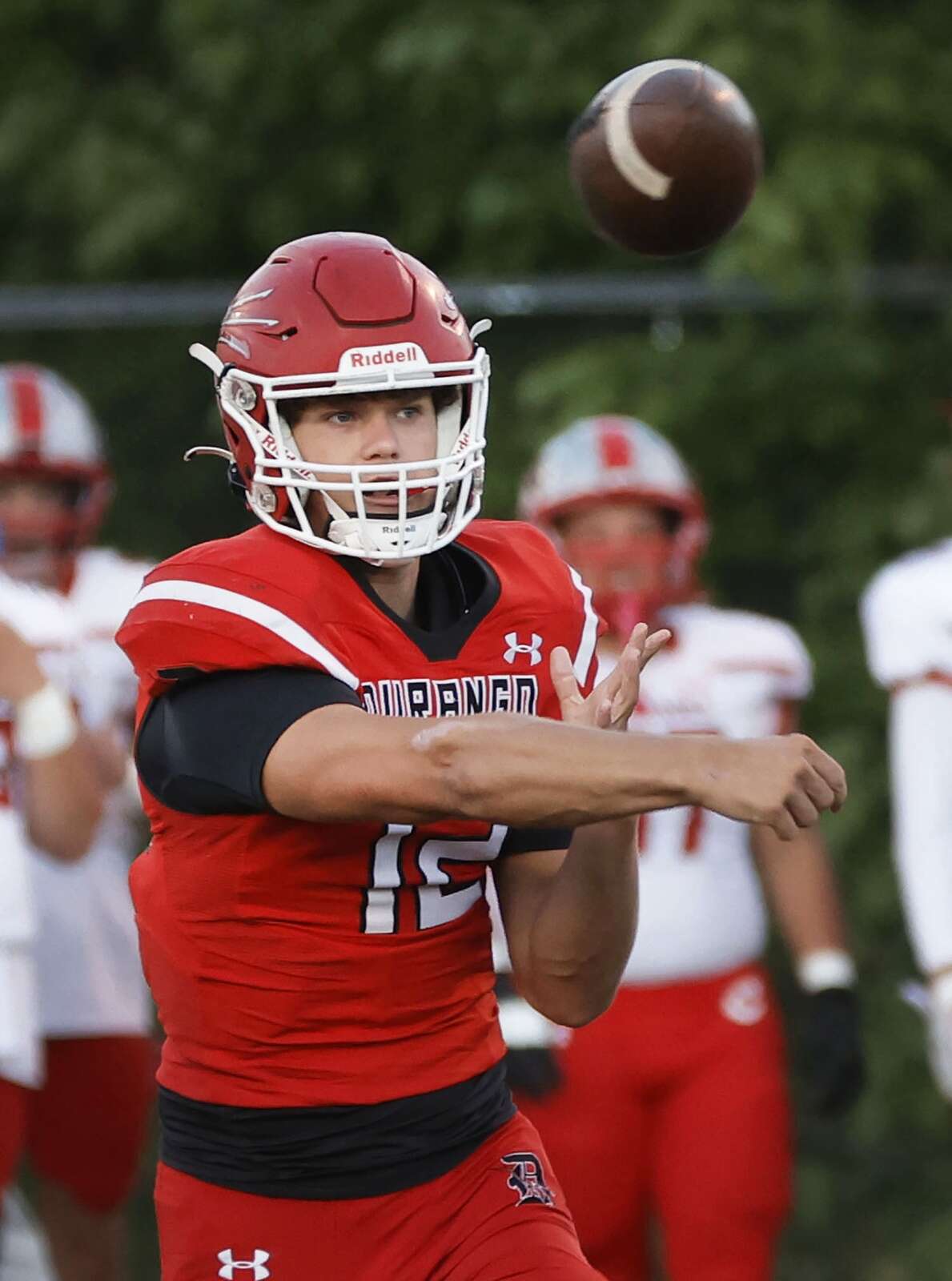 Central responded with a 14-play drive to go up 7-6. The Warriors converted a screen pass into a first down on fourth-and-two, then got a 15-yard run from Asher Carter to get a first-and-goal at Durango's five. A sack from Rodriguez, a delay of game and offensive pass interference in the end zone backed the Warriors all the way to the 33, but quarterback Kane Thornton connected with Carter on a 33-yard touchdown and Central went up 7-6.
The Demons, however, took the lead back on their next possession and never let it go again. Harms connected with Rodriguez for five yards, Peyton Dike for 12, Grimes for 12 and nine and Seb Tripp for seven to get a first-and-goal at the four. Fancher then rushed into the end zone on the first play of the second quarter and DHS went up 13-7.
Durango then forced the Warriors to go three-and-out and blocked their punt in the end zone. Ryan Dugan dove on the loose ball and DHS went 20-7.
Rodriguez made a tackle in the backfield on third-and-one on Central's next drive, but the Warriors went for it on fourth and got a new set of downs with a shovel pass. Central converted another fourth down and then tried a third on the drive, but Dugan broke up a pass to force a turnover on downs.
On the very next play, Fancher broke free for a 75-yard touchdown run. Central nearly tripped Fancher up at the line, but he put a hand down to keep his balance and then turned his jets on.
The Warriors, however, were able to answer. Thornton hit Cam Redding for a 28-yard gain and again for a 33-yard touchdown to cut Durango's lead to 27-14.
DHS responded with a touchdown drive that only took 1:27. Harms completed a 13-yard pass to Rodriguez, a 17-yard pass to Dike, Fancher ran 20 yards and eventually Harms scored on a five-yard keeper with 1:03 left in the first half.
Central, however, scored on the last play of the half with a 25-yard touchdown pass from Thornton to Carter.
The Warriors then received the second half's opening kickoff, but DHS forced a fumble on first down and Gage Voiles dove on it at Central's 43.
Nine plays later, Fancher scored his third touchdown of the game on a three-yard run to give Durango a 41-21 lead. "He runs with great heart, great passion and he refuses to go down," Burton said. The coach also called Durango's offensive line the "heart of the team." The O-line consists of left tackle Jacob Neubert, left guard Steven Moore, center Elijah Oyler, right guard Jackson Hubertus and right tackle Ben Simpson.
Thornton threw one more touchdown pass, a 14-yarder to Jordyn Pollard, to make it a two-score game, but the Demons finished the game with big plays on offense, defense and special teams.
Harms rushed into the end zone from 19 yards out to make it 48-28.
Cully Feeney then intercepted a Central pass at midfield.
The Demons were forced to punt for the only time in the game on their next drive, but got the ball back on a turnover on downs, with Malakai Baier and Mason Palmer both knocking away passes.
Dylan Burns, who was a perfect 6-for-6 on PATs in the game, then kicked a 38-yard field goal for the final margin.
Central threatened once more, but DHS forced a fumble on second-and-goal to end the threat.
"I'm so proud of our coaches, our players, the parents, the admin and the supporters of Durango football," Burton said.
After playing three straight home games, DHS will now be on the road for its next three, beginning Friday at Mead (1-2).
"Mead is still good," Grimes said. "They fight hard so it will be a battle, for sure."