Bobcats earn No. 8 seed, will face Sargent on Friday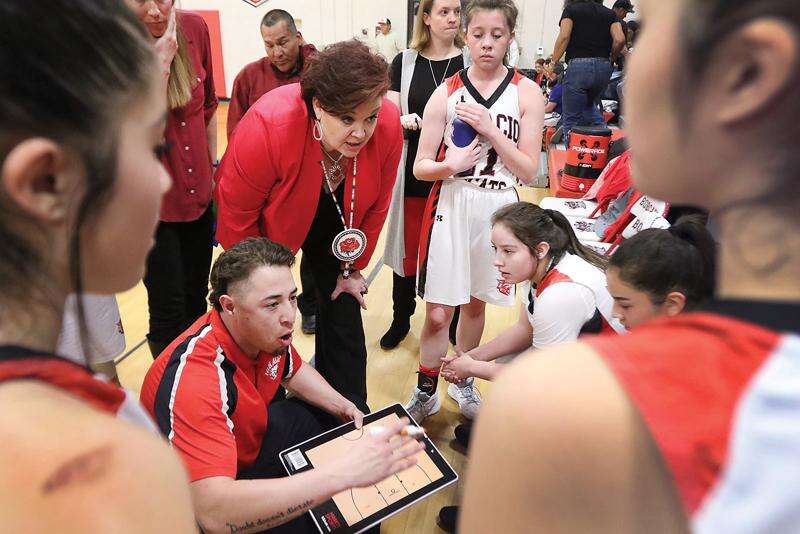 The Ignacio High School girls basketball team figured it would get a tough draw when the Class 2A Region 8 bracket was announced on Sunday. That's the way the draw panned out for the Bobcats.
Ignacio (16-5) earned the No. 8 seed after cruising to an eighth consecutive Class 2A District 3 San Juan Basin League championship on Saturday at Montezuma-Cortez High School. The Bobcats earned the right to host the regional tournament. Thirty-two teams make the eight regional tournaments. The Bobcats will play No. 25 Sargent at 6 p.m. Friday in the first semifinal game. Rocky Ford earned the No. 9 seed and was the second highest-seeded team in the regional, and will take on No. 24 West Grand in the other semifinal.
For Ignacio head coach Justa Whitt, hosting regionals for a third time in as many seasons is something to celebrate, and she believes that her team can rise to the challenge of playing well at home in the playoffs.
"We expected to get a tough team in our quadrant and that's Rocky Ford," Whitt said. "I've done a few scouting things to see what I can find out, but first we have to concentrate on Sargent. They're comparable to some teams we've seen in league. Without doing too much research and looking at the scores, it should be similar to league. We would love if we can get everybody in the game and it would save us a lot of our energy for Saturday."
Ignacio is led by senior Makayla Howell, who averages 8.0 points per game. IHS sophomore Avaleena Nanaeto averages 6.4 and junior point guard Charlize Valdez is at 6.1 per game. Friday will be a chance for the upperclassmen to deliver another strong performance at home.
Ignacio lost the regional championship game to Wray in overtime last season, and Whitt said playing close games has helped the team grow.
"They have experience from last year, but we are in a totally different situation than that," Whitt said. "Each team is a different journey. Yes, it's a lot of the same players but it's a different dynamic. Different kids have stepped up to be leaders and we've had a lot more close games, which has benefited us. I hadn't coached a close game like last year in over six years, so I'm much more comfortable now. If it comes down to it, we've won close games, and that's a confidence builder as a team."
The Bobcats blew past league opponents, and their five losses came against playoff-bound teams – No. 2 Limon and No. 26 Del Norte in Class 2A, No. 11 Alamosa and No. 14 Cedaredge of Class 3A, and New Mexico's Kirtland Central. The Bobcats did upset Class 3A No. 5 Pagosa Springs, and also recorded a thrilling win at home over Del Norte.
Here's a closer look at the Class 2A Region 8 teams:
Sargent High School
Sargent (9-13, 3-2 2A Southern Peaks League) saw two other area teams this year in Durango and Bayfield, and the Farmers lost both by double digits. They still possess fire power as McKenzie Tolliver leads the team in scoring with 11.6 points per game. Other contributors include Jeni Johnson, who averages 6.8 per game, and Mary Willis averages 4.6 per game. The Farmers have lost seven out of their last eight games entering regional play.
Rocky Ford High School
On the other side of the bracket is a talented Rocky Ford team that enters the regional with a 20-2 record. The Meloneers are led by junior Abi Snyder, who averages 17.8 points per game. Lily Hancock is second on the team with 7.0 and Meghan Saltzman is third with 6.1 per game. Rocky Ford has two losses on the season, both came against Rye. Before that, the Meloneers started the season 17-0. They also lost Saturday's District 6 championship game to Rye.
West Grand High School
The final team in the regional is Kremmling-based West Grand, which enters the tournament with a 13-10 record. The Mustangs are led by Emma Desanti with 11.8 points per game, and freshman Allie Daly averages 8.6 per game. The Mustangs went 6-3 in February, and took third at the District 5 tournament with a 30-23 win over Paonia to book its place for regionals.
bploen@durangoherald.com