416 Fire – now at 27,420 acres – expected to burn well into July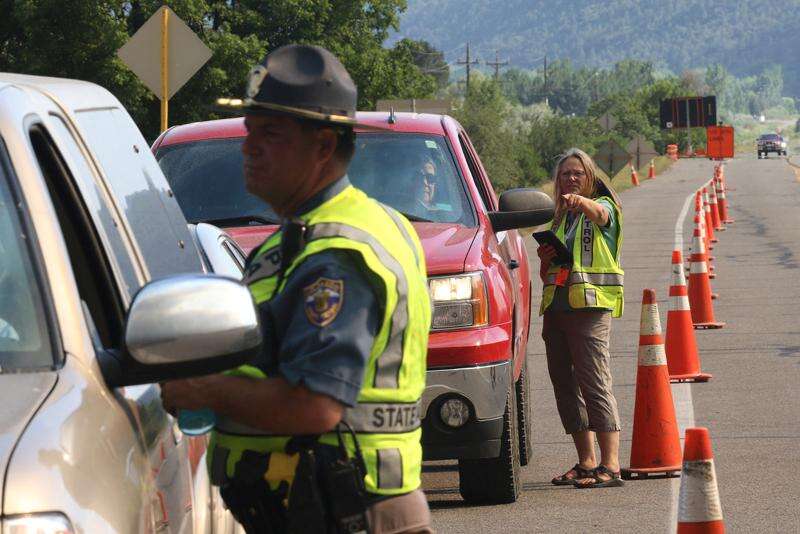 After 13 days of wondering when good news for evacuees would come from the 416 Fire that started June 1, it came Wednesday.
Evacuation orders were lifted in the afternoon for 560 residences and 20 businesses in the Rockwood, Tamarron and Glacier Club areas. But just hours later, more pre-evacuation notices were put in place.
According to latest reports Wednesday, the fire has burned 27,420 acres and is 15 percent contained.
While the fire receded in some areas, it advanced in others, prompting a pre-evacuation order for 163 residences and two businesses along the west side of County Road 203 from Trimble Lane south to its intersection with U.S. Highway 550 and 44 residences from the 1000 block of County Road 204 at Sailing Hawks, northwest to the Colorado Trail access.
Fire officials said Wednesday they believe the 416 Fire will burn well into July. They hope to have a containment line built around the fire's perimeter by July 31. The Burro Fire, which is burning through the San Juan National Forest about 10 miles west of the 416 Fire and about 14 miles south of Rico, was 2,829 acres and zero percent contained.
The 15 percent containment line on the 416 Fire is mostly along U.S. Highway 550, west of where residents were allowed re-entry Wednesday. Crews remain on patrol to ensure no spot fires ignite near structures.
"Today, just driving to the subdivision, the fire had burned all the way to the road on the west side, but nothing on the east side other than a lot of ash. It looks just fine," said Kristi Burk, a resident of Rockwood Estates, who returned home around 5 p.m. Wednesday. "A big thank you to the firefighters for keeping it across the road. They were incredible."
Burk was evacuated the first day of the fire. She said she had 20 minutes to figure out what to take.
"During those 20 minutes people were texting and calling me, and I was letting them know I was safe, but at the same time I was trying to focus on what to take," she said.
"I thought: What's the most important thing to me right now, myself, my dog, a few days of clothes and some important papers, and that's all I took," she said.
In the 20 minutes before she left, she said she managed to close all the windows, move propane tanks away from structures, attach water hoses to faucets and load the car with Banjo, her small dog.
"It was a busy 20 minutes," she said.
Residents were allowed to return from 2 to 6 p.m. Wednesday. After that, Highway 550 closes, and if they leave, they are prevented re-entry until the highway reopens, which is scheduled for 8 a.m. to 8 p.m. today with police escorts.
Residents in Rockwood, Tamarron and Glacier Club remain under a pre-evacuation notice.
La Plata County Sheriff Sean Smith said authorities will allow more residents to return home as it becomes safe. But the situation, he said, is constantly changing based on the whims of the fire.
Smith doesn't want people to be out of their homes any longer than necessary, and he said authorities are considering reopening Highway 550 without escorts, but no formal decision has been made on when that may occur.
Joe and Lola Hardman also returned to their Rockwood Estates home Wednesday after being evacuated June 1. The Hardmans shared several small hotel rooms for several days with their visiting daughters, Sasha, 21, and Nadia, 19, and their two Labrador retrievers, Pippa and Taz, before renting a home in Vallecito.
"We were just happy to get back. We were tired of living out of suitcases. You can imagine four people and two large Labs in small hotel rooms," he said.
Evacuation orders lifted for 560 homes, 20 businesses in #416Fire; Residents have from 2 to 6 p.m. to return home. STORY: https://t.co/Nk958zO4bv pic.twitter.com/6jgW8KSUyn

— jerry mcbride (@jerryphotog) June 13, 2018
Joe Hardman said he felt fairly secure staying the night in Rockwood.
"There's quite a red glow in the sky, and you can tell the backside of the mountain is burning pretty good, but the fire is headed north and northwest," he said Wednesday evening. "I guess we could still get an ember or the wind could shift, but I'm cautiously optimistic."
Firefighters are preparing for a couple of tough days.
A red flag warning is in place for today, meaning it will be hot, dry and windy. But a chance of rain creeps into the forecast for tonight, with a 10 percent chance of rain.
Even better, Friday's forecast calls for a 20 percent chance of rain during the day and a 40 percent chance of rain at night. Saturday's forecast has a 70 percent chance of rain during the day and a 40 percent chance at night. The potential for rain is fueled from the remnants of Hurricane Bud in the Pacific Ocean.
It may look monsoon-like, but this weekend's push of moisture is not the start of the monsoon season. Instead, it is a temporary pattern shift as subtropical moisture and remnants of now Hurricane Bud will be pulled into the region. #cowx #utwx pic.twitter.com/DNNVREMxX3

— NWS Grand Junction (@NWSGJT) June 13, 2018
During a news conference Wednesday, incident commander Todd Pechota said firefighters haven't received any favors from Mother Nature.
"Folks on the ground have not caught a break since the day this fire started," he said. "They've faced really tough and challenging conditions, and they know they've got probably another 48 hours of really, really tough work ahead of them. And then there is a glimmer of hope on the weekend, but I'll believe it when I see it."
Pechota said he expects the number of firefighters to grow, though reinforcements won't come as rapidly as they have in the past couple of days. As of Wednesday, 1,232 personnel were assigned to the 416 and Burro fires.
In coming days, burnout operations are planned between Junction Creek Road on the west and the Falls Creek subdivision on the east, and smoke and flames are likely to be seen from Durango and surrounding areas.
"When I was evacuated," Burk said, "I could hear trees exploding on the ridge. I thought, this is it. There's no way they're going to keep it from the house. I'm amazed the firefighters held it to the other side of the road."
A public meeting to update residents about the Burro Fire will be held at 6 p.m. today at the Dolores Community Center, according to a news release Wednesday night from the Type 1 incident team overseeing both fires.
Costs to battle both blazes was at $10.9 million; the causes of both fires remains under investigation, Pechota said.
Open this map full screen.
San Juan Basin Public Health in conjunction with Colorado Department of Public Health and the Environment Health have placed additional air-quality monitors in the area. Data from the monitors show the amount of all the microscopic particles in the air that can cause respiratory problems, especially for individuals with respiratory illnesses or heart disease, the elderly, and children. To view real-time data, visit
tinyurl.com/ycjpzlf5