Broncos' Flavel scorches Wolverines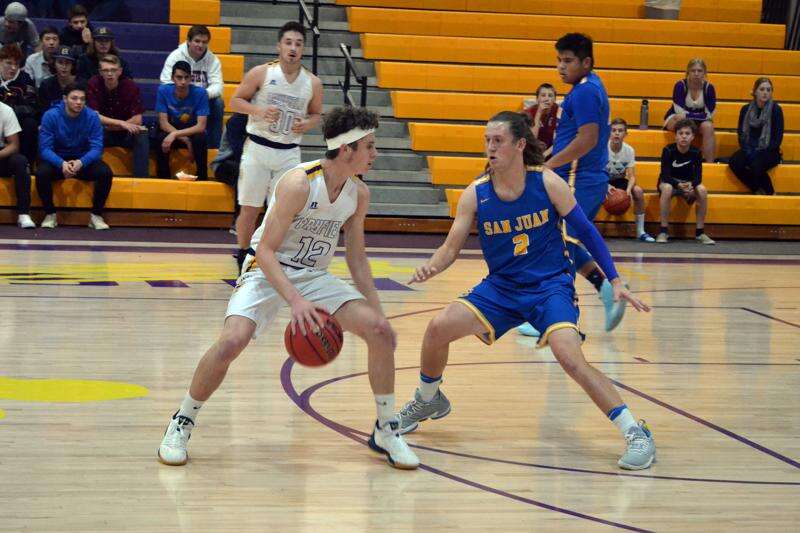 The Bayfield High school boys basketball team had a chance to edge closer against San Juan High School on Thursday night at BHS with a fastbreak opportunity. Instead of a basket, the Wolverines had their pockets picked by San Juan's Ladd Ivins, who found a waiting Randel Flavel on the other end of the floor. He received a bounce pass, took two dribbles and emphatically slammed it home. It was the exclamation point in a dominant second half from the Broncos.
San Juan outscored the Wolverines 35-14 in the second half and pulled away for a 65-41 win after it was just a three-point lead at halftime.
Bayfield (1-5) was led by Crosby Edwards, who had 12 points, but was blanked in the second half. Kacey Chandler and Landon Kennedy each had eight points for BHS.
Flavel led the undefeated Broncos (8-0) with 22 points, while Elijah Lee made four out of his five 3-pointers to finish with 15. Nate Grover came off of the bench to score 10 points, eight of which came in the second half, and Shaw Nielson had eight.
Edwards said in order for the Wolverines to snap a three-game losing streak, the team needs to do a better job of fighting for four quarters.
"The first half, we came out like we wanted to fight and play, and the second half, I don't know what happened," Edwards said. "Our guys didn't come out. (San Juan) came out with a lot of added pressure, and we didn't come out ready for it like we should have. It put us on our heels, and we weren't able to attack and score like we did in the first half."
In the first half, Bayfield kept with the Broncos thanks to Edwards' two 3-pointers.. San Juan kept pace with Flavel, who was a one-man wrecking crew with 14 points. The other four starters combined for 10 points in the first half.
Broncos head coach Travis Black thought his team came out with a better sense of urgency in the second half.
"I didn't think we did a good job of boxing out in the first half," Black said. "We crashed the boards much harder in the second half, tried not giving Bayfield wide-open shots, and we were able to pull away because of it."
In the second half, BHS' offensive woes picked up.. The Broncos scored easy transition baskets. In the final quarter, San Juan continued to corral second-chance opportunities.
With only four players with varsity experience from last season and two weeks off before their next game, Edwards believes the Wolverines need the holiday period to figure out their next moves.
"We're a young group that is developing all the time," Edwards said. "We have the teamwork and camaraderie, the only thing we need to learn to do is learn to make our shots. We have to do a better job of fighting for four quarters and we'll make stuff happen."
BHS will play Jan. 9 at Farmington (3-4).
Girls Basketball
After a strong first half in which the San Juan High School girls basketball team make four 3-pointers against Bayfield on Thursday night at BHS, the Broncos kept it up in the second half to earn an important road win.
The Broncos (6-1), based in Blanding, Utah, pulled away from Bayfield in the third quarter to secure a 64-38 win.
Bayfield (2-3) was led by Macee Schulz with 10 points, Brooke Merchant had eight, and Cayanne Carlson had six.
Tasiah Little had 17 points to lead the Broncos. Madison Palmer added 10 points, and Syannah Ketchum had nine.
"We know we can be a lot more consistent when it comes to rebounding," Schulz said. "We know we can be better, we just need to hustle more. We have to focus on doing the little things better."
In the first half, Bayfield kept pace with the Broncos, but San Juan's timely 3-pointers, and two of Ketchum's game-high three 3-pointers came in the second quarter. It helped the Broncos to a 10-point halftime lead at 30-20.
"We really got going in the first half because of our trapping, tipping deflections and good defense," said San Juan coach Laura Sterns. "We got the momentum going, and we had to attack on defense."
In the third quarter, San Juan made the most of BHS' turnovers, as it turned a 10-point lead into 16. The Broncos were aggressive on the glass and continued to find back door opportunities for easy baskets. They also played stout defense and held Bayfield to one shot on most of the Wolverines' possessions.
In the fourth, the Broncos pounded the post and extended the lead to 20.
This is the Broncos' third win against a team from Colorado, as they have already beaten Palisade and Grand Junction.
The Wolverines will not play again until Jan. 7 against Mancos.
"We started off strong and then we got tired toward the end," Merchant said. "We didn't have our best night on offense, and we weren't aggressive enough on rebounding. Moving forward, we need to work on our shooting every day over break and work harder in practice. We know we have a tough league schedule coming up, so we have to be ready for that."
bploen@durangoherald.com