Gordon and Lindsay unable to take pressure of Denver's QB
ENGLEWOOD – Even with quarterback Drew Lock struggling to stay accurate and available and the Broncos tumbling toward another losing season, there's reasons for optimism on offense. ...
Rypien might get second career start
ENGLEWOOD – Vic Fangio's Denver Broncos look a lot like Vance Joseph's Denver Broncos. Head-scratching decisions. Unceasing special teams gaffes. Substitution problems. Wretched q...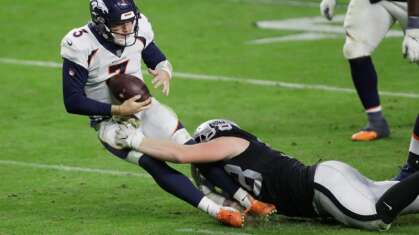 ENGLEWOOD – Vic Fangio is adamant about Drew Lock playing through his growing pains — bruised ribs willing. While reiterating that he's not about to bench his struggling second-ye...
McManus growing tired of not getting chances
ENGLEWOOD – Drew Lock and Pat Shurmur are going to have to figure out how to smooth Denver's Jekyll and Hyde offense without the quarterback's favorite target. Lock said Wednesday...
Injuries, opt outs have hurt Denver through halfway point of 2020 season
ENGLEWOOD – Rookie tight end Albert Okwuegbunam is out for the year after tearing his right ACL in the Denver Broncos' loss at Atlanta on Sunday. "The fortunate thing of it was it...
The AFC doesn't lack for drama or star power even though Tom Brady has taken his talents to Davis Beach. The six-time champion with New England is tearing up the NFC at age 43 alt...
Patrick Mahomes piled up some very big numbers at Arrowhead Stadium last week. Twice. Five days before throwing for four touchdowns and nearly 400 yards in the Kansas C...
ENGLEWOOD – Vic Fangio is a proponent of paying customers having the right to voice their displeasure with poor play, so he's not a fan of his players crying foul over the home crowds booing...