Lock has struggled since return from AC joint injury
Mahomes barely breaks a sweat; Lock struggles
DENVER – Villain isn't a role that seems to suit Drew Lock's sunny personality. Yet it's one he's enthusiastically embracing as his Denver Broncos prepare to host his hometown Kan...
Big receiver pulling in 100-yard games
ENGLEWOOD — Bradley Chubb realized after a sackless, winless September that he needed to trust his surgically repaired left knee if his coaches, teammates and fans were ever going to put the...
DENVER – With the NFL scrambling to get a full 2020 season in during the coronavirus pandemic, one coach has stood out in his roll-with-the-punches guidance. And it's one of the f...
ENGLEWOOD – Vic Fangio isn't known as a blitzing kind of guy, although he insists he was once the "leading blitzkrieger in the NFL." "I've been calling defenses now for 20-somethi...
ENGLEWOOD – Denver Broncos running backs coach Curtis Modkins has tested positive for COVID-19 and won't accompany the team on its trip to New England. The Broncos said they learn...
Denver gets QB back for New England game
Lock practices ahead of New England game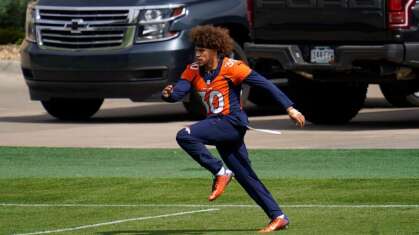 ENGLEWOOD – Two-time 1,000-yard rusher Phillip Lindsay is ready to return to the Denver Broncos' lineup after recovering from a turf toe injury he sustained in the opener. "I feel...
ENGLEWOOD – Vic Fangio doesn't subscribe to the notion the Denver Broncos are getting a raw deal because the NFL postponed their game at New England because of the Patriots' COVID-19 infecti...