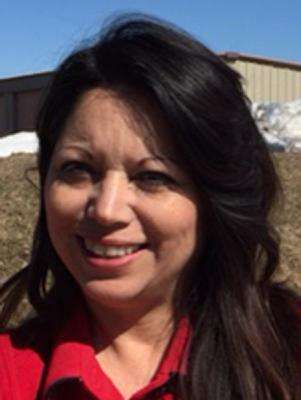 Chrysalis Counseling to accept Blue Shield
Michael Wilkinson and Chrysalis Counseling announce they will accept Anthem Blue Cross/Blue Shield.
For effective and empathetic counseling services or for more information, call 403-5054.
Investment company announces new hire
Laura Vaughan recently joined Intelligent Investment Management as firm administrator.
She has built a financial services career that spans some 20 years, with a focus on client service, client communication and portfolio administration.
She will be responsible for client service and communications, financial planning support work and firm administration.
To contact her, call 403-1234 or visit Intelligent Investment Management, 150 East Ninth St., No. 333.
World Glaucoma Week to be held
World Glaucoma Week will take place from March 6 to March 12.
On Tuesday, Four Corners Eye Clinic, P.C. will offer free glaucoma screening. Glaucoma is a leading cause of blindness. There is no cure for glaucoma, and once vision is lost, it cannot be regained. With treatment, it is possible to halt further vision loss associated with glaucoma.
Members of the public can receive a free screening from an ophthalmologist at two locations: In Durango, screenings will be offered from 4 to 6 p.m. at Four Corners Eye Clinic, 575 Rivergate Lane, Suite 212; in Cortez, from 11 a.m. to 1 p.m. at Underwood Optical, 22 South Beech St. No appointment is necessary.
For more information, call 259-2202.
Surya Health set to celebrate anniversary
Surya Health and Wellness will hold its two-year anniversary party from 5 to 8 p.m. Friday at 1032 Main Ave.
The party is free for the community, and everyone is welcome. There will be sales, food and beverages, and a meet-and-greet for local vendors and practitioners.
Pine River Chiropractic announces new hire
Pine River Chiropractic, Massage and Acupuncture and Dr. Carrie Bergfalk announce the addition of Lora Field as office manager.
Field is originally from the Navajo Dam area and comes with 25 years experience in patient and customer service. She is certified through the Nevada Career Institute in Medical and Dental Office Management.
To make an appointment, call 884-9779.
First National Bank announces new hires
First National Bank of Durango announces the following new hires:
Stacie Atkinson is a universal banker at the Main Office. She was born and raised in Dolores County and has been living in Durango since 1998.
Tami Hoffner is a universal banker at the Main Office. She is originally from Kansas and received her certificate in human resource management from Learning Tree University in California.
Tatiana Silva is a branch float universal banker. She was born in Las Cruces, New Mexico, and moved to Durango about six years ago. She attended Bayfield High School.
Entrepreneurs to welcome author
Local Entrepreneurs present best-selling author Randy Gage at 6 p.m. Thursday at the Doubletree Hotel, 501 Camino del Rio.
Gage is a former high school dropout who rose from a jail cell as a teenager to become a self-made multi-millionaire. He is the author of 10 bestselling books on prosperity and success. He offers provocative straight talk about the personal responsibility necessary for success.
His latest book, Mad Genius, is No. 2 on the New York Times Bestseller List.
For more information, call 946-8949.
LPEA offers off-peak savings
Members of La Plata Electric Association who use the Time-of-Use rate will enjoy a lower cost when using electricity in "off-peak" periods, effective March 1.
The "off-peak" rate for those signed up for the TOU program is 5.9-cents per kilowatt-hour, a 7.7 percent reduction from the previous 6.5 cents per kwh. "Off-peak" hours are 1 p.m. to 5 p.m. and 11 p.m. to 7 a.m., plus all day Sunday, and Thanksgiving and Christmas. The "on-peak" rate of 16.8 cents per kwh remains the same, as does the base charge of $21.50 per month to cover LPEA's fixed costs.
Current TOU participants should begin to see lower bills in April, reflecting electricity consumption in March. Members not on Time-of-Use who are interested in evaluating the benefits of the program are encouraged to call LPEA's energy management advisers at 247-5786.
For more information, visit www.lpea.coop.
Soup for the Soul tickets are on sale
Tickets for the 12th annual Soup for the Soul can be purchased for $60 at Mercy Health Foundation Office, 1010 Three Springs Blvd., or by calling 764-2800. The event will be held from 5:30 to 8:30 p.m. April 7 at La Plata County Fairgrounds
Hospice of Mercy invites everyone to the come taste soups, appetizers and specialty desserts from local restaurants. All proceeds go to Hospice of Mercy, providing compassionate end-of-life care for over 30 years.
For more information, visit www.mhffnd.org.
NAIFA to meet for talk and elections
National Association of Insurance and Financial Advisors South Western Colorado, or NAIFA-SW, will meet at noon in the Oak Room at the Strater Hotel, 699 Main Ave.
Deborah Tanner, NAIFA state president for Colorado, will talk about the future of NAIFA, the new LILY class and the new LUTC program. Elections will also be held for positions on our new local board.
This is open to all insurance agents, financial representatives and general public with an interest.
Cost is $15 for nonmembers. To RSVP by Monday, call 247-1413.
Podiatry practice adds to team
Animas Foot and Ankle announces Selina Sekulic as a new associate. She graduated from New York College of Podiatric Medicine, completed residency at Intermountain Medical Center in Murray, Utah, and was certified in podiatric medicine, surgery and reconstructive rearfoot/ ankle surgery.
Herald Staff